Citric Acid
Citric Acid occurs naturally in citrus fruits such as lemons, oranges, black currants, strawberries, and pineapples. Citric Acid is also found in most organisms, where it plays an important function in the burning of carbohydrates. It can also be produced chemically – industrially it is mainly produced by fermentation or chemical reaction. It is used in about 90% of the world's production and is produced by fermentation using enzymes and strains of bacteria, most commonly Aspergillus niger. It can occur as Citric Acid monohydrate or anhydrous.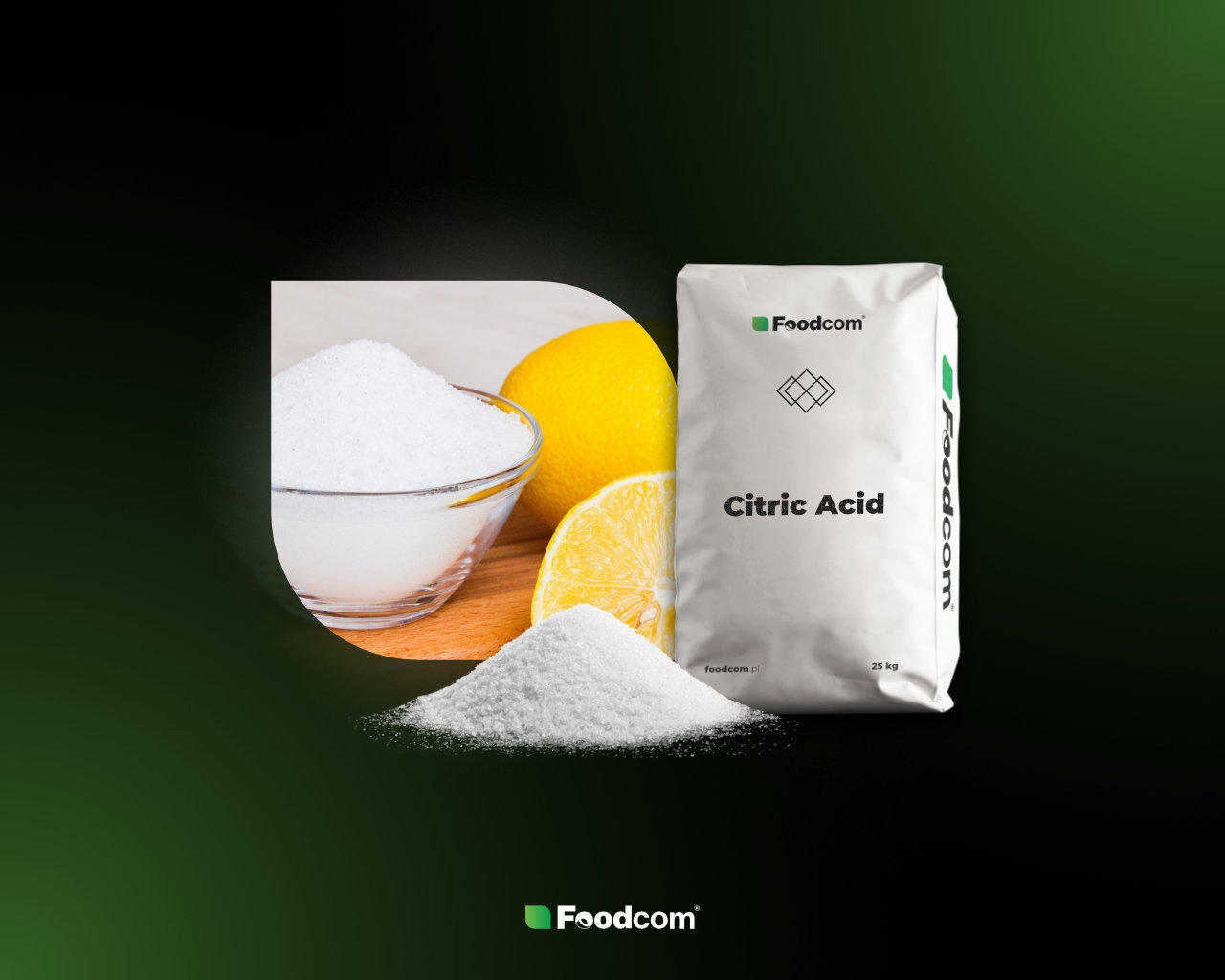 Price Quotations
Central Europe (EUR)
Month
3 months
1 year
3 years
Prices subject to final confirmation. Indications made for EXW Central Europe.*
Technical aspects
Citric Acid is in the form of white, odorless crystals and has a rather pronounced sour taste. It is an acidity regulator – when added to production, it is responsible for lowering the pH and thus also acts as a preservative, as acidification can extend shelf life. Citric Acid then makes it possible to enhance the sour taste of foods, so that the products have a more acidic taste. It is an antioxidant and has a bleaching effect that affects the color of fruits and vegetables. It has the ability to stabilize emulsions and prevent fat separation.
Download specification
Storage period
The shelf life of Citric Acid is approximately 3 years. The product should be stored in a dry, cool warehouse
Packaging
Foodcom S.A. offers Citric Acid in 25 kg bags.
Application
Citric Acid as a food additive functions as E330. It is an excellent preservative added to canned and preserved products to keep them fresh. It also serves as a binder and thickener in sauces, creams, jellies, jams and marmalades. In confectionery and baked goods, it improves the leavening power of the baking soda. It is also an important ingredient in cheese and beer production.
Citric Acid is also used in other industries, including as a water softener in detergents and soaps and as a fertilizer in agriculture. It is also added to feeds – the addition of Citric Acid has been shown to have a positive effect on broiler performance and bone mineralization, as well as better growth in weaners. In addition, thanks to citric acid, feed stays fresher longer and is tastier for the animals, which contributes to weight gain.
In the pharmaceutical industry, it is found in dietary supplements and in the formulation of drugs. Citric Acid masks their bitter taste, also has effervescent properties and stabilizing functions.
Citric Acid is also widely used in the manufacture of cosmetics. Since it has a whitening effect, it can be found in cosmetics for blemished skin. In addition, it acts as an antioxidant and prolongs the shelf life of cosmetics. Cosmetics also benefit from the fact that citric acid smoothes wrinkles and has an exfoliating effect.
Alternative names
E330, citrus acid, C6H8O7
How to start cooperation with us?
Buy now
We offer express purchase of the product at the price indicated on our website.
---
Payment
An invoice is generated and sent to the email address provided in the form. Orders are processed on a prepayment basis. The payment term is two working days.
Transport
We currently offer the option to pick up your order in person – based on Incoterms® EXW and FCA rules.
Buy now
Book
We provide the possibility to reserve the product at the price indicated on the website.
---
Payment
After payment of 10% of the order value, the product is reserved for a period of three days. The remaining amount must then be paid.
Transport
We currently offer the option to pick up your order in person – based on Incoterms® EXW and FCA rules.
Book
Product inquiry
The inquiry is forwarded to the appropriate trader. Our representative will then contact you to discuss the details of the order.
---
Payment
The payment terms will be determined during the business negotiations.
Transport
Convenient transport is organized in cooperation with our logistics department.
Send inquiry

Contact
Reach out to us!
Contact us by the contact form, and get a direct response to your question within four business hours!
Looking for a trusted partner in distribution?
Need a new supplier for your production?
Interested in a product not listed on the website?