Malic Acid
Malic Acid is an organic chemical compound that occurs in every living organism. It is also found in fruits and is responsible for their sour taste. The word 'malic' in its name is derived from a Latin word meaning 'apple', as it is found mainly in apples. Malic Acid can also be obtained synthetically – on an industrial scale it is produced by the double hydration of maleic anhydride. As a food additive, it is an antioxidant or acidulant known as E296.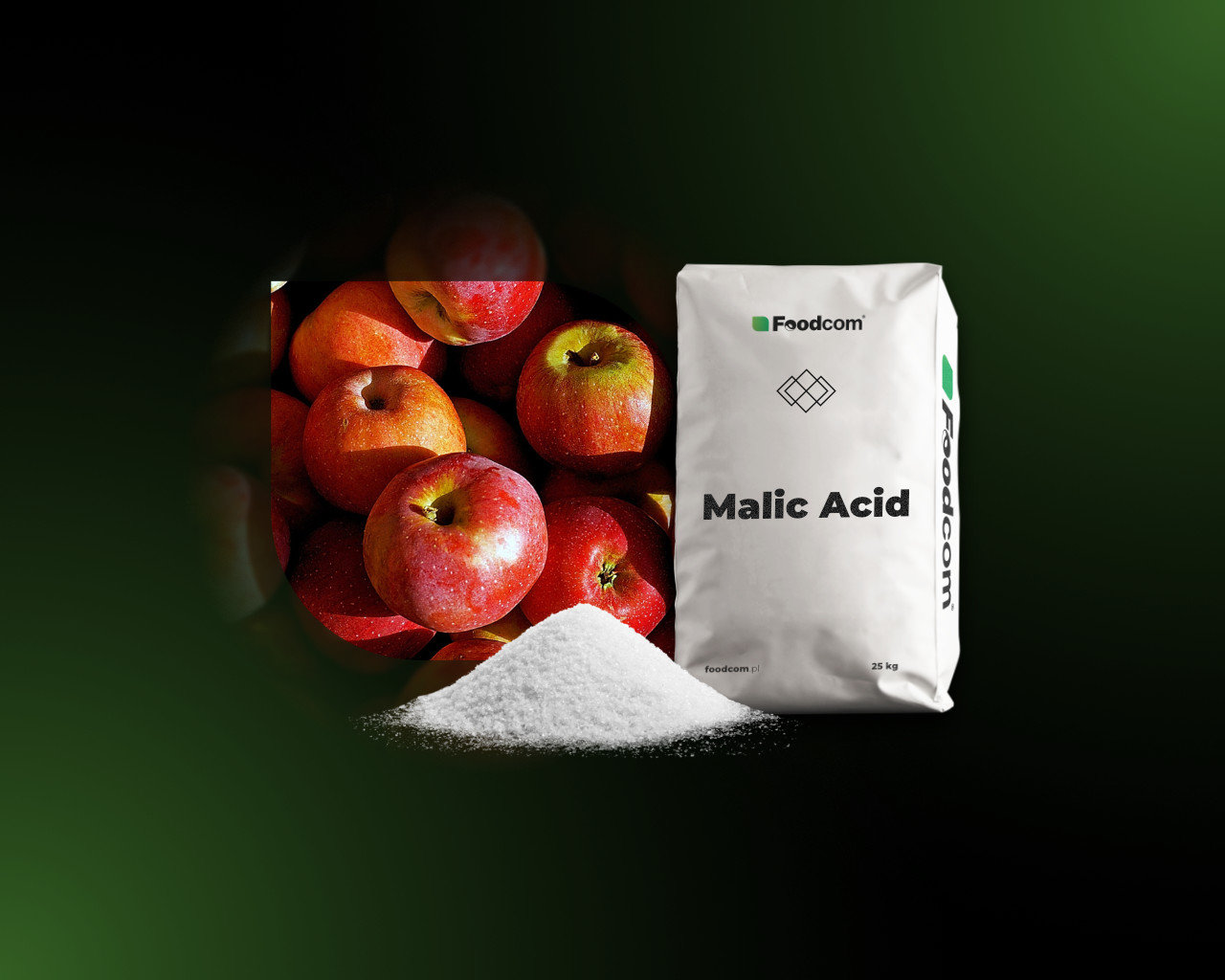 Price Quotations
Central Europe (EUR)
Month
3 months
1 year
3 years
Prices subject to final confirmation. Indications made for EXW Central Europe.*
Technical aspects
Malic Acid comes in the form of a white crystalline solid. It is practically odorless, but has a sour taste. Malic Acid is highly soluble in water, acetone and ethanol. Due to its properties, it can be used as a preservative, acidity regulator, color stabilizer and flavor enhancer.
Storage period
The shelf life of Malic Acid is two years.
Packaging
Foodcom supplies its Business Partners with Malic Acid in 25 kg bags.
Application
Malic Acid is mostly used in the food industry. It is added to carbonated and non-carbonated beverages to improve their fruit flavor. It also improves the taste of acidified dairy products. Malic Acid imparts a unique sour taste to sweets, such as candies. It is also found in jams, jellies and fruit fillings.
Malic Acid can also be applied as an ingredient in the manufacture of cosmetics. It has a strong moisturizing effect. Malic Acid also has excellent lightening and softening properties for skincare products. That is why it is an ingredient of peelings, hair shampoos or creams. In the pharmaceutical industry, Malic Acid is used in throat lozenges or cough syrups to improve the taste of fruits and soften the taste effect of active ingredients.
Alternative names
2-Hydroxybutanedioic Acid, E296, C4H6O5, malate, acidum malicum
How to start cooperation with us?
Buy now
We offer express purchase of the product at the price indicated on our website.
---
Payment
Payment is made after contacting our representative to arrange the details of the order.
Transport
We offer two options for delivery – personal collection of the product from our warehouse or commissioning transport.
Buy now
Book
We provide the possibility to reserve the product at the price indicated on the website.
---
Payment
After paying 10% of the order value, the product will be reserved for a period of 3 days. After that, the remaining amount must be paid.
Transport
You can pick up the purchased product in one of our warehouses or let us organize the transport.
Book
Product inquiry
The inquiry is forwarded to the appropriate trader. Our representative will then contact you to discuss the details of the order.
---
Payment
The payment terms will be determined during the business negotiations.
Transport
Convenient transport is organized in cooperation with our logistics department.
Send inquiry

Contact
Reach out to us!
Contact us by the contact form, and get a direct response to your question within four business hours!
Looking for a trusted partner in distribution?
Need a new supplier for your production?
Interested in a product not listed on the website?