34th Edition of Foodcom PLANT-BASED Newsletter
28 April 2023
Reading time: 6 minut

Publication date
28 April 2023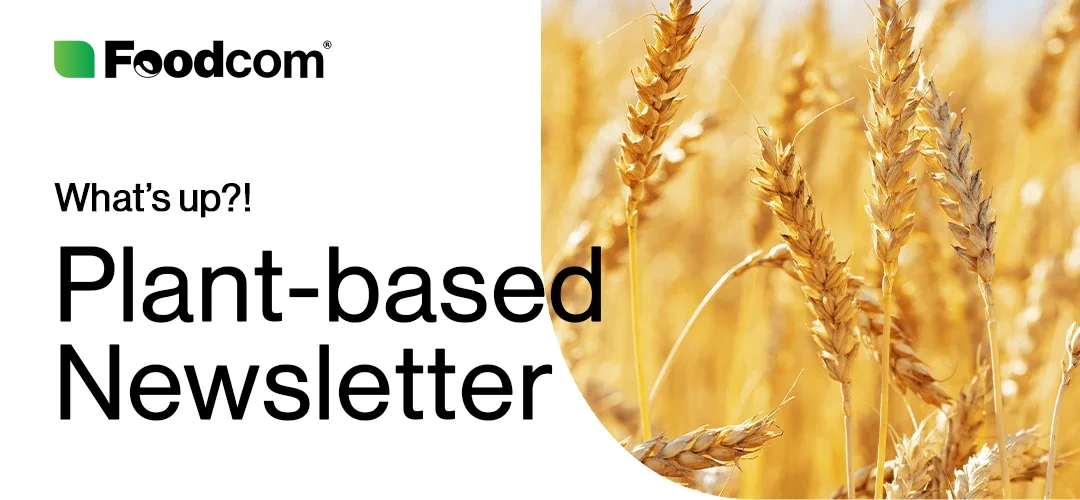 Well, the elephant in the room is undoubtedly the ban on imports of Ukrainian products imposed by some Central European countries. The situation is dynamic (wow, what a novelty), so we hope you will stay informed. Undoubtedly, this is the factor that currently has the greatest impact on prices, availability and the overall situation in the plant-based market and beyond.
As a result of the ban, sugar, starches and protein prices, among others, have risen as the cheap raw materials stopped coming in. Undoubtedly, this is good news for certain groups, such as farmers in countries that have imposed a ban or restrictions, but it does not please consumers or processors who have been using raw materials from Ukraine.
And what else? It's getting warmer in many regions, so consumers and other living creatures will certainly be hosting barbecues and traveling. Spending more time outdoors encourages changes in the structure of consumption (which generally means that demand for raw materials for the production of ketchup and mustard will increase). Of course, the higher temperatures are not all cause for celebration: severe droughts are raging in some regions, including France and Spain. There are bound to be more of those, after all, it's only April.
Native Starches
We constantly receive inquiries for Native Starch, in large numbers from the Far East. Native Potato Starch is still in short supply in some Central European countries due to the ban on the (cheap) Ukrainian product, manufacturers offer it at similar or the same prices and there is not much difference. There are requests for Native Corn Starch, many of them from Asia. Buyers are looking for insanely low prices (but is not that true for all products at all times?). We are still waiting for paper manufacturers to start ordering large quantities again. Native Wheat Starch is also very popular, and many requests are coming in, also mainly from Asia.
Modified Starches
The market for Modified Starches has slowed down recently. Some attribute this to the time left to the next harvest, which strongly influences current buying decisions. Modified Waxy Corn Starch is hard to find on the market, which means its price is not dropping. Modified Potato Starch is very hard to find, only a few truckloads at a time are available on the market (but this is nothing new).
Proteins
There have been cases where Eastern European wheat was contaminated with soy. As a result, some batches of Vital Wheat Gluten produced in Europe were also contaminated with soy. The source of the contamination is currently being sought. Despite these issues, we are receiving many inquiries for large quantities. Most of the inquiries are for post-harvest pricing, for Q3 and beyond. Regarding Pea Protein, we are hearing that the product originating from China is currently sold out, so buyers are reaching for product from other sources. Overall, the feed sector is waking up again, as evidenced by increased interest in Potato Protein and Corn Gluten Meal, among others.
Sweeteners
The price of Sugar is rising as more and more people realize that after the introduction of the ban on Ukrainian goods, it will be difficult to get the cheap product. Well, actually, the price is rising like crazy. Among plant-based products, Sugar and Lecithin are the most popular. The situation with Dextrose is stable, the price is slightly decreasing. The Asian variant is still cheaper than the European one. As is common knowledge, not everyone is willing or able to reach for a product manufactured outside Europe. For Sorbitol, prices are still crazy, while Isomalt has recently become much scarcer.