Native Corn Starch
Native Corn Starch is a key ingredient for the food, feed and paper industries. Take advantage of its thickening, stabilizing and nutritional properties and increase the quality of your products.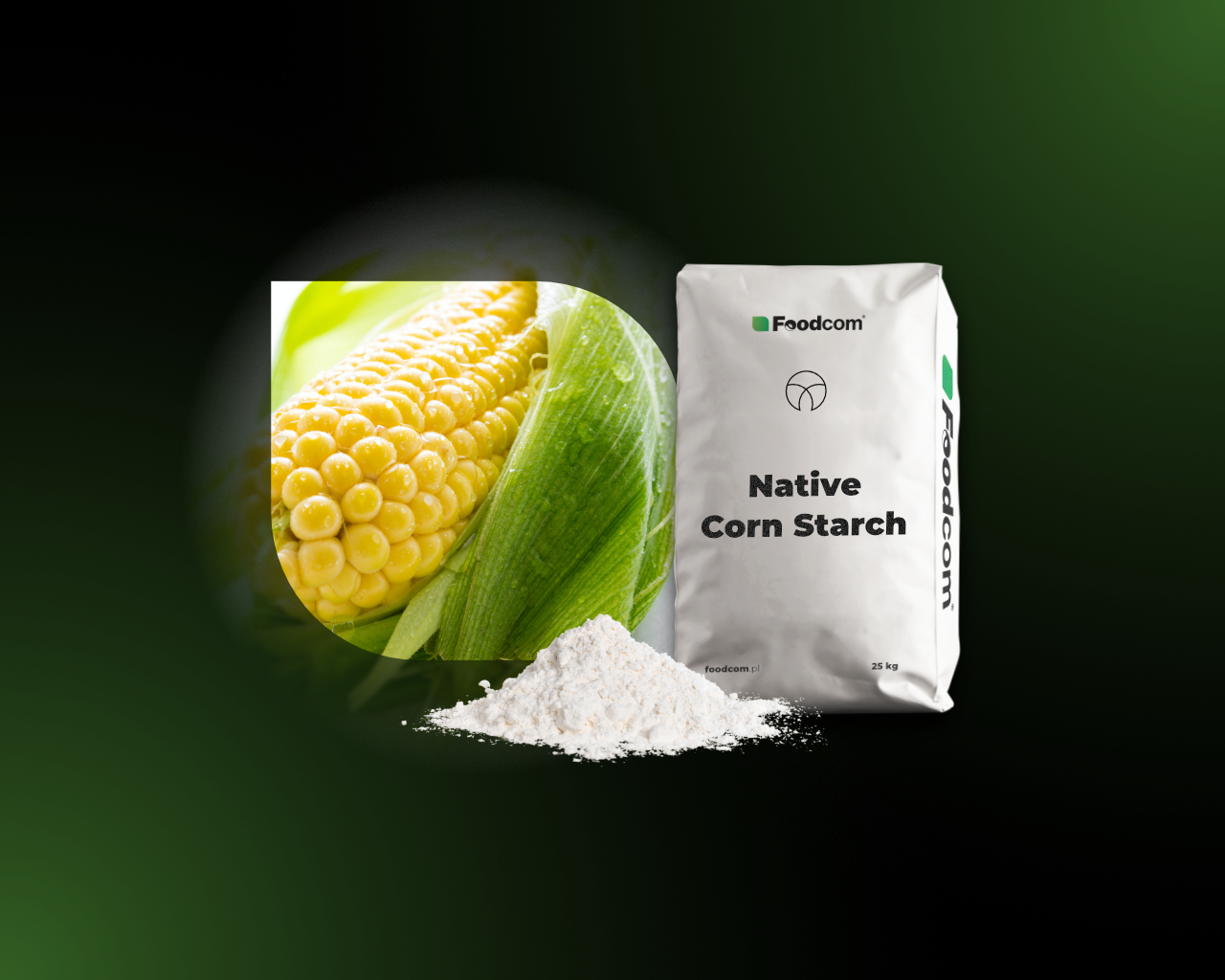 Price Quotations
Central Europe (EUR)
Month
3 months
1 year
3 years
Prices subject to final confirmation. Indications made for EXW Central Europe.*
Technical aspects
Native Corn Starch is a loose, fine white powder with a neutral taste and odor. Production involves cleaning the endosperm of corn, followed by milling using water. Later, the gluten and starch are separated, and the slurry is dried for processing into powder.
Native Corn Starch consists of two polymers of glucose-amylose and amylopectin in different proportions depending on the type of corn. It has thickening properties, but does not change the taste of the product.
Foodcom S.A. offers Native Corn Starch produced without GMOs and from European corn.
Download specification
Storage period
The storage period of Native Corn Starch is 24 months. It should be stored in a clean, dry place, away from unpleasant odors and at temperatures below 25°C.
Packaging
Foodcom S.A. offers Native Corn Starch in 25 kg bags, Big Bags and in bulk.
Application
Native Corn Starch is widely used in the production of sauces, toppings, soups and ready meals due to its thickening properties. It also increases the moisture content of baked goods, especially gluten-free ones.
In animal nutrition, Native Corn Starch is used for cattle, poultry and fish feed. It is used as a thickener and gives the feed the right consistency. Besides, Native Cornstarch is also a source of energy for animals.
In pharmaceutical and medical applications, Native Corn Starch is used, for example, as a lubricant for surgical gloves. In cosmetics, the product can be a talc substitute in baby products.
Native Corn Starch is also used in the paper industry. It acts as a filler and increases the stability of paper. It also takes part in the production of adhesives, thanks to its good bonding power.
Alternative names
corn amylum, maize starch, native maize starch
How to start cooperation with us?
Buy now
We offer express purchase of the product at the price indicated on our website.
---
Payment
Payment is made after contacting our representative to arrange the details of the order.
Transport
We offer two options for delivery – personal collection of the product from our warehouse or commissioning transport.
Buy now
Book
We provide the possibility to reserve the product at the price indicated on the website.
---
Payment
After paying 10% of the order value, the product will be reserved for a period of 3 days. After that, the remaining amount must be paid.
Transport
You can pick up the purchased product in one of our warehouses or let us organize the transport.
Book
Product inquiry
The inquiry is forwarded to the appropriate trader. Our representative will then contact you to discuss the details of the order.
---
Payment
The payment terms will be determined during the business negotiations.
Transport
Convenient transport is organized in cooperation with our logistics department.
Send inquiry

Contact
Reach out to us!
Contact us by the contact form, and get a direct response to your question within four business hours!
Looking for a trusted partner in distribution?
Need a new supplier for your production?
Interested in a product not listed on the website?