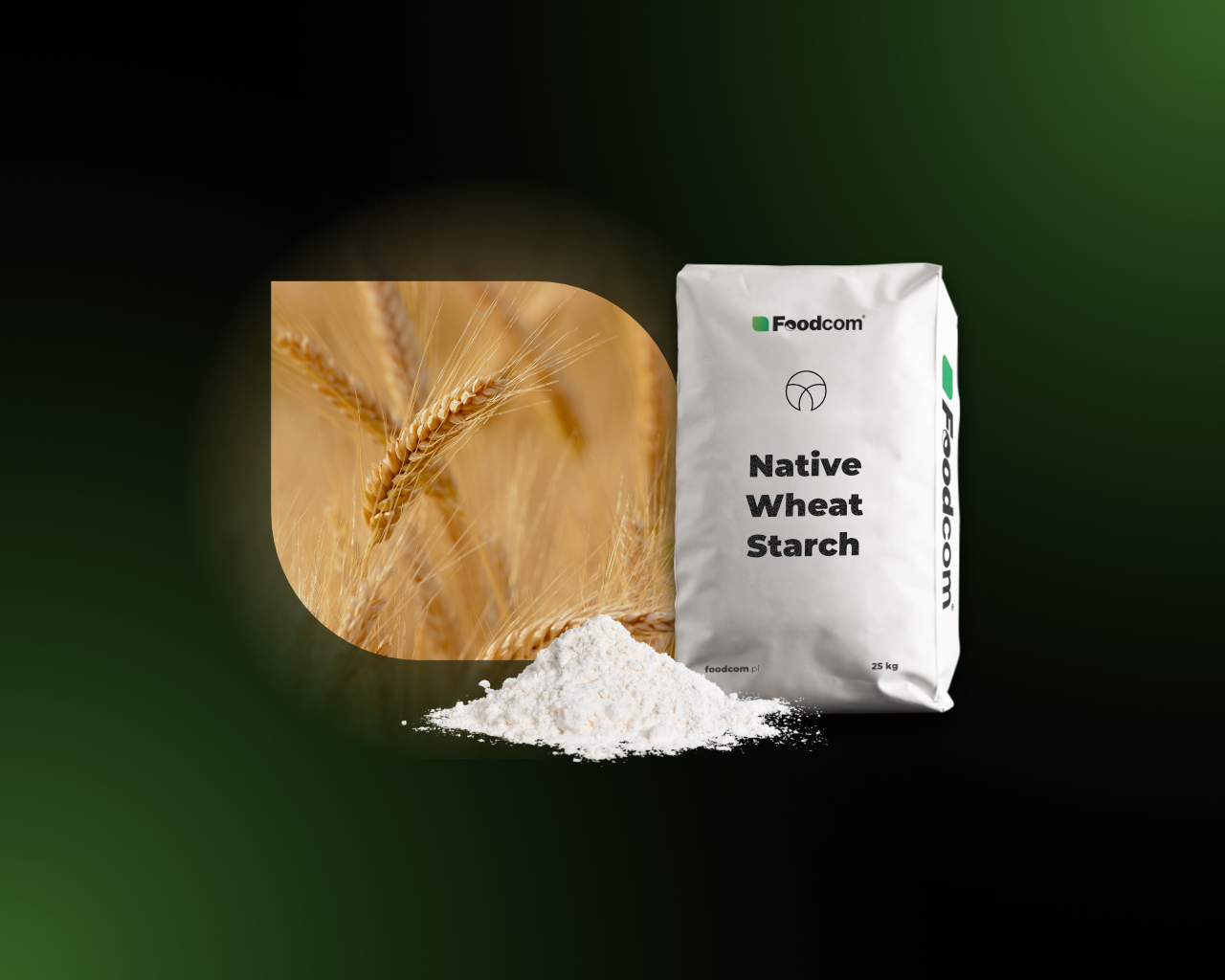 Native Wheat Starch is a purified, unmodified, and natural product obtained from plants. Wheat is first cleaned, dehulled, and milled, then to be processed with the use of water in order to separate the starch.
Technical aspects
The product is in the form of white, fine powder of neutral smell and taste. Native Wheat Starch is characterized by emulsification, water retention, and clouding properties. It is insoluble in cold liquids and alcohol. Its binding qualities allow for enhanced smoothness and creaminess. Native Wheat Starch also improves the texture and thickens the product.
Alternative names: wheat amylum.
Shelf life
The shelf life of the Native Wheat Starch is 12-24 months if stored properly in cool and dry conditions.
Packaging
Foodcom supplies its Business Partners with Native Wheat Starch in 25 kg bags or in Big Bags.
Applications
Native Wheat Starch is widely used in food products such as confectionery, desserts, baked goods, and snacks, as well as ready meals, custards, dry soups, and sauce premixes. It is an ingredient of batter and breading mixtures, dairy products such as cheese, seafood goods, and alcoholic beverages. It is also used by the paper making industry.
How to order?
Are you wondering how to order our products? Contact us by sending a message!

Our B2B trade specialists will contact you within one hour of sending your inquiry during office hours. We will provide you with information about the product, its origin, price and method of delivery. We will also help you make a decision as to the choice of a specific product by presenting its industrial applications. As wholesale specialists, we will be able to provide high-level service with transparent trade rules. All trading transactions run smoothly with us!
Why Foodcom?
Our great team of Sales Support will help our Traders conduct the contract and business deals in a smooth and efficient way to ensure the best quality service to all our Business Partners. Our logistics team will take care of transportation and the financial department will be responsible for all matters connected with the financial part of the deal.
Our certificates



Got a question?
Contact us!