Modified Starch E1422
Modified Starch E1422 is a versatile ingredient with neutral taste and odor, ideal for thickening, gelling and improving the texture of foods. Improve the quality of your food products with E1422.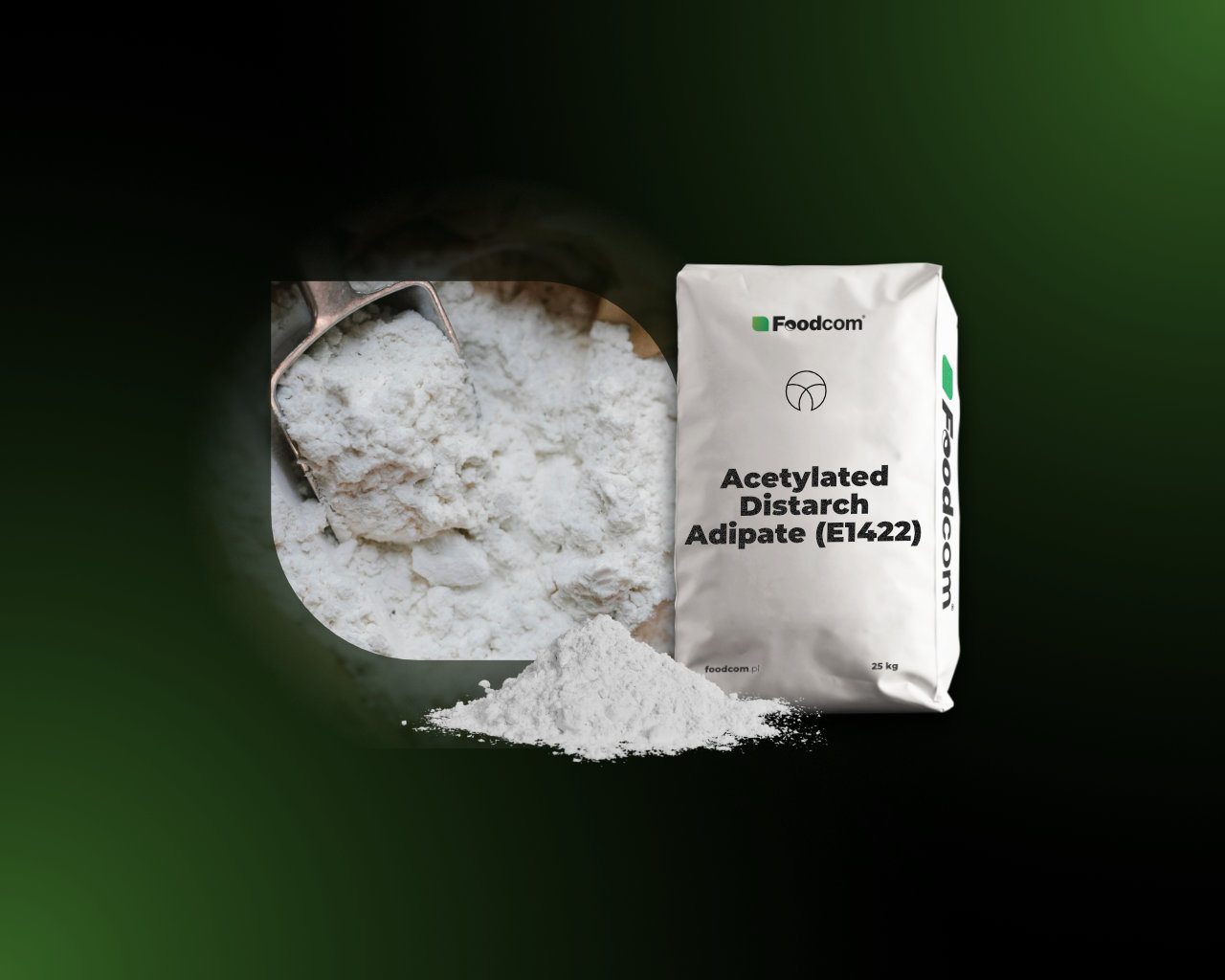 Price Quotations
Central Europe (EUR)
Month
3 months
1 year
3 years
Prices subject to final confirmation. Indications made for EXW Central Europe.*
Technical aspects
Modified Starch E1422 (Acetylated Distarch Adipate) is in powder form and has a white, whitish or yellowish color. It has a neutral taste and odor. It is a product of plant origin, usually produced from waxy corn, but can also be obtained from potatoes, tapioca or rice, to name a few. E1422 is produced by treating starch with acetic anhydride and adipic anhydride.
Because it is a modified starch, E1422 is primarily resistant to retrogradation or gelation. It is also more viscous than native starch and resistant to acidic and alkaline environments. Its stability during freezing and thawing and its resistance at low storage temperatures are also characteristic.
A distinction is made between E1422 swelling in cold, heat and hot:
E1422 cold swelling starch has its thickening properties in cold water and is used in cold technology applications. It is completely soluble in cold water.
E1422 warm swelling starch has the best properties at warm temperatures and is used in warm applications.
E1422 hot swelling starch is used in high temperature production. It is used in hot applications.
Download specification
Storage period
The storage period of Modified Starch E1422 in unopened packaging is up to 24 months. E1422 should be protected from severe fluctuations in temperature and humidity. Optimal storage conditions for the product are dry, ventilated storage rooms free from moisture and animal parasites. Temperature from 5 to 28°C, maximum humidity of 70%. The product should be used as soon as possible after opening to avoid reabsorption of moisture.
Packaging
Foodcom S.A. supplies to its Business Partners:
E1422 cold swelling starch in 20 kg bags;
E1422 warm swelling starch in 25 kg bags;
E1422 hot swelling starch in 25 kg bags.
Application
The unique properties of Modified Starches, including E1422, allow their use as thickening, gelling and texturizing agents. This raw material is used in various industries. Characteristic of E1422 is its excellent freeze-drying stability and resistance to low storage temperatures. The product is mainly used in the food industry due to its properties.
Cold swelling Modified Starch E1422 is used in mixes for confectionery and bakery products with low moisture content, as it provides a softer, crispier texture and also improves the plasticity of the final product and extends its shelf life. It also provides crispness. In mixtures for the preparation of products and dishes, it provides a longer shelf life of the gel-like structure of the final product, regulates viscosity and gives additional gloss.
Warm swelling Modified Starch E1422 is used to increase viscosity and stabilize consistency in sauces, ketchups, mayonnaise, fruit fillings or toppings made at warmer temperatures. It also provides a creamy and stable texture in products such as cheese and cheese-like products. E1422 warm swelling starch is also an ingredient in instant mixes, canned or frozen meals.
Hot swelling Modified Starch E1422 is used in the manufacture of products at high temperatures, such as meat products, to improve their appearance, reduce drying of the product cross-section and reduce other moisture-binding substances. It can also be used to maintain juiciness and elasticity after food freezing and thawing.
Alternative names
acetylated distarch adipate, acetylated starch, modified starch E1422, chemically modified starch E1422, C42H70O29
How to start cooperation with us?
Buy now
We offer express purchase of the product at the price indicated on our website.
---
Payment
Payment is made after contacting our representative to arrange the details of the order.
Transport
We offer two options for delivery – personal collection of the product from our warehouse or commissioning transport.
Buy now
Book
We provide the possibility to reserve the product at the price indicated on the website.
---
Payment
After paying 10% of the order value, the product will be reserved for a period of 3 days. After that, the remaining amount must be paid.
Transport
You can pick up the purchased product in one of our warehouses or let us organize the transport.
Book
Product inquiry
The inquiry is forwarded to the appropriate trader. Our representative will then contact you to discuss the details of the order.
---
Payment
The payment terms will be determined during the business negotiations.
Transport
Convenient transport is organized in cooperation with our logistics department.
Send inquiry

Contact
Reach out to us!
Contact us by the contact form, and get a direct response to your question within four business hours!
Looking for a trusted partner in distribution?
Need a new supplier for your production?
Interested in a product not listed on the website?