Milk Protein Concentrate
Discover the power of Milk Protein Concentrate – the secret of the food revolution! This product is the key to protein enrichment of snacks and beverages and ensures products that delight with their taste. Set your company up for success with us and let's create the future of nutrition together!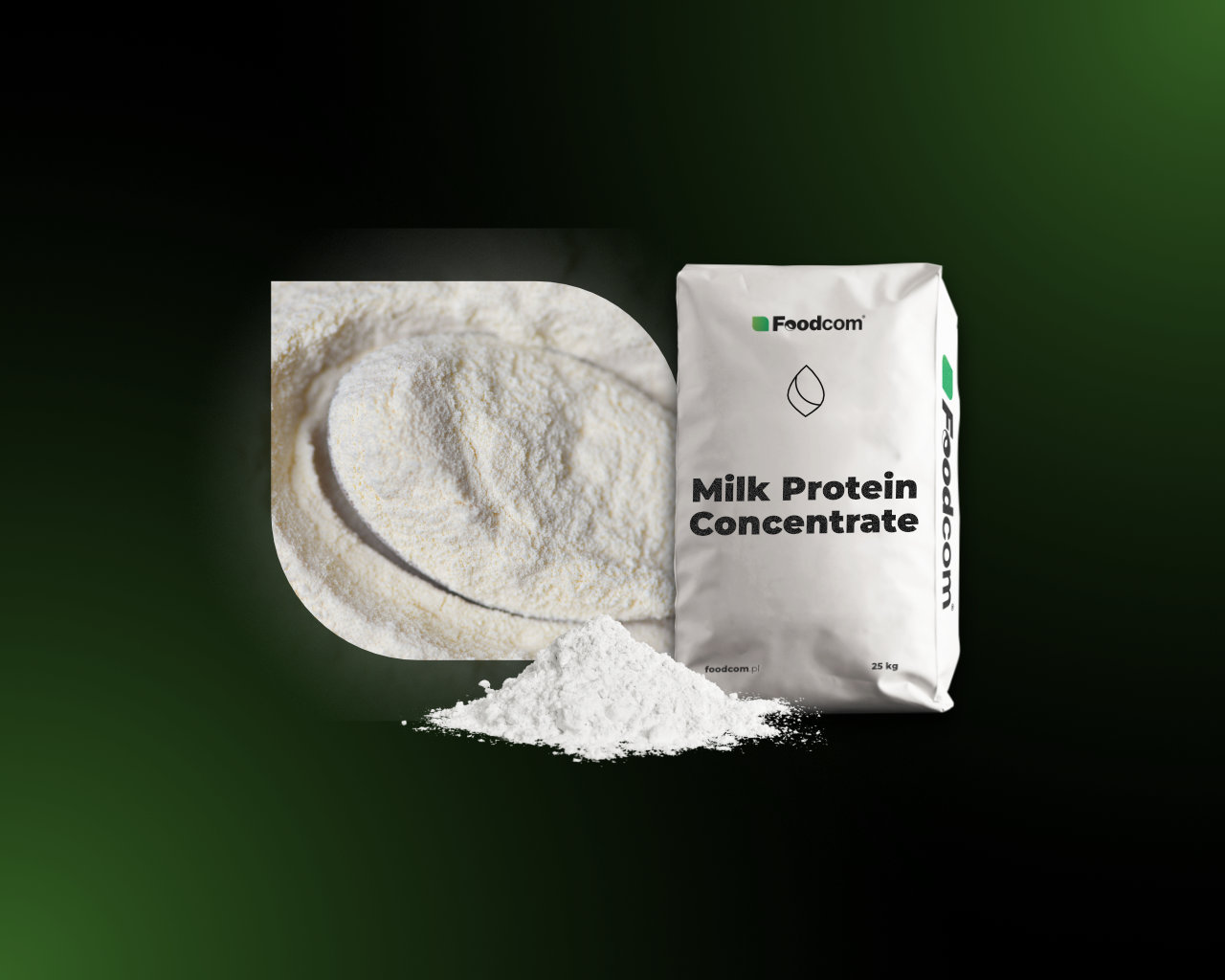 Price Quotations
Central Europe (EUR)
Month
3 months
1 year
3 years
Prices subject to final confirmation. Indications made for EXW Central Europe.*
Technical aspects
Milk Protein Concentrate (MPC) is a concentrated milk powder containing 80% milk protein. It is made from fresh pasteurized skimmed milk by filtration, evaporation and spray drying. Milk Protein Concentrate is in the form of a free flowing powder with a milky taste and aroma.
Milk Protein Concentrate has excellent foaming, texturizing, water-binding and coagulating properties. Its nutritional value is due to high concentrated protein content. Milk Protein Concentrate also improves rennet coagulation, reduces gelation and increases cheese curd firmness. It is also characterized by high solubility and heat resistance. In addition, the addition of Protein Concentrate increases calcium and vitamin D levels.
Download specification
Storage period
The storage period of Milk Protein Concentrate 80% is 24 months.
Packaging
Foodcom S.A. supplies its Business Partners with Milk Protein Concentrate 80% in 25 kg bags and in Big Bags.
Application
Because of its high protein to low lactose protein ratio, Milk Protein Concentrate is often used in low-carbohydrate foods and protein-enriched beverages. It can also be added to baked goods, desserts, dairy drinks, sauces, yogurts, ice cream and cheese. It is a popular ingredient in low-fat and low-lactose products. Milk Protein Concentrate can be used as a substitute for whole milk powder or skimmed milk powder, achieving the same protein content.
Milk Protein Concentrate is also used to make pediatric, medical, geriatric, and sports nutrition products, as well as meal replacements and weight control products.
Alternative names
MPC, MPC 80, concentrates of milk proteins, pasteurized milk proteins, milk protein concentrate powder
How to start cooperation with us?
Buy now
We offer express purchase of the product at the price indicated on our website.
---
Payment
Payment is made after contacting our representative to arrange the details of the order.
Transport
We offer two options for delivery – personal collection of the product from our warehouse or commissioning transport.
Buy now
Book
We provide the possibility to reserve the product at the price indicated on the website.
---
Payment
After paying 10% of the order value, the product will be reserved for a period of 3 days. After that, the remaining amount must be paid.
Transport
You can pick up the purchased product in one of our warehouses or let us organize the transport.
Book
Product inquiry
The inquiry is forwarded to the appropriate trader. Our representative will then contact you to discuss the details of the order.
---
Payment
The payment terms will be determined during the business negotiations.
Transport
Convenient transport is organized in cooperation with our logistics department.
Send inquiry

Contact
Reach out to us!
Contact us by the contact form, and get a direct response to your question within four business hours!
Looking for a trusted partner in distribution?
Need a new supplier for your production?
Interested in a product not listed on the website?