Demineralized Whey Powder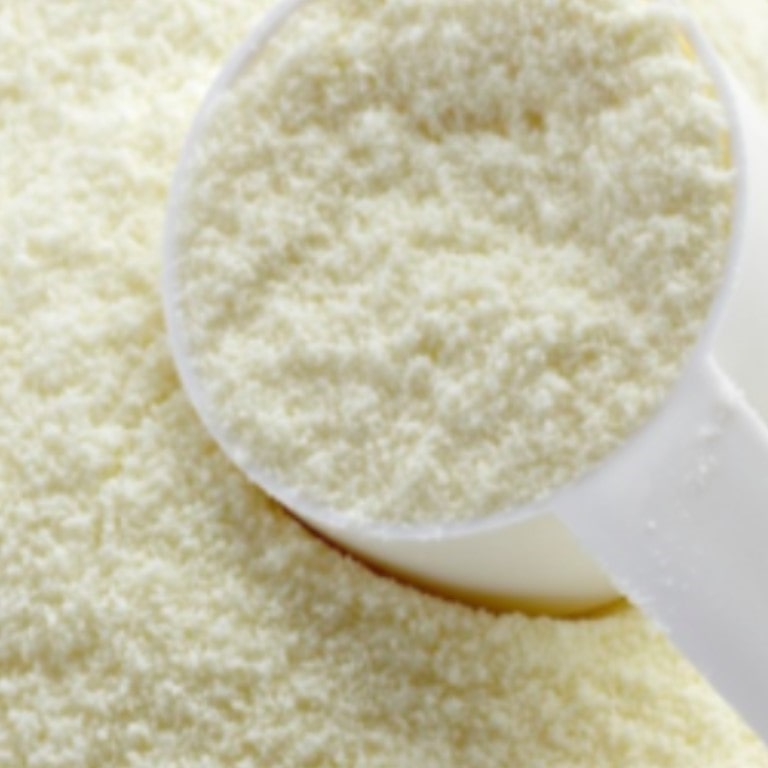 Demineralized Whey Powder
Demineralized Whey Powder (DEMI) is produced through the removal of part of minerals from liquid sweet whey. Depending on the purpose, many techniques are combined: ion exchange, electrodialysis, ultrafiltration, microfiltration, or nanofiltration.
Technical aspects
Demineralized Whey Powder is a loose and uniform powder in a slightly creamy and yellow color. Its easily crumbling and slight caking is allowed. It is without any foreign flavors and smells.
Thanks to its thermal stability as well as free-flowing, DEMI is great for storage in difficult conditions (thermal stability). Furthermore, it's a good alternative for SWP, which is used for flavor or nutritional reasons.
Range of Demineralized Whey Powder offered by Foodcom:
– 20% demineralized whey powder – great bulking agent without over-salted taste,
– 40%, 50% demineralized whey powder – most popular for chocolate and pastry production,
– 70% demineralized whey powder,
– 90% demineralized whey powder.
In order to meet Business Partners' requirements, Foodcom S.A. can customize other powder parameters. Moreover, we can provide Halal or Kosher certification.
Foodcom also provides Demineralized Whey Powder that can be used in feed production.
Alternative names: DEMI, DM 70.
Shelf life
The shelf life of Demineralized Whey Powder is about 18 months. Product should be stored in clean, dry, ventilated warehouses on a clean pallet, at temperature not exceeding 25°C with air relative humidity not exceeding 75%.
Packaging
Foodcom supplies its Business Partners with Demineralized Whey Powder in 25 kg and in Big Bags.
Applications
Among many applications, the most popular are food premixes, creamers for coffee and tea, confectionery, nutrition drinks, cream fillings, soups, and others. Demineralized Whey Powder (90% demineralization) is widely used in the production of infant formula on milk. It allows for creating the composition closer to breast milk.
How to order?
Are you wondering how to order our products? Contact us by sending a message!

Our B2B trade specialists will contact you within one hour of sending your inquiry during office hours. We will provide you with information about the product, its origin, price and method of delivery. We will also help you make a decision as to the choice of a specific product by presenting its industrial applications. As wholesale specialists, we will be able to provide high-level service with transparent trade rules. All trading transactions run smoothly with us!
Why Foodcom?
Our great team of Sales Support will help our Traders conduct the contract and business deals in a smooth and efficient way to ensure the best quality service to all our Business Partners. Our logistics team will take care of transportation and the financial department will be responsible for all matters connected with the financial part of the deal.
Our certificates



Got a question?
Contact us!