Demineralized Whey Powder
Demineralized Whey Powder
Concentrated source of natural ingredients, excellent for enriching food products.Ideal for making feeds, special products for babies, supplements and other food products. Add nutritional value by meeting the expectations of your customers.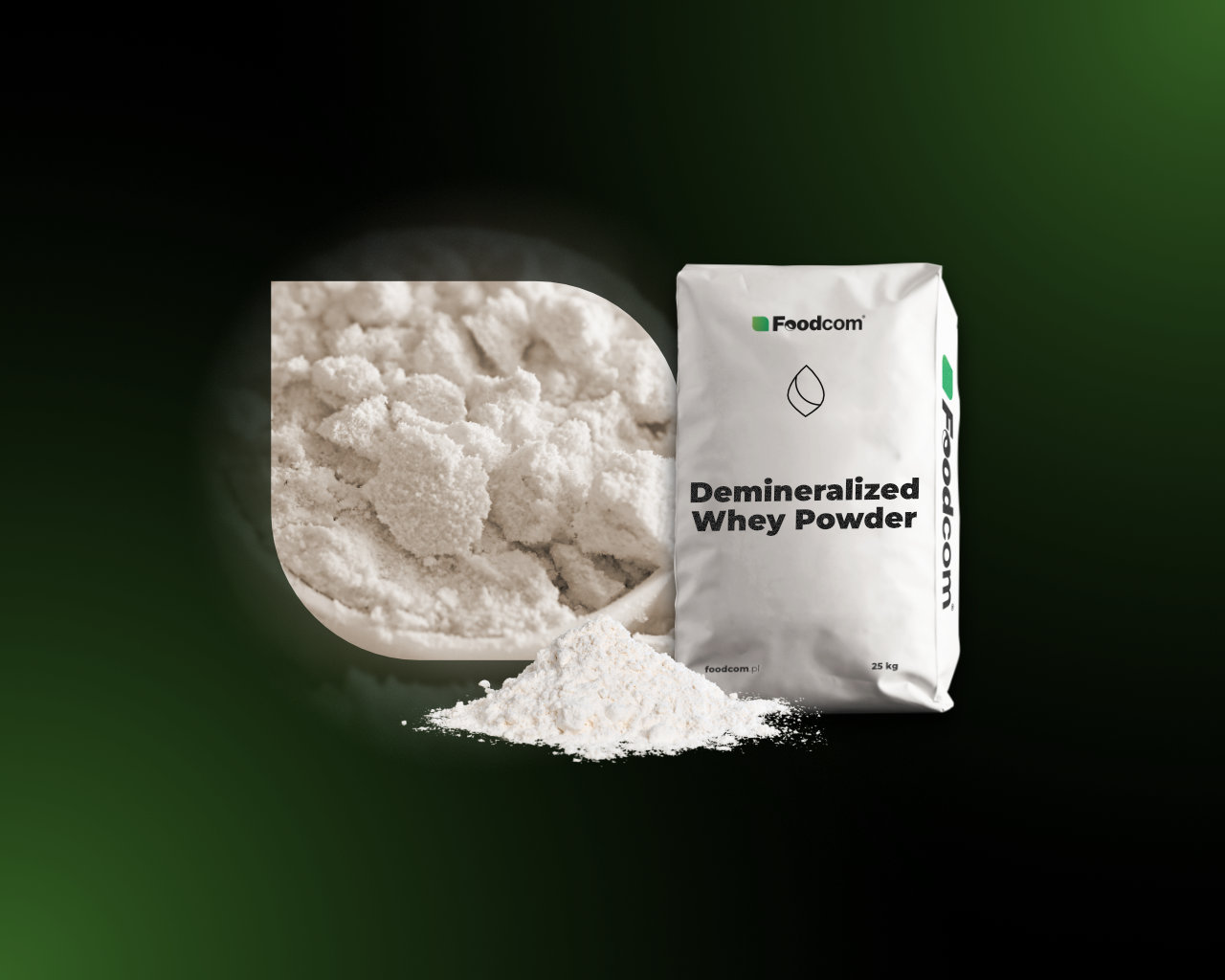 Price Quotations
Central Europe (EUR)
Month
3 months
1 year
3 years
Prices subject to final confirmation. Indications made for EXW Central Europe.*
Technical aspects
Demineralized Whey Powder (DEMI) is a free flowing and homogeneous powder with a light creamy yellow color. It occurs without any foreign aftertaste or odor. Demineralized Whey Powder is produced by removing some of the minerals from liquid sweet whey. Depending on the purpose, many techniques are combined: ion exchange, electrodialysis, ultrafiltration, microfiltration or nanofiltration.
Due to its thermal stability and fluidity, DEMI is ideal for storage in difficult conditions.
Foodcom S.A. offers:
DEMI 20% – an excellent filler with no salty taste,
DEMI 40%, 50% – most popular for chocolate and cakes,
DEMI 70%,
DEMI 90%.
Foodcom S.A. can also adapt and supply other parameters of the powder. We can also offer Halal or Kosher certification.
Foodcom S.A. also supplies Demineralized Whey Powder, which can be used for feed production.
Download specification
Storage period
The storage period of Demineralized Whey Powder is about 18 months. Product should be stored in clean, dry, ventilated warehouses on a clean pallet, at temperature not exceeding 25°C with air relative humidity not exceeding 75%.
Packaging
Foodcom S.A. supplies its Business Partners with Demineralized Whey Powder in 25 kg bags and in Big Bags.
Application
Demineralized Whey is widely used in the food industry, including for the production of coffee and tea creamers, confectionery, nutritional drinks, cream fillings and soups. DEMI (90% demineralization) is also used in the production of milk-based infant formula. It enables the production of a composition closer to breast milk.
Demineralized Whey Powder can also be used in the production of animal feed to increase the content of proteins and other nutrients.
In addition, the proteins contained in whey can be used in the production of medicines and pharmaceutical preparations.
Alternative names
DEMI, DM 70
How to start cooperation with us?
Buy now
We offer express purchase of the product at the price indicated on our website.
---
Payment
Payment is made after contacting our representative to arrange the details of the order.
Transport
We offer two options for delivery – personal collection of the product from our warehouse or commissioning transport.
Buy now
Book
We provide the possibility to reserve the product at the price indicated on the website.
---
Payment
After paying 10% of the order value, the product will be reserved for a period of 3 days. After that, the remaining amount must be paid.
Transport
You can pick up the purchased product in one of our warehouses or let us organize the transport.
Book
Product inquiry
The inquiry is forwarded to the appropriate trader. Our representative will then contact you to discuss the details of the order.
---
Payment
The payment terms will be determined during the business negotiations.
Transport
Convenient transport is organized in cooperation with our logistics department.
Send inquiry

Contact
Reach out to us!
Contact us by the contact form, and get a direct response to your question within four business hours!
Looking for a trusted partner in distribution?
Need a new supplier for your production?
Interested in a product not listed on the website?