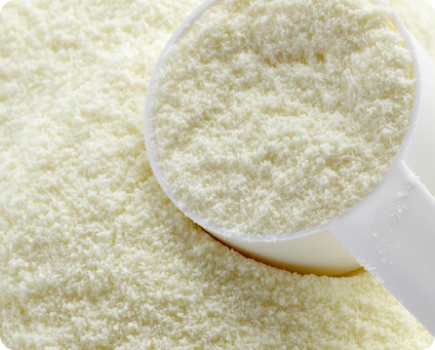 Sweet Whey Powder (SWP) is produced by drying Sweet Whey Concentrate – a by-product from hard cheese production. Foodcom provides SWP which undergoes the procedure of spray drying used to ensure a good flow.
Technical aspects
Sweet Whey Powder is a loose, uniform powder soluble in water. It has a light cream color and a typical smell of sweet whey powder without other aftertastes or other smells. Foodcom offers food, along with feed grade Sweet Whey Powder, which is confirmed by our GMP+ Certificate.
Shelf life
The shelf life of Sweet Whey Powder is about 18-24 months. The product should be stored in a dry, clean warehouse with a max. temperature of 25°C and relative humidity max. 75%.
Packaging
Foodcom supplies its Business Partners with Sweet Whey Powder in packs of 25 kg, or so-called Big Bags with polyethylene liner inside heat sealed.
Applications
In the dairy industry SWP can be found in the production of: spreads, sour cream products, cottage cheese and curd products, yogurts, ice cream, condensed milk, processed cheeses, drinks, In the feed industry for the production of: feed for agricultural animals, including production of milk substitutes.
Its excellent browning properties are used for the enhancement of color during cooking and baking with the use of high temperatures. Sweet Whey Powder is also used for improving loaf volume in bread. Its free-flowing and solubility properties are adopted in dry blends.
SWP also allows for the formation and stabilization of emulsions in the production of mayonnaise and fat sauces. It is also found in the perfumery and pharmaceutical industry in the production of: a variety of shampoos, creams, masks, cosmetic serums, medicines.
How to order?
Are you wondering how to order our products? Contact us by sending a message!

Our B2B trade specialists will contact you within one hour of sending your inquiry during office hours. We will provide you with information about the product, its origin, price and method of delivery. We will also help you make a decision as to the choice of a specific product by presenting its industrial applications. As wholesale specialists, we will be able to provide high-level service with transparent trade rules. All trading transactions run smoothly with us!
Why Foodcom?
Our great team of Sales Support will help our Traders conduct the contract and business deals in a smooth and efficient way to ensure the best quality service to all our Business Partners. Our logistics team will take care of transportation and the financial department will be responsible for all matters connected with the financial part of the deal.
Our certificates



Got a question?
Contact us!