Whey Protein Concentrate 35%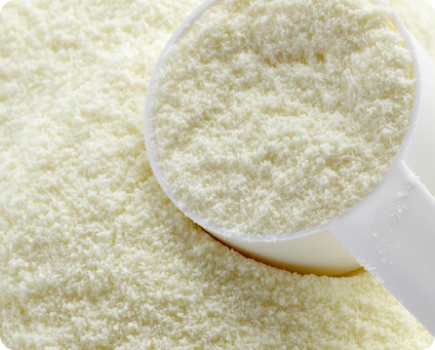 Whey Protein Concentrate 35%
Whey Protein Concentrate 35% is obtained in the production of sweet whey with the use of an advanced ultrafiltration process at very low temperatures. Such treatment enables the protein content to be no less than 35% in dry matter. The levels of lactose, protein, and amino acids are similar between Whey Protein Concentrate 35% and Skimmed Milk Powder, while the latter also contains casein.
Technical aspects
Whey Protein Concentrate 35% is a high quality, inexpensive source of dairy solids and protein as well as vitamins, calcium, riboflavin, and niacin. The final WPC 35 product comes in the form of a free-flowing, homogenous powder of creamy white to yellow color, without foreign odors or tastes.
Whey Protein Concentrate 35% serves as a great fat imitator and stabilizer. WPC 35 also has gelling properties and hydrophilic quality and thus can be very useful in the manufacturing of processed products and can act as a replacer of egg whites. The important feature of Whey Protein Concentrate 35% is also the whipping and foaming ability, which is beneficial in the production of desserts (whipped cream) and dietary products. Whey Protein Concentrate 35 also enhances firmness in the texture of the product and reduces acidity.
Alternative names: WPC 35, WPC, concentrate of whey proteins, powdered whey proteins, whey protein powder.
Shelf life
The shelf life of Whey Protein Concentrate 35% is about 12 months. The product should be stored in a dry, clean warehouse with a max. temperature of 25°C and relative humidity max. 75%.
Packaging
Foodcom supplies its Business Partners with Whey Protein Concentrate 35% in packs of 15/20/25 kg or in Big Bags.
Applications
Whey Protein Concentrate 35% is commonly used in the production of such products as pastries, yogurts, dietary goods, desserts, creams, protein supplements, and infant foods. It is commonly used as a cost-efficient substitute for Skimmed Milk Powder.
How to order?
Are you wondering how to order our products? Contact us by sending a message!

Our B2B trade specialists will contact you within one hour of sending your inquiry during office hours. We will provide you with information about the product, its origin, price and method of delivery. We will also help you make a decision as to the choice of a specific product by presenting its industrial applications. As wholesale specialists, we will be able to provide high-level service with transparent trade rules. All trading transactions run smoothly with us!
Why Foodcom?
Our great team of Sales Support will help our Traders conduct the contract and business deals in a smooth and efficient way to ensure the best quality service to all our Business Partners. Our logistics team will take care of transportation and the financial department will be responsible for all matters connected with the financial part of the deal.
Our certificates



Want to start a cooperation?
Inquire for a customized quote