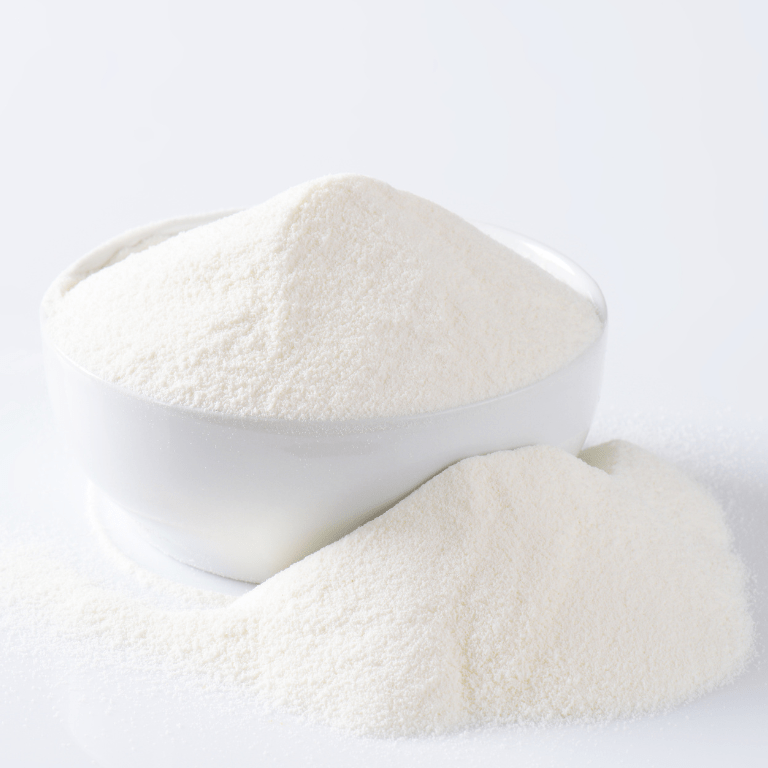 Skimmed Milk Powder (SMP) is a dairy product made by evaporating fresh pasteurized skimmed cow's milk in the process of spray-drying.
Technical aspects
Skimmed Milk Powder is soluble in water and has a high dispersibility rate, making it easy to handle in industrial production and ensuring the smoothness of the end product. Its foaming properties are used for the development of texture in products such as ice cream, mousses, and meringues. SMP's heat stability is a significant attribute when used in hot drinks, sauce premixes, and confectionery.
The product is also used in color formation, as the high levels of lactose tend to caramelize and give a distinct color. In meat products, SMP helps retain moisture and enhance juiciness. The product is a loose, homogenous powder of white, uniform color and typical smell for pasteurized milk, without foreign tastes and flavors.
Alternative names: SMP, powdered skim milk, low fat milk powder.
Shelf life
The shelf life of Skimmed Milk Powder is about 12 months. The product should be stored in a dry, clean warehouse at the max. temperature of 25°C and relative humidity of max. 75%.
Packaging
Foodcom supplies its Business Partners with Skimmed Milk Powder in 25 kg bags, Big Bags, or in silos/bulk.
Applications
Skimmed Milk Powder can be used in the production of a wide range of dairy products such as yogurts, milk-based drinks, cheese analogs, desserts, coffee and tea creamers, or UHT milk. Moreover, Skimmed Milk Powder finds its application in the manufacturing of baked goods, confections, ice creams, and sweets. An important use is also sport and infant nutrition foods.
How to order?
Are you wondering how to order our products? Contact us by sending a message!

Our B2B trade specialists will contact you within one hour of sending your inquiry during office hours. We will provide you with information about the product, its origin, price and method of delivery. We will also help you make a decision as to the choice of a specific product by presenting its industrial applications. As wholesale specialists, we will be able to provide high-level service with transparent trade rules. All trading transactions run smoothly with us!
Why Foodcom?
Our great team of Sales Support will help our Traders conduct the contract and business deals in a smooth and efficient way to ensure the best quality service to all our Business Partners. Our logistics team will take care of transportation and the financial department will be responsible for all matters connected with the financial part of the deal.
Our certificates



Got a question?
Contact us!