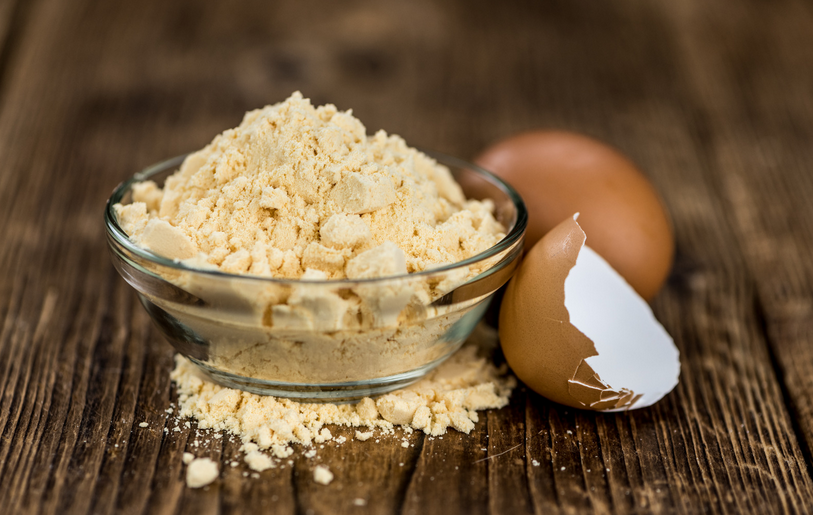 The egg powder manufacturing process begins with fresh eggs that are run through various advanced machines. After the eggshells are removed, the mixture is filtered and stored in storage tanks at about 4 degrees, then the eggs  are pasteurized and spray dried in a thin layer. The final product comes in a dried and powdered form. The product is also often referred to as 'powdered-egg', 'dry egg', or 'dried egg powder'.
Technical aspects
It contains around 30-37% protein content. The color varies from light to dark yellow. Product offered by Foodcom is free from GMO.
Alternative names: pulverized eggs, powdered eggs, powdered egg-whites, powdered egg-yolk.
Shelf life
The shelf life of  Egg Powder is 2 years. Product should be stored in clean, dry containers at room temperature (15-25°C).
Packaging
Foodcom supplies its Business Partners with Egg Powder in 20, 25 kg bags or in Big Bags.
Applications
Whole egg powder is consumed in hotels, hospitals, restaurants and military facilities, as well as in bakeries and in the production of cake mixes. It's generally used in classical food applications where rising qualities are not essential, such as crackers, cookies and pasta.
Egg yolk powder is used as a substitute for fresh egg yolk to provide color, texture, and emulsifying ability. Egg yolk powder is most commonly used in the preparation of mayonnaise, dressings, sauces and croissants.
Egg albumin powder is used in a range of products, from fish, meat and potato preparations to bakery and confectionery products.
How to order?
Are you wondering how to order our products? Contact us by sending a message!

Our B2B trade specialists will contact you within one hour of sending your inquiry during office hours. We will provide you with information about the product, its origin, price and method of delivery. We will also help you make a decision as to the choice of a specific product by presenting its industrial applications. As wholesale specialists, we will be able to provide high-level service with transparent trade rules. All trading transactions run smoothly with us!
Why Foodcom?
Our great team of Sales Support will help our Traders conduct the contract and business deals in a smooth and efficient way to ensure the best quality service to all our Business Partners. Our logistics team will take care of transportation and the financial department will be responsible for all matters connected with the financial part of the deal.
Our certificates



Got a question?
Contact us!