Egg Powder
Fresh eggs transformed into a convenient powder! Egg Powder is made through advanced technology. Ready to use in production!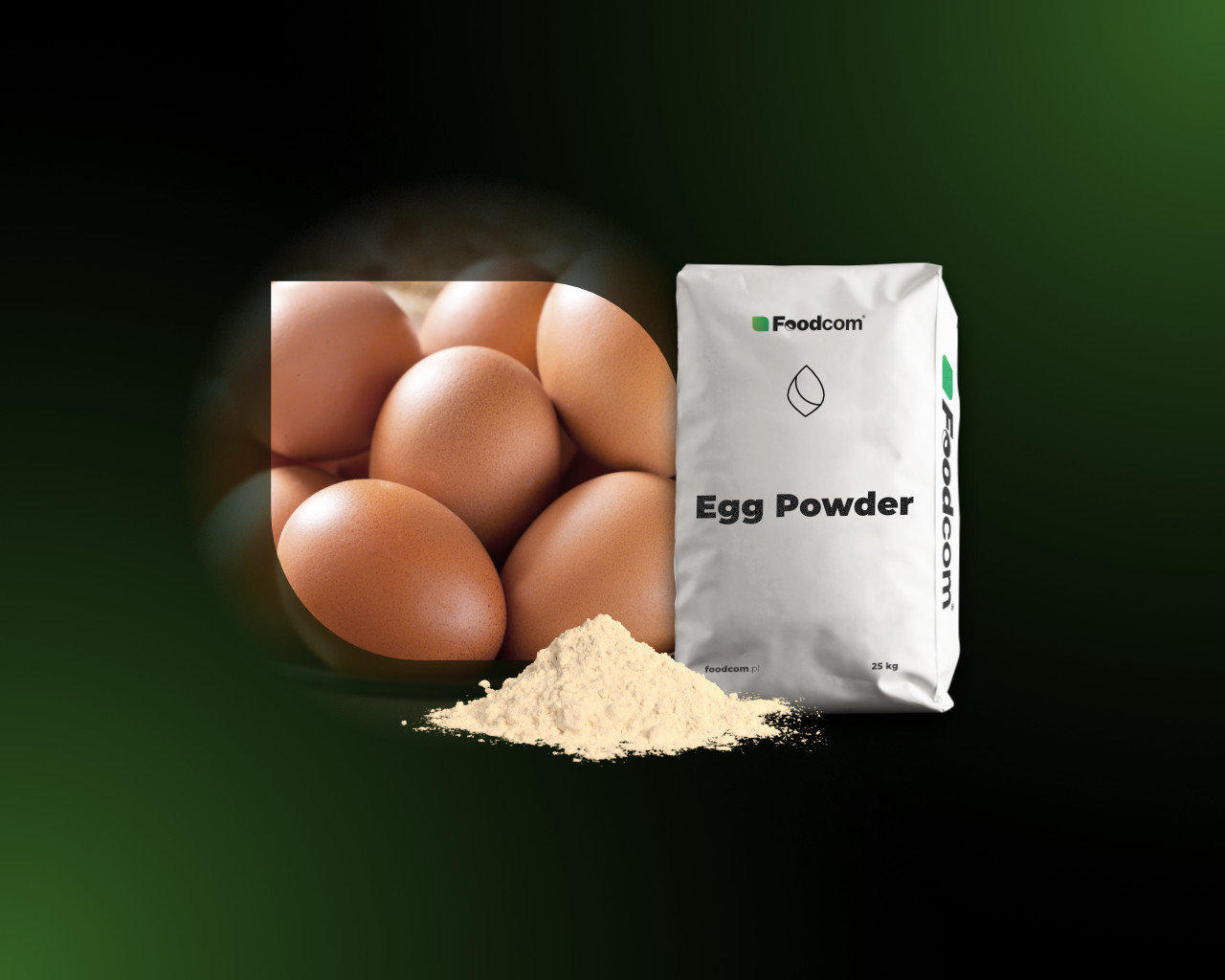 Price Quotations
Central Europe (EUR)
Month
3 months
1 year
3 years
Prices subject to final confirmation. Indications made for EXW Central Europe.*
Technical aspects
Egg Powder is in the form of a fine powder that has a yellow or slightly creamy color. The process of producing Egg Powder begins with fresh eggs, which go through several high-tech devices. After the shells are removed, the mixture is filtered and stored in storage tanks at about 4 degrees Celsius. Then the eggs are pasteurized and spray-dried.
Egg Powder is a rich source of protein with a protein content of 30-37%. It also influences the appearance of some foods, giving them an attractive color and affecting the texture, crispness and fluffiness of baked goods.
Download specification
Storage period
The storage period of Egg Powder is 2 years. Product should be stored in clean, dry containers at room temperature (15-25°C).
Packaging
Foodcom S.A. supplies its Business Partners with Egg Powder in 20 and 25 kg bags or in Big Bags.
Application
Egg Powder is typically used in the food industry, where its fluffing properties are essential for making products such as crackers, cookies and pasta. Egg Yolk Powder, on the other hand, is used as a substitute for fresh egg yolk to provide color, texture and emulsifying ability. It is mainly used in the preparation of mayonnaise, dressings, sauces and croissants. In addition, Egg Albumin Powder is used in a variety of products – from fish, meat and processed potatoes to bakery and confectionery products.
Alternative names
pulverized eggs, powdered eggs, powdered egg-whites, powdered egg-yolk
How to start cooperation with us?
Buy now
We offer express purchase of the product at the price indicated on our website.
---
Payment
Payment is made after contacting our representative to arrange the details of the order.
Transport
We offer two options for delivery – personal collection of the product from our warehouse or commissioning transport.
Buy now
Book
We provide the possibility to reserve the product at the price indicated on the website.
---
Payment
After paying 10% of the order value, the product will be reserved for a period of 3 days. After that, the remaining amount must be paid.
Transport
You can pick up the purchased product in one of our warehouses or let us organize the transport.
Book
Product inquiry
The inquiry is forwarded to the appropriate trader. Our representative will then contact you to discuss the details of the order.
---
Payment
The payment terms will be determined during the business negotiations.
Transport
Convenient transport is organized in cooperation with our logistics department.
Send inquiry

Contact
Reach out to us!
Contact us by the contact form, and get a direct response to your question within four business hours!
Looking for a trusted partner in distribution?
Need a new supplier for your production?
Interested in a product not listed on the website?