Lactose
Lactose, a natural sugar found in milk, is formed from two components: glucose and galactose. This compound is an important source of energy for the body, especially for infants. At the same time, lactose has a versatile application, not only in infant nutrition, but also as an important ingredient in the production of animal feed.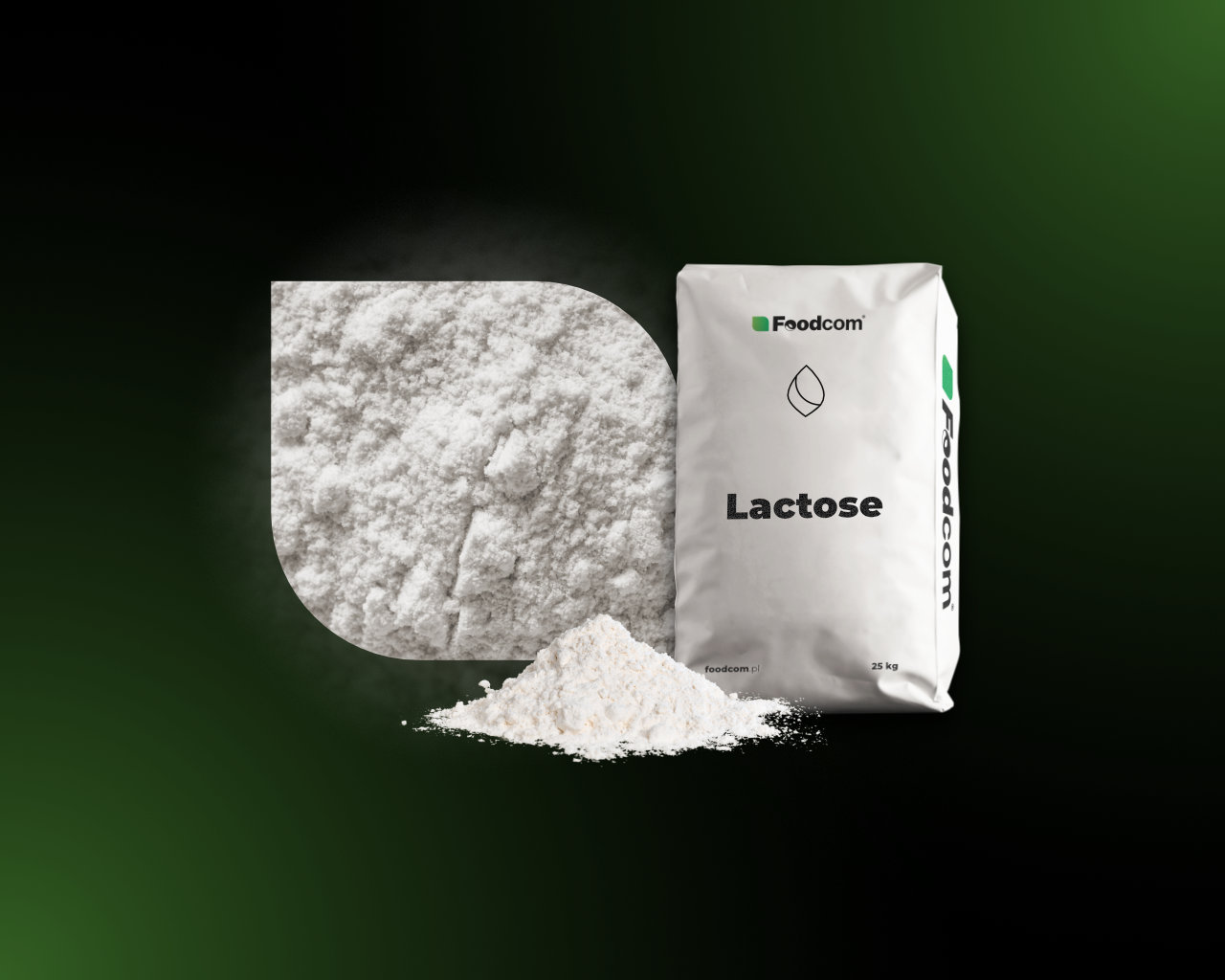 Price Quotations
Central Europe (EUR)
Month
3 months
1 year
3 years
Prices subject to final confirmation. Indications made for EXW Central Europe.*
Technical aspects
Lactose occurs in the form of a free-flowing, fine powder with a light yellow color. It is a natural milk sugar. The product undergoes a series of washing steps to separate the Lactose from proteins, minerals and residues. It is then crystallized and crushed.
Lactose is a source of calories and sugar. Lactose also has functional properties – it often serves as a texture and flavor enhancer and emulsifier. Lactose is also hygroscopic and is therefore often used in products that need to retain adequate moisture.
Foodcom S.A. offers different types of Lactose, suitable for many applications.
Download specification
Storage period
The storage period of Lactose is 24 months. The product should be stored in a dry environment at a maximum temperature of 30°C.
Packaging
Foodcom S.A. supplies its Business Partners with Lactose in 25 kg bags or in Big Bags.
Application
Lactose is one of the best dairy ingredients for use in foods due to its flavor and aroma enhancing properties. It can be used in cakes, confectionery, chocolate, baked goods, meat industry and dietary nutrition. Lactose is also present in baby food. Its presence in the product enables the fermentation process of yogurts, kefir and other beverages.
In the pharmaceutical industry, the carrier properties of Lactose play an important role in the production of tablets. It is also used as a binder so that the active ingredient can be evenly distributed in the tablets.
Alternative names
lactosum, natural milk sugar, milk disaccharide, C12H22O11
How to start cooperation with us?
Buy now
We offer express purchase of the product at the price indicated on our website.
---
Payment
Payment is made after contacting our representative to arrange the details of the order.
Transport
We offer two options for delivery – personal collection of the product from our warehouse or commissioning transport.
Buy now
Book
We provide the possibility to reserve the product at the price indicated on the website.
---
Payment
After paying 10% of the order value, the product will be reserved for a period of 3 days. After that, the remaining amount must be paid.
Transport
You can pick up the purchased product in one of our warehouses or let us organize the transport.
Book
Product inquiry
The inquiry is forwarded to the appropriate trader. Our representative will then contact you to discuss the details of the order.
---
Payment
The payment terms will be determined during the business negotiations.
Transport
Convenient transport is organized in cooperation with our logistics department.
Send inquiry

Contact
Reach out to us!
Contact us by the contact form, and get a direct response to your question within four business hours!
Looking for a trusted partner in distribution?
Need a new supplier for your production?
Interested in a product not listed on the website?