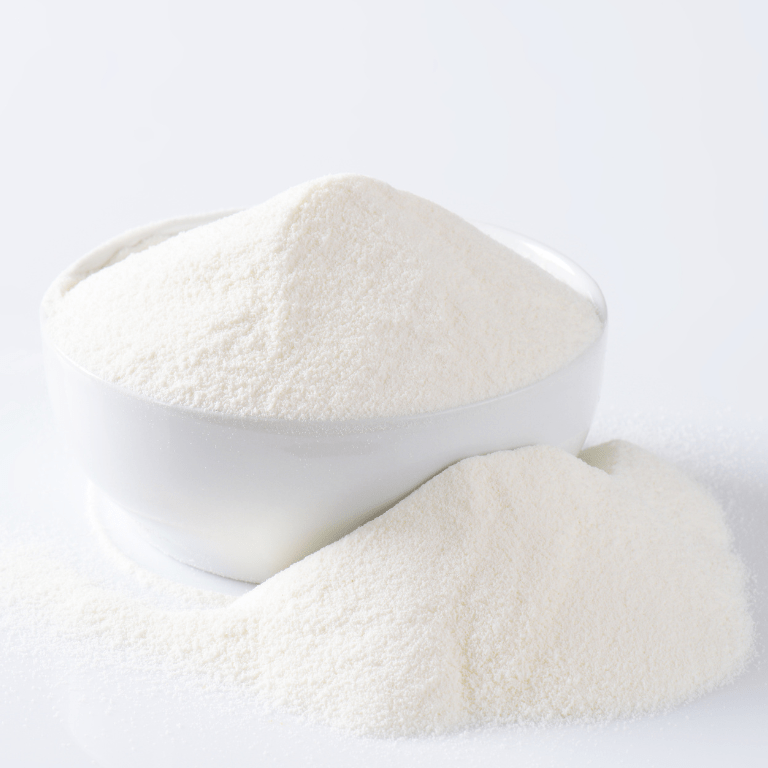 The Rennet Casein is made from skimmed milk coagulated with rennet. After coagulation, it is separated from the whey proteins, lactose, and minerals in order to purify the final product. Later, Rennet Casein is concentrated and dried.
Technical aspects
Rennet Casein contains high levels of natural amino acids and carbohydrates. Its consistency allows for flavor stability. It has great functional qualities – stretching power, texture improvement as well as good melting, stretching, water-binding, and emulsifying properties. Rennet Casein also accelerates the production process of melted cheeses due to rapid hydration. Its emulsion stabilizing properties are used in the production of toppings and foams.
The final product comes in the form of a small-grained, free-flowing powder of creamy white color, with neutral odor and taste.
Foodcom S.A. supplies natural and fresh Rennet Casein with 30 to 90 mesh.
Alternative names: skim milk casein.
Shelf life
The shelf life of Rennet Casein is 12 months. It should be stored in a clean, dry warehouse at a max. temperature of 20°C and relative humidity of max. 70%.
Packaging
Foodcom supplies its Business Partners with Rennet Casein in 20, 25 kg bags and in Big Bags.
Applications
Rennet Casein can be used in manufacturing processed and melted cheese, fitness supplements, sauce and dips, cheese analogues, spreads, delicatessen, yogurts, and bars. It is also a popular ingredient of clinical nutrition products and pet food.
How to order?
Are you wondering how to order our products? Contact us by sending a message!

Our B2B trade specialists will contact you within one hour of sending your inquiry during office hours. We will provide you with information about the product, its origin, price and method of delivery. We will also help you make a decision as to the choice of a specific product by presenting its industrial applications. As wholesale specialists, we will be able to provide high-level service with transparent trade rules. All trading transactions run smoothly with us!
Why Foodcom?
Our great team of Sales Support will help our Traders conduct the contract and business deals in a smooth and efficient way to ensure the best quality service to all our Business Partners. Our logistics team will take care of transportation and the financial department will be responsible for all matters connected with the financial part of the deal.
Our certificates



Want to start a cooperation?
Inquire for a customized quote