What is the FMCG industry and which Big Brands belong to it?

Publication date
10 March 2023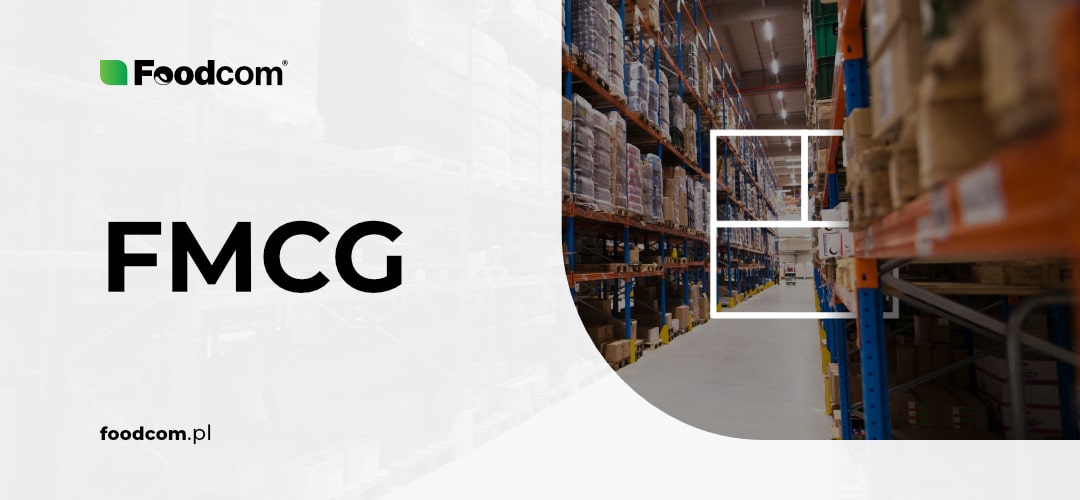 Essence
The FMCG industry is an industry that focuses on fast-moving consumer goods.
FMCG products include candy, soft drinks, energy drinks, cleaning products, cosmetics, medicines, and dietary supplements.
Foodcom S.A. offers big brands in the following categories: soft drinks, energy drinks and confectionery, such as Coca-Cola®, Red Bull® and Nutella®.
FMCG – what is it?
The FMCG industry is an industry that focuses on fast-moving consumer goods. The acronym used to refer to it comes from the English term "Fast Moving Consumer Good". Fast-moving products are usually everyday goods that are sold frequently and at attractive prices.
The FMCG industry is constantly evolving and it is worth learning about its characteristics. If you want to know more, you can find all the information you need below!
Characteristics of the FMCG industry
The main feature of the FMCG industry is the wide variety of its product range. The products of FMCG industry include candy, soft drinks, energy drinks, cleaning products, cosmetics, over-the-counter drugs and dietary supplements.
FMCG products can also be defined in terms of four main aspects. First, they are products intended for frequent use. Second, they are consumed quickly and usually on the same day they are purchased. Third, FMCG products are in high demand due to their affordability and convenience. Finally, these goods are relatively inexpensive compared to other products available on the market.
From a retailer's perspective, FMCG products have several characteristics that make them unique compared to other types of products. First, they have a high turnover rate because they are frequently purchased by consumers. In addition, FMCG products are widely available in various locations and regions due to their high demand and low cost. FMCG products are also standardized in terms of shape, size, color, and price, which facilitates mass production and allows consumers to know exactly what they are getting when they buy a particular product.

Big Brands at Foodcom S.A.
Big Brands refers to the biggest brands in the FMCG market. Foodcom S.A. offers Big Brands from the following categories: soft drinks, energy drinks or confectionery. They are distributed to food wholesalers, distributors of branded goods, importers, exporters and retail chains.
Below are some examples of FMCG products offered by Foodcom S.A., their characteristics and applications.
Coca-Cola®
Coca-Cola® is a sweet-tasting, caramel-colored, carbonated beverage that contains natural flavors but no unnecessary preservatives. The drink was invented in the 19th century and is now a world-famous product whose recipe is a trade secret. Coca-Cola® is widely used in the food industry.
Thanks to its Caffeine content, Coca-Cola® improves concentration and reduces drowsiness and fatigue. Coca-Cola® has a shelf life of 6 to 9 months and should be stored in a cool, dry place away from sunlight. Foodcom S.A. supplies Coca-Cola® in two types of cans: a classic 0.33 ml can in a 24pack and a sleek 0.33 ml can, also in a 24pack.
Red Bull®
Red Bull® is a carbonated energy drink. Its ingredients – Caffeine and Taurine – are often used by athletes, students and people with demanding jobs. Thanks to Caffeine, Red Bull® reduces fatigue and increases energy. It has a yellow color and a sweet taste.
It has a shelf life of 15 months and is supplied by Foodcom S.A. to its Business Partners in 250 ml cans in packs of 2, 8 and 24. Red Bull® is a popular product in the food industry, available in stores and restaurants around the world.
Nutella®
Nutella® is a creamy paste with the flavor of cocoa and hazelnuts. The manufacturing process begins with the extraction of the cocoa, which is ground, and the cleaning and roasting of the hazelnuts. The mixture of pure cocoa powder and hazelnuts is then combined with skimmed milk and sugar. Finally, it is blended to a smooth paste.
Nutella® has a brown color and a distinctive sweet and nutty flavor. The paste contains no artificial colors or preservatives and has a shelf life of 12 months. It should be stored at room temperature. Foodcom supplies Nutella® in 350g, 600g or 750g jars, packed in packs of 24.
Nutella® is used as a cream ingredient in the food industry and in the confectionery industry as an ingredient in cakes and cookies.
Why Foodcom?
Our great team of Sales Support will help our Traders conduct the contract and business deals in a smooth and efficient way to ensure the best quality service to all our Business Partners. Our logistics team will take care of transportation and the financial department will be responsible for all matters connected with the financial part of the deal. Do not hesitate! Contact us.