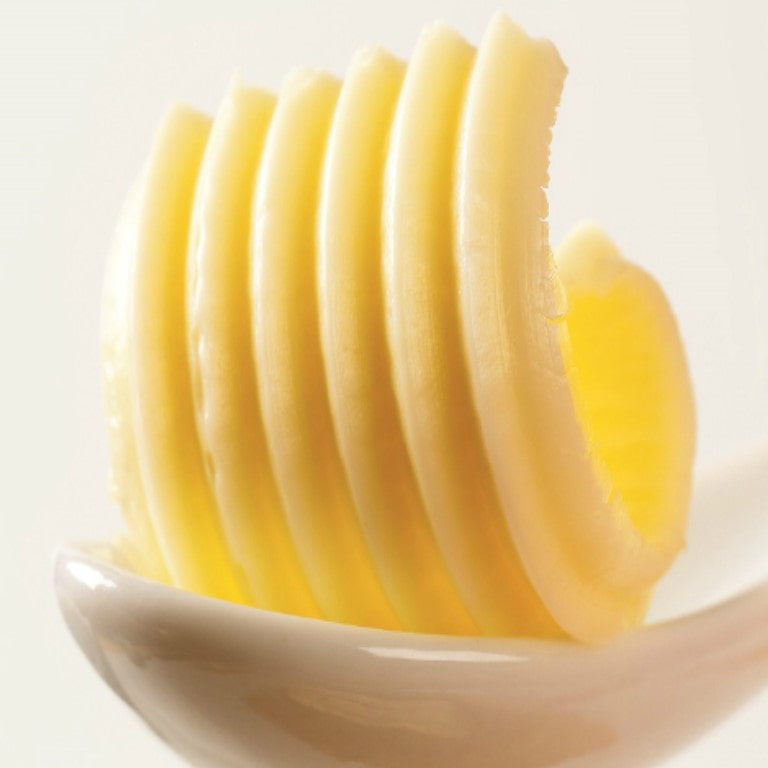 Lactic Butter is made from pasteurized cow's milk that has been fermented with lactic acid, in a continuous churning and kneading process. Lactic Butter has lower levels of water than regular butter and a characteristic fresh lactic flavor.
Technical aspects
Lactic butter has a uniform light creamy to yellow color and a sweet, slightly acidic flavor, which is a result of adding from 1 to 3% of a milk culture. The product has a cohesive, unitary texture and a smooth, dry surface.
Alternative names: cultured butter, lactic acid butter.
Shelf life
The shelf life of Lactic Butter is:
– Not frozen, temp. from + 2°C to + 6°C expiry date: 39 days
– Frozen, temp. from – 18°C to – 22°C expiry date: 6 months
– Frozen, temp. from –22,1°C to – 30°C, expiry date: 12 months
Packaging
Foodcom supplies its Business Partners with Lactic Butter in 25 kg blocks.
Applications
Lactic Butter is primarily used in the baking industry, confectionery industry, as well as an ingredient of many dishes. It is also widely used in the production of chocolate, cookies, biscuits, spreads, sauces, ice cream, and puff pastry products. Lactic Butter is a great ingredient for frying, baking, and saucing. It allows for the production of crumbly, flaky, or fluffy texture in shortbread doughs and biscuits.
How to order?
Are you wondering how to order our products? Contact us by sending a message!

Our B2B trade specialists will contact you within one hour of sending your inquiry during office hours. We will provide you with information about the product, its origin, price and method of delivery. We will also help you make a decision as to the choice of a specific product by presenting its industrial applications. As wholesale specialists, we will be able to provide high-level service with transparent trade rules. All trading transactions run smoothly with us!
Why Foodcom?
Our great team of Sales Support will help our Traders conduct the contract and business deals in a smooth and efficient way to ensure the best quality service to all our Business Partners. Our logistics team will take care of transportation and the financial department will be responsible for all matters connected with the financial part of the deal.
Our certificates



Got a question?
Contact us!