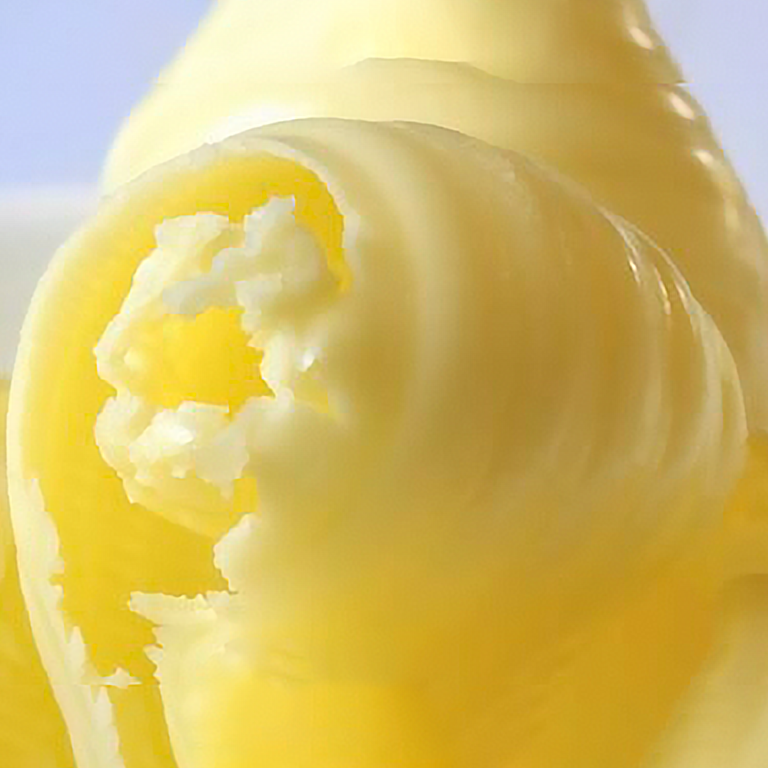 Bio Butter is made in the process of churning fresh or fermented cream or milk in a special machine, to break the membranes of fat globules and in that way separate the butterfat from the buttermilk. The final product is a dense, smooth body of yellow color and a typical smell.
Bio Butter is the product with a Bio Certificate. Only EU certified raw material can be used for products for the EU market.
Technical aspects
The name butter is reserved for products without vegetable fat admixtures with a specific milk fat content – at least 82% (not more than 16% water and 2% dry nonfat milk). Bio butter delivered by Foodcom is obliged to have a minimum of 95% organic ingredients. The certification restricts the use of additives and processing aids and does not allow GMOs for any purpose. As an established European dairy provider, Foodcom is able to deliver BIO butter with Halal/Kosher certification.
Shelf life
Bio Butter 25kg has a shelf life of 50 days from the date of the production if stored at the temperature between 0 °C and 10°C, 2 months if stored at the temperature of -10 °C, and 12 months if stored at the temperature of -18 °C.
Packaging
Foodcom S.A. supplies Bio Butter that is available in 25 kg blocks or cubes.
Applications
Bio Butter has many functional properties such as a great texture and rich taste that are very useful for the baking and confectionery industry. It allows the good development of high-quality pastry. In baked goods, butter is used to produce a flaky and crispy texture. Butter is also homogeneous and cohesive, making it a great addition to soups, meats, and ready-cooked meals. The product is also rich in vitamins A, D, K.
How to order?
Are you wondering how to order our products? Contact us by sending a message!

Our B2B trade specialists will contact you within one hour of sending your inquiry during office hours. We will provide you with information about the product, its origin, price and method of delivery. We will also help you make a decision as to the choice of a specific product by presenting its industrial applications. As wholesale specialists, we will be able to provide high-level service with transparent trade rules. All trading transactions run smoothly with us!
Why Foodcom?
Our great team of Sales Support will help our Traders conduct the contract and business deals in a smooth and efficient way to ensure the best quality service to all our Business Partners. Our logistics team will take care of transportation and the financial department will be responsible for all matters connected with the financial part of the deal.
Our certificates



Got a question?
Contact us!