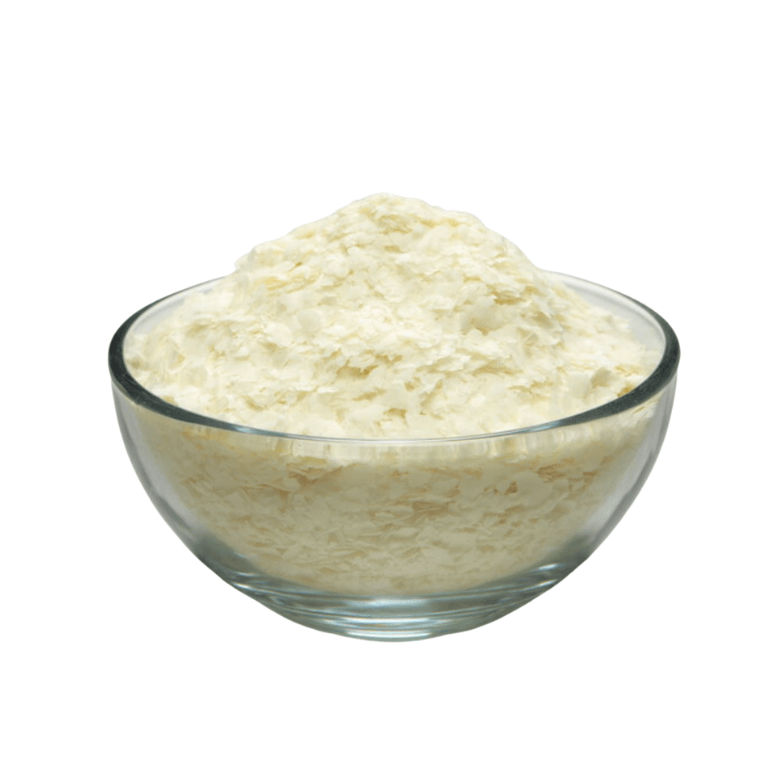 Potato Flakes are obtained from non-GMO potatoes. The production of the raw material consists of cooking the potatoes, mashing, and crushing on the surface of a drum. They are then dried and scraped from the drum. Foodcom supplies its Business Partners with two types of Potato Flakes.
Technical aspects
Potato Flakes come in the form of yellow to cream-colored flakes with an odor and taste characteristic of potatoes. They have a creamy, floury texture. 100 grams of flakes stirred with 500 ml of water at a temperature of 75ºC creates a non-sticky, fluffy mass that resembles mashed potatoes and has the characteristic taste of potatoes. Potato Flakes are used as a thickener and binder.
Foodcom offers two types of Potato Flakes: Potato Flakes without additives, and Potato Flakes with additives. The ingredients of Potato Flakes are the following: mono- and diglycerides of fatty acids (E471), diphosphates (E450), Citric Acid (E330), antioxidants (E304), sodium metabisulphite (E223) and curcuma.
Alternative names: dehydrated potato, dried potato flakes, dehydrated mashed potato.
Shelf life
The shelf life of Potato Flakes without additional ingredients is 8 months. Potato Flakes with additives can be stored for 12 months.
Potato Flakes must be stored in dry, clean, cool, well-ventilated warehouses, at an air temperature not exceeding 20°C and relative humidity not exceeding 75%.
Packaging
Foodcom supplies its Business Partners with Potato Flakes in 20 kg bags.
Applications
Potato Flakes have a versatile application in the food industry. They are used as thickeners in food products like instant soups and sauces and are also included in the ingredients of instant mashed potatoes. Potato Flakes are also used in the production of frozen potato products. In the bakery industry, they improve the taste and smell of products and prolong their freshness. They are also found in chips.
How to order?
Are you wondering how to order our products? Contact us by sending a message!

Our B2B trade specialists will contact you within one hour of sending your inquiry during office hours. We will provide you with information about the product, its origin, price and method of delivery. We will also help you make a decision as to the choice of a specific product by presenting its industrial applications. As wholesale specialists, we will be able to provide high-level service with transparent trade rules. All trading transactions run smoothly with us!
Why Foodcom?
Our great team of Sales Support will help our Traders conduct the contract and business deals in a smooth and efficient way to ensure the best quality service to all our Business Partners. Our logistics team will take care of transportation and the financial department will be responsible for all matters connected with the financial part of the deal.
Our certificates



Want to start a cooperation?
Inquire for a customized quote