Soy Flour
Soy Flour is rich in protein and fiber, non-GMO and ideal for the food and feed industry. Give your products higher nutritional value and unique properties by choosing Soy Flour.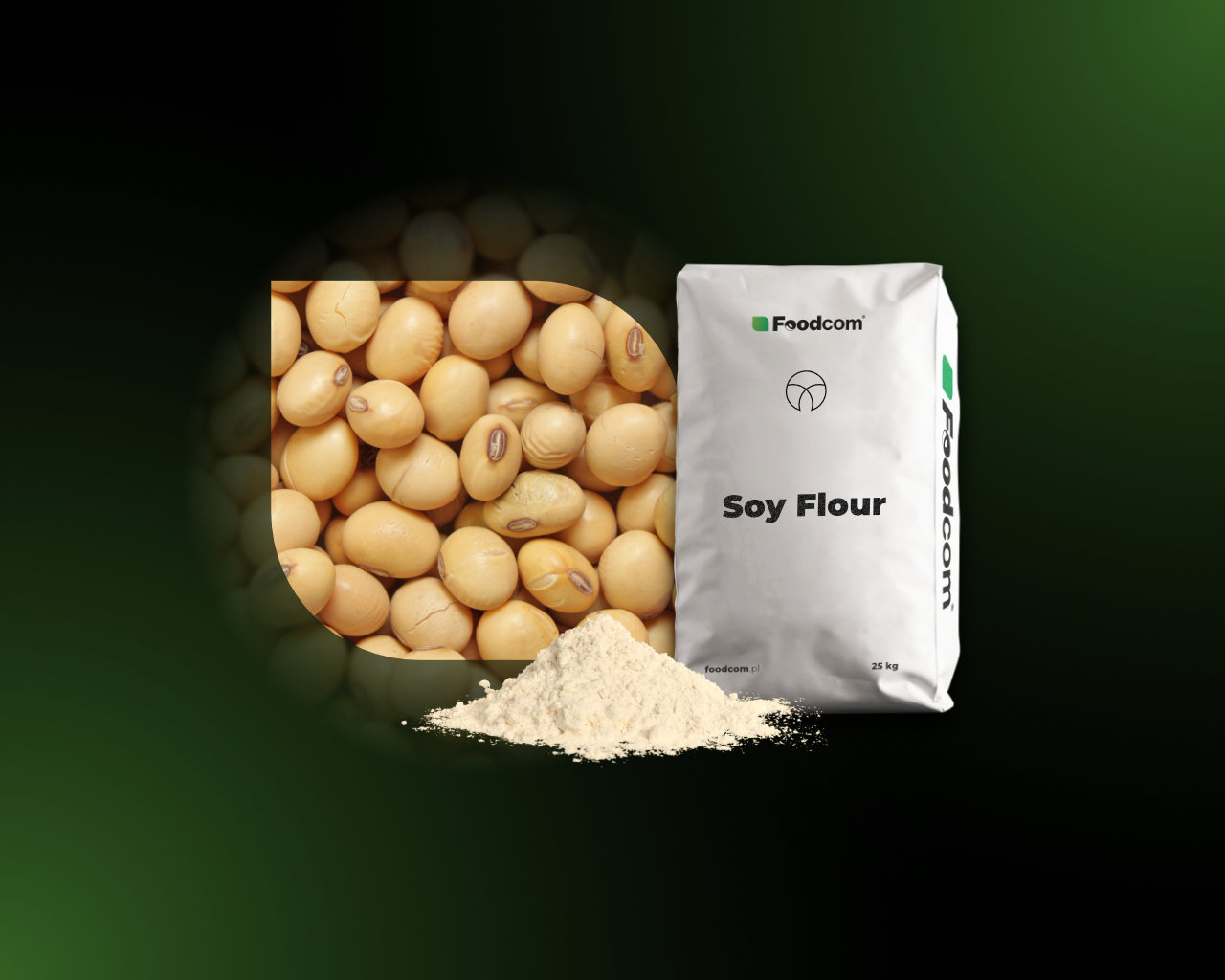 Price Quotations
Central Europe (EUR)
Month
3 months
1 year
3 years
Prices subject to final confirmation. Indications made for EXW Central Europe.*
Technical aspects
Soy Flour is a fine powder with a creamy or light yellow color. During the manufacturing process, non-GMO soybeans are thoroughly cleaned and then turned into flakes from which the oil is extracted using a solvent. Soy Flour is produced by grinding the resulting soy flakes.
Soy Flour has a high nutritional value and is rich in proteins, fiber, iron and calcium. It also has functional properties – it can be a binder, has the ability to absorb water, which improves the elasticity and viscosity of products. At the same time it can affect the crispness of baked goods, because it does not contain gluten.
Soy Flour offered by Foodcom S.A. is defatted and contains 50-52% protein. The soybeans from which Soy Flour from Foodcom S.A. is made are non-GMO.
Download specification
Storage period
The storage period of Soy Flour is 12 months. The product should be stored in a dry and cool place.
Packaging
Foodcom S.A. offers non-GMO Soy Flour in 25 kg or 50 kg packages.
Application
Soy Flour is used in the food industry, where it is added to meat products such as sausages and hamburgers to increase protein and moisture content. It is also widely used in the production of baked goods, pasta, breakfast cereals and prepared meals, where it serves as both a thickener and emulsifier. Due to its ability to bind water, Soy Flour is also used as an egg substitute in vegan products.
Soy Flour and its derivatives are among the most popular ingredients in animal feed. It is a rich source of plant-based protein and provides essential amino acids for livestock. In addition, Soy Flour can be used to make milk substitutes for calves.
Alternative names
non-gmo soy flour, soy protein, soy protein flour, defatted soy flour, soya flour, soybean flour
How to start cooperation with us?
Buy now
We offer express purchase of the product at the price indicated on our website.
---
Payment
Payment is made after contacting our representative to arrange the details of the order.
Transport
We offer two options for delivery – personal collection of the product from our warehouse or commissioning transport.
Buy now
Book
We provide the possibility to reserve the product at the price indicated on the website.
---
Payment
After paying 10% of the order value, the product will be reserved for a period of 3 days. After that, the remaining amount must be paid.
Transport
You can pick up the purchased product in one of our warehouses or let us organize the transport.
Book
Product inquiry
The inquiry is forwarded to the appropriate trader. Our representative will then contact you to discuss the details of the order.
---
Payment
The payment terms will be determined during the business negotiations.
Transport
Convenient transport is organized in cooperation with our logistics department.
Send inquiry

Contact
Reach out to us!
Contact us by the contact form, and get a direct response to your question within four business hours!
Looking for a trusted partner in distribution?
Need a new supplier for your production?
Interested in a product not listed on the website?