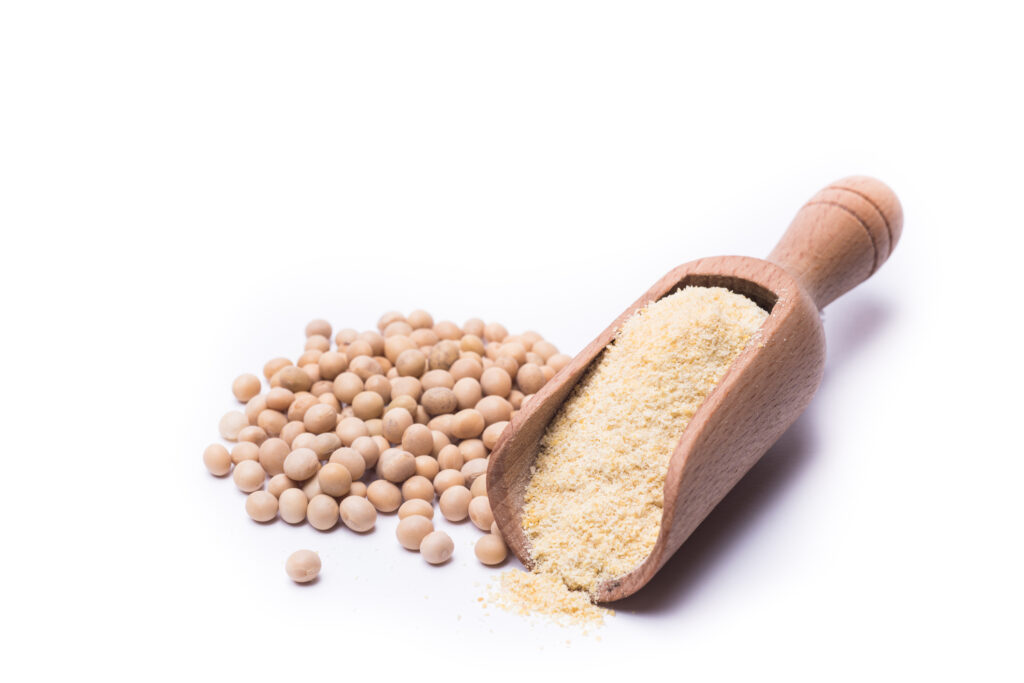 Soybeans are thoroughly cleaned to remove dirt and debris, to be then cracked, dehulled, and turned into flakes, from which oil is extracted with the use of solvent. The soy flour is then produced by milling soybean flakes.
Technical aspects
Soy Flour is rich in high-quality protein, fiber, iron and calcium. The finished soy flour is a fine powder of creamy or light yellow color. The product offered by Foodcom has a protein content of 50-52%. Soybeans used to produce Foodcom Soy Flour are non-genetically modified (so-called non-GMO).
Alternative names: non-gmo soy flour, soy protein, soy protein flour, defatted soy flour, soya flour, soybean flour.
Shelf life
The shelf life of Soy Flour is 12 months. It should be stored in dry, cool conditions.
Packaging
Foodcom supplies its Business Partners with Soy Flour in 25kg or 50kg bags.
Applications
Soy Flour and its derivatives are among the most popular ingredients of animal feed, calf milk replacer, poultry feed, fish feed and pet food. It is used to fortify grains, enable smoother digestion, and add nutrient-rich, functional aspects to animal feed mixtures. In the food industry, Soy Flour is used in manufacturing of various snacks, chips, bakery goods, soups, meat, or as a raw material for further processing.
How to order?
Are you wondering how to order our products? Contact us by sending a message!

Our B2B trade specialists will contact you within one hour of sending your inquiry during office hours. We will provide you with information about the product, its origin, price and method of delivery. We will also help you make a decision as to the choice of a specific product by presenting its industrial applications. As wholesale specialists, we will be able to provide high-level service with transparent trade rules. All trading transactions run smoothly with us!
Why Foodcom?
Our great team of Sales Support will help our Traders conduct the contract and business deals in a smooth and efficient way to ensure the best quality service to all our Business Partners. Our logistics team will take care of transportation and the financial department will be responsible for all matters connected with the financial part of the deal.
Our certificates



Want to start a cooperation?
Inquire for a customized quote