Fructose
Fructose – a sweet addition to your business. Its intense flavor and ability to bind moisture give your products a unique character. Discover the potential of Fructose and differentiate your products.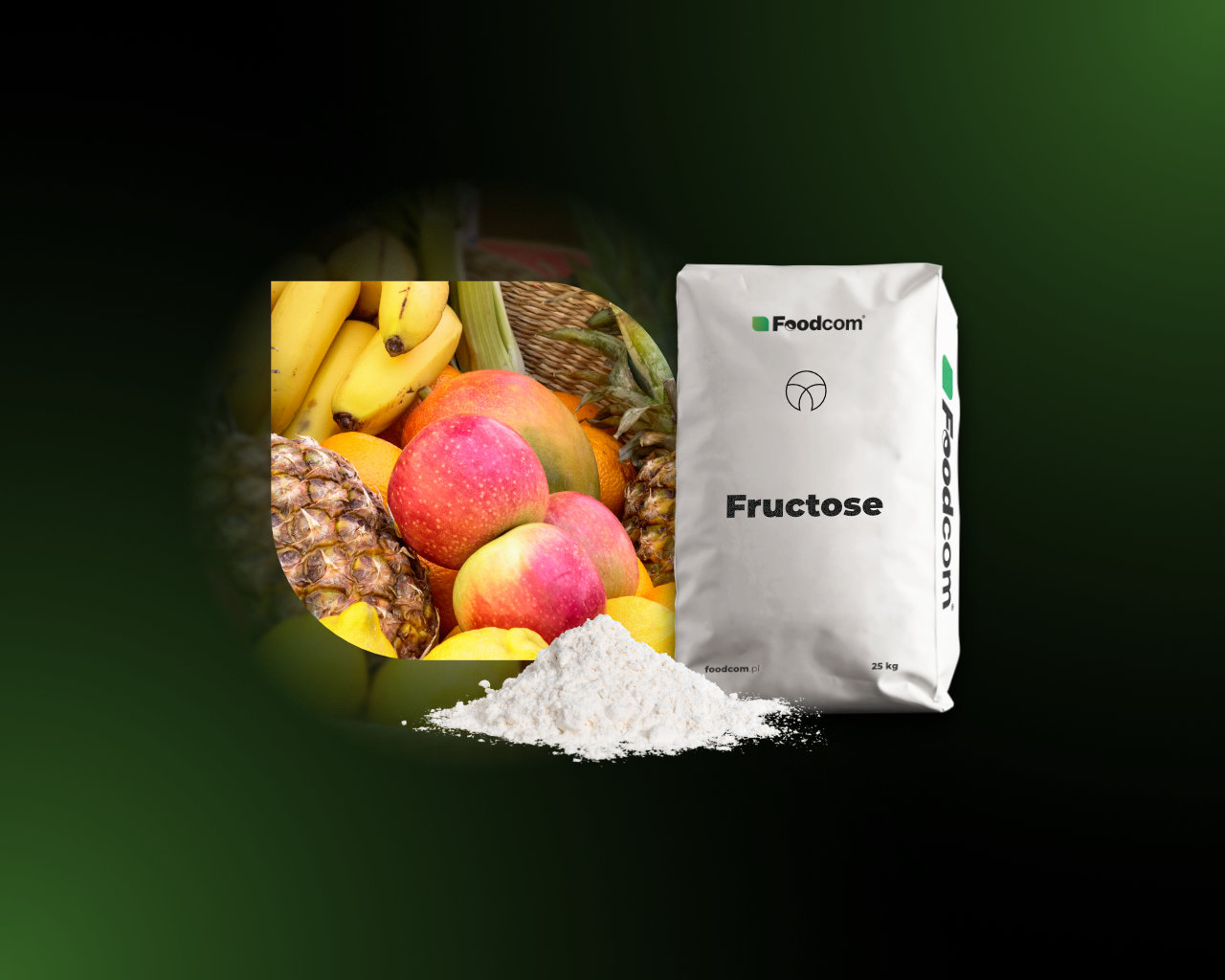 Price Quotations
Central Europe (EUR)
Month
3 months
1 year
3 years
Prices subject to final confirmation. Indications made for EXW Central Europe.*
Technical aspects
Fructose has the highest sweetness of all natural sugars. It is also called fruit sugar because it occurs mainly in fruits, but also in honey, flower nectar or vegetables. Fructose is extracted from sugar cane, sugar beets and corn. The most common source of industrial Fructose is corn, which undergoes a process of starch hydrolysis.
Besides its sweet taste, another important property of Fructose is its ability to absorb moisture; it is an excellent humectant.
Download specification
Storage period
The storage period of Fructose is 24 months. It should be stored in a cool and dry place.
Packaging
Foodcom S.A. offers Fructose in 25 kg bags, Big Bags and in bulk.
Application
Fructose is used as a strong sweetener and preservative. Because of its hygroscopicity, it is often used to extend the shelf life of baked goods and prevent confectionery from drying out and crystallizing. Baked goods with Fructose also have an attractive color. Fructose also provides a smooth texture to ice cream. In industry, Fructose is also often used in the form of glucose-fructose syrup, a sweetener that gives products good moisture and does not crystallize.
Alternative names
d-fructose, levulose, fruit sugar
How to start cooperation with us?
Buy now
We offer express purchase of the product at the price indicated on our website.
---
Payment
Payment is made after contacting our representative to arrange the details of the order.
Transport
We offer two options for delivery – personal collection of the product from our warehouse or commissioning transport.
Buy now
Book
We provide the possibility to reserve the product at the price indicated on the website.
---
Payment
After paying 10% of the order value, the product will be reserved for a period of 3 days. After that, the remaining amount must be paid.
Transport
You can pick up the purchased product in one of our warehouses or let us organize the transport.
Book
Product inquiry
The inquiry is forwarded to the appropriate trader. Our representative will then contact you to discuss the details of the order.
---
Payment
The payment terms will be determined during the business negotiations.
Transport
Convenient transport is organized in cooperation with our logistics department.
Send inquiry

Contact
Reach out to us!
Contact us by the contact form, and get a direct response to your question within four business hours!
Looking for a trusted partner in distribution?
Need a new supplier for your production?
Interested in a product not listed on the website?