How is Glycerin used? Uses of Glycerol
22 May 2023
Reading time: 6 minut

Publication date
22 May 2023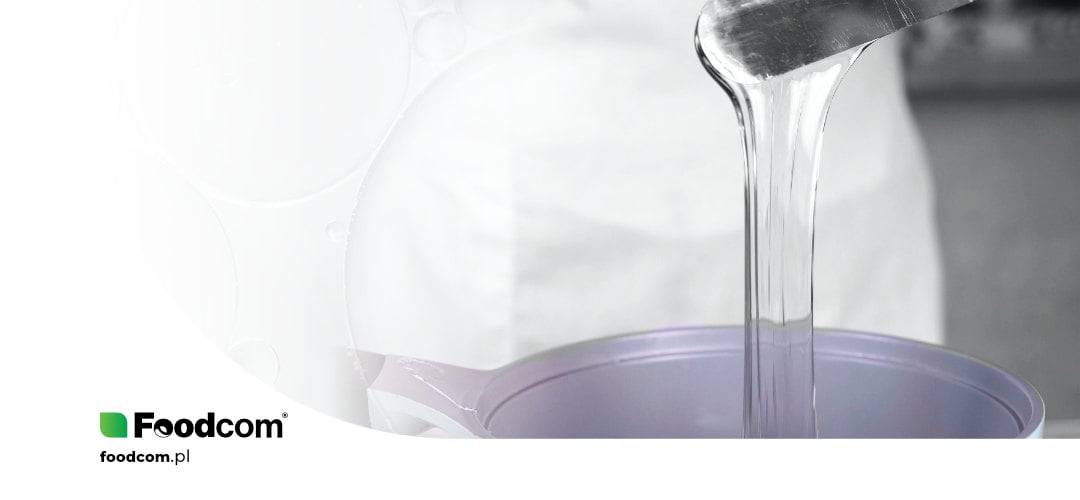 Essence
Glycerin, also known as Glycerol, is an organic chemical compound that belongs to the group of sugars.
It can be extracted from plant and animal sources or obtained synthetically.
It is highly hygroscopic and therefore has moisturizing and lubricating properties.
Glycerin is used in the cosmetics, food, pharmaceutical or cigarette industries.
Glycerin – what is it?
Glycerin is an organic chemical compound belonging to the group of sugars. Glycerin is also called Glycerol – both names are correct and used interchangeably. It is a substance usually obtained from plant and animal sources – by saponification of fats. Glycerol can also be obtained synthetically, through the oxidation reaction of propylene or as a byproduct of biofuel production.
Glycerin is highly hygroscopic and is widely used as a Humectant in the manufacture of cosmetics. However, it has many other properties that are also used in other areas. How is Glycerin used? Below you will find the most popular applications!
Production of Glycerin
As mentioned earlier, Glycerin can be obtained naturally or synthetically. The process of Glycerin production begins with the hydrolysis of fats, producing a mixture of fatty acids and Glycerin. The Glycérol is then separated from the fatty acids by distillation or other refining processes. Plant sources of Glycerin are usually soybeans or palms.
Synthetically, Glycerol can be obtained from propene by chlorination, producing allyl chloride. The allyl chloride is then oxidized to dichlorohydrin, which reacts with a strong base to form epichlorohydrin. Epichlorohydrin, in turn, is hydrolyzed to form Glycérol.
Properties of Glycerin
Glycerin is in the form of a viscous and colorless liquid. It has a sweet taste and mixes very well with water. The most important property of Glycerol is that it is hygroscopic, which means that it attracts and retains moisture from the environment. For this reason, it is often used in the manufacture of skin care products, as it helps to keep the skin moist. However, it should be noted that in low concentrations Glycerin has moisturizing and lubricating properties, while in high concentrations, i.e. above 25%, it acts as a disinfectant and drying agent.
Glycerin's hygroscopicity also makes it a good preservative. Because it retains water, it prevents cosmetics or foods from drying out. It also inhibits the growth of microorganisms.
What is Glycerin used for?
Due to its hygroscopic properties, Glycerin is mainly used in the cosmetics industry. It is used in the manufacture of skin care products, also increases the viscosity of products and can serve as a solvent for many other substances.
Glycerin is also used in the food industry – as E422. It is used to regulate and maintain the proper moisture content in products. For example, it prevents bread from drying out. Due to its ability to bind water, it is also a preservative, as it leads to a reduction in the growth of harmful microorganisms. In addition, because Glycerin has a sweet taste, it is also used as a sweetener. Glycerin can also serve as a thickener – it is used, for example, in the production of liqueurs.
In the pharmaceutical industry, Glycerin is mainly used in the production of laxatives. It can also be found in lubricant drops and ear care products.
Glycerin is also one of the main ingredients of nitroglycerin, a compound used as an explosive and a drug used in patients with coronary heart disease. In addition, glycerin is an ingredient in pharmaceuticals used to improve the smoothness and taste of medications.
In addition, Glycerin is a popular ingredient in e-liquid, a substance used in electronic cigarettes. Glycerin is heated in an atomizer, creating an aerosol that delivers nicotine to the user.
Glycerol is also used by athletes. In particular, it can be used by people who exercise intensively and for long periods of time, losing large amounts of water. Glycerin, which binds water, limits water loss.
But this is not the end of the possible applications of this unique substance – Glycerin plays an important role in the production of antifreeze for textiles and waxes. It is also used in the production of resins, paints, waxes, detergents and various types of fabrics.

Glycerin in cosmetics
As mentioned several times, Glycerin is most commonly used in the cosmetics industry. It is mainly a component of cosmetics that have moisturizing and lubricating properties. In face creams, it is used to moisturize and regenerate dry skin. It is also included in cosmetics for mature skin, as it smooths wrinkles and tightens the skin. Glycerin also has a moisturizing effect in hand and foot creams, lipsticks and body lotions.
Glycerin is an ingredient in glycerin soap, which is used by people with delicate and sensitive skin. Thanks to its moisturizing properties, this type of soap prevents the skin from drying out. It attracts moisture from the deeper layers of the skin, slowing or preventing excessive drying.
Glycerol is also used in hair care. Glycerin is recommended for hair that is weak, brittle and prone to frizz. Therefore, it is often added to strengthening and smoothing conditioners and serums for the ends of the hair.
Glycerin can also improve the texture of cosmetics. When you add it to skin and hair care products, they become less sticky and spread more easily. Glycerin also prevents products from drying out and fats from crystallizing. In addition, it facilitates the mixing of fats with water.
Want to learn more about substances used in the manufacture of cosmetics? Read our comprehensive article!
Why Foodcom?
Our great team of Sales Support will help our Traders conduct the contract and business deals in a smooth and efficient way to ensure the best quality service to all our Business Partners. Our logistics team will take care of transportation and the financial department will be responsible for all matters connected with the financial part of the deal. Do not hesitate! Contact us.