Glycerin
Glycerin, also known as Glycerol, is a type of carbohydrate called a sugar alcohol or polyol. In terms of structure, it is the simplest trihydroxy alcohol. Natural sources of Glycerol are vegetable fats and animal fats. It can also be obtained synthetically by chlorinating propylene. Given that it is one of the most valuable and versatile chemicals in nature, Glycerol has many applications in various industries as a humectant, plasticizer, emollient, sweetener, bulking agent in low-fat foods and many others. As a food additive, it has the symbol E422.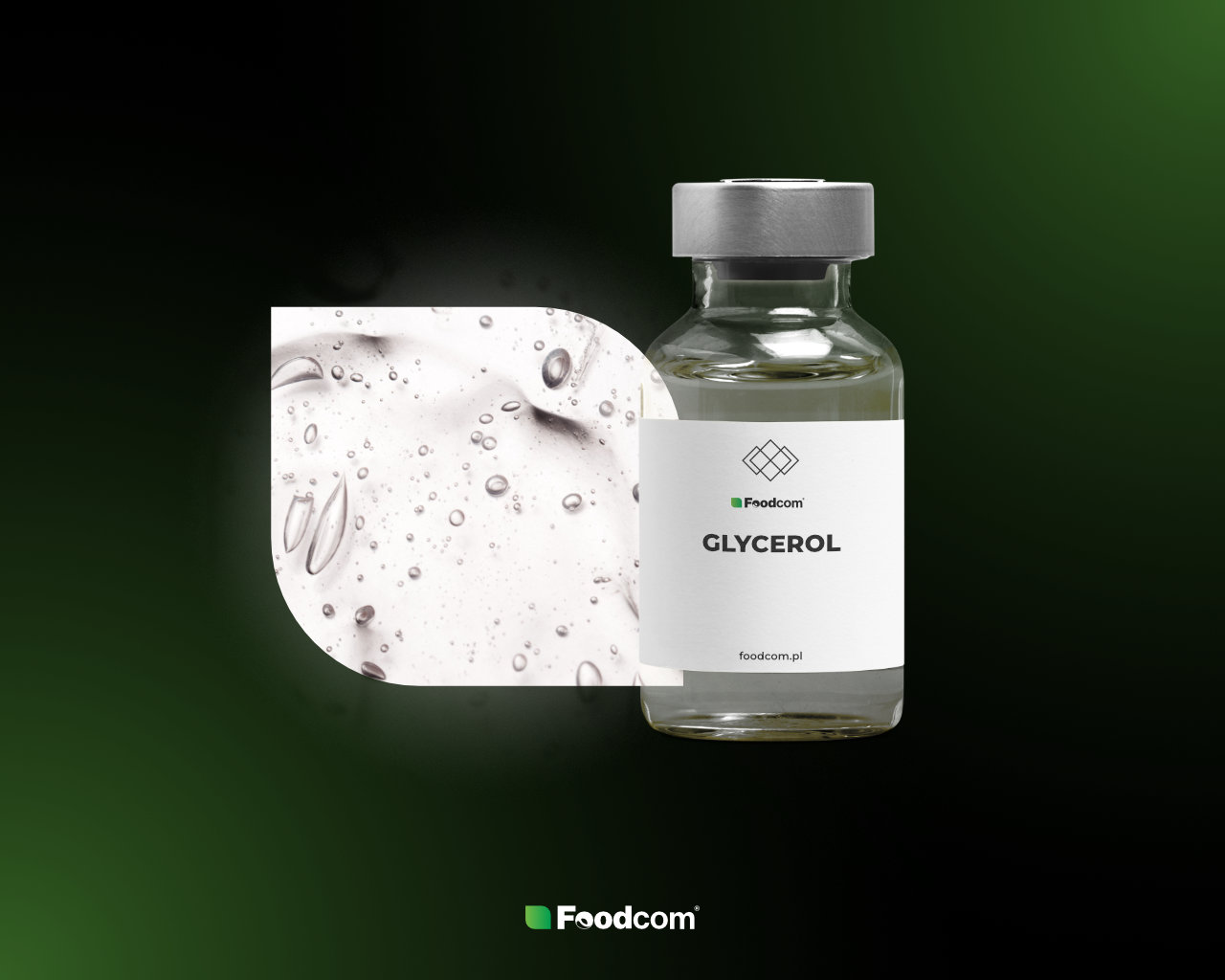 Price Quotations
Central Europe (EUR)
Month
3 months
1 year
3 years
Prices subject to final confirmation. Indications made for EXW Central Europe.*
Technical aspects
Glycerin is an odorless, colorless and viscous liquid with a sweet taste. It is fully miscible with water due to the presence of three hydroxyl groups. When exposed to humid air, Glycerol is highly hygroscopic, absorbing water as well as some gases. Glycerin in low concentrations has moisturizing and degreasing properties, while in high concentrations it has disinfecting and drying properties.
Storage period
The shelf life of Glycerin is 24 months. The product can be stored at room temperature.
Packaging
Foodcom supplies its Business Partners with Glycerin in liquid form, in IBC containers.
Application
In the food industry, Glycerin can be used as a solvent for flavors and food colors. In food, it is a humectant, an emulsifier and maintains the desired moisture of products, for example, it protects baked goods from drying out. As E422, it is a preservative because it binds water, thus limiting the growth of pathogenic microorganisms.
Glycerin is used in the cosmetics industry in the production of gels and in body care articles, including cosmetics and hair care products. It helps bring moisture to the surface of the skin – it absorbs water from the environment and retains it inside the skin. It is also an ingredient in glycerin soap, which is designed for delicate skin. Glycerin also has antibacterial and antiviral properties, so it is used to treat wounds and burns.
In the pharmaceutical industry, Glycerin is an ingredient in the heart drug nitroglycerin, which dilates blood vessels and is used for patients with coronary artery disease.
In addition, the use of Glycerin is widespread in the production of many modern protective coatings, such as car paints and exterior house paints. When used in tanning, it dries the skin due to its hygroscopic properties.
Alternative names
glycerol, glycerol 99%, glicerin 99%, E422, C3H8O3
How to start cooperation with us?
Buy now
We offer express purchase of the product at the price indicated on our website.
---
Payment
Payment is made after contacting our representative to arrange the details of the order.
Transport
We offer two options for delivery – personal collection of the product from our warehouse or commissioning transport.
Buy now
Book
We provide the possibility to reserve the product at the price indicated on the website.
---
Payment
After paying 10% of the order value, the product will be reserved for a period of 3 days. After that, the remaining amount must be paid.
Transport
You can pick up the purchased product in one of our warehouses or let us organize the transport.
Book
Product inquiry
The inquiry is forwarded to the appropriate trader. Our representative will then contact you to discuss the details of the order.
---
Payment
The payment terms will be determined during the business negotiations.
Transport
Convenient transport is organized in cooperation with our logistics department.
Send inquiry

Contact
Reach out to us!
Contact us by the contact form, and get a direct response to your question within four business hours!
Looking for a trusted partner in distribution?
Need a new supplier for your production?
Interested in a product not listed on the website?