Maasdam 45 fdm
Maasdam is a cheese with a unique taste and texture. Its delicate, nutty flavor makes it an excellent choice for the food industry. Include Maasdam in your assortment to emphasize the uniqueness of your offer and satisfy your customers.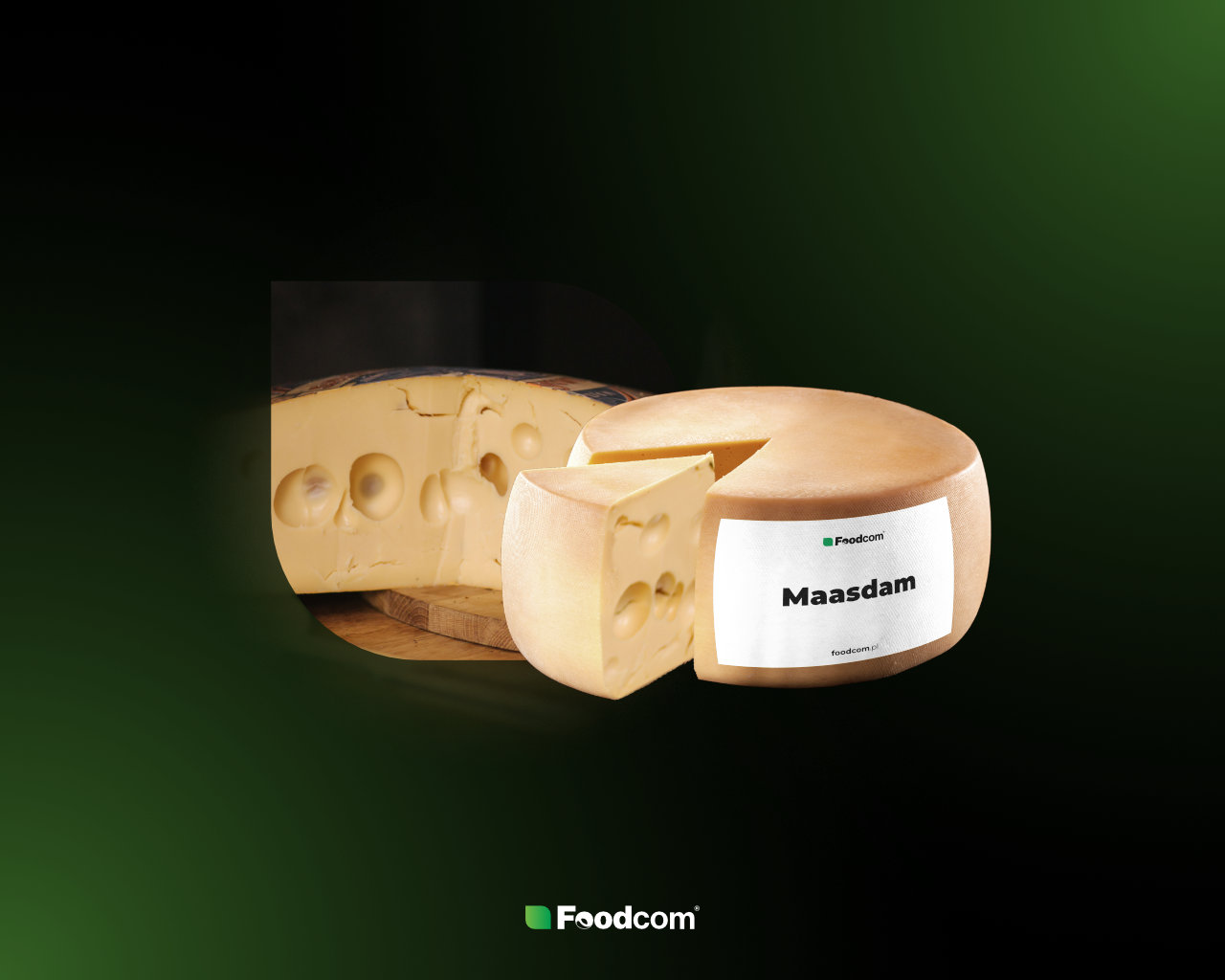 Price Quotations
Central Europe (EUR)
Month
3 months
1 year
3 years
Prices subject to final confirmation. Indications made for EXW Central Europe.*
Technical aspects
Maasdam cheese contains more moisture than Emmental and is therefore softer. It has a soft, creamy texture and a delicate nutty, sweet and slightly spicy flavor. It is especially known for its excellent melting properties. It is chosen by many producers for its cost efficiency and ease of processing. The cheese is supple, firm and uniform, with oval, regularly spaced eyes of different sizes and a yellow rind. The holes are caused by the growth of propionic acid bacteria, which are responsible for the characteristic flavor. Maasdam is sometimes waxed.
Maasdam cheese supplied by Foodcom S.A. has 45% fat content in dry matter (45% FDM).
Download specification
Storage period
The storage period of Maasdam is about 6 months. The product should be stored in a dark place, at a temperature between 2°C and 10°C and relative humidity of about 65%.
Packaging
Foodcom S.A. supplies its Business Partners with Maasdam in 13 kg blocks.
Application
Maasdam is suitable for direct consumption. It is also suitable for grating and slicing. It is used as an ingredient in baked goods, cheese sauces, dips, pizzas and soups. Maasdam cheese can also be added to various prepared dishes such as lasagna, casseroles, risotto and others to improve the taste and creaminess.
Alternative names
maasdam type cheese, maasdam 45%, maasdam 45 fdm
How to start cooperation with us?
Buy now
We offer express purchase of the product at the price indicated on our website.
---
Payment
Payment is made after contacting our representative to arrange the details of the order.
Transport
We offer two options for delivery – personal collection of the product from our warehouse or commissioning transport.
Buy now
Book
We provide the possibility to reserve the product at the price indicated on the website.
---
Payment
After paying 10% of the order value, the product will be reserved for a period of 3 days. After that, the remaining amount must be paid.
Transport
You can pick up the purchased product in one of our warehouses or let us organize the transport.
Book
Product inquiry
The inquiry is forwarded to the appropriate trader. Our representative will then contact you to discuss the details of the order.
---
Payment
The payment terms will be determined during the business negotiations.
Transport
Convenient transport is organized in cooperation with our logistics department.
Send inquiry

Contact
Reach out to us!
Contact us by the contact form, and get a direct response to your question within four business hours!
Looking for a trusted partner in distribution?
Need a new supplier for your production?
Interested in a product not listed on the website?