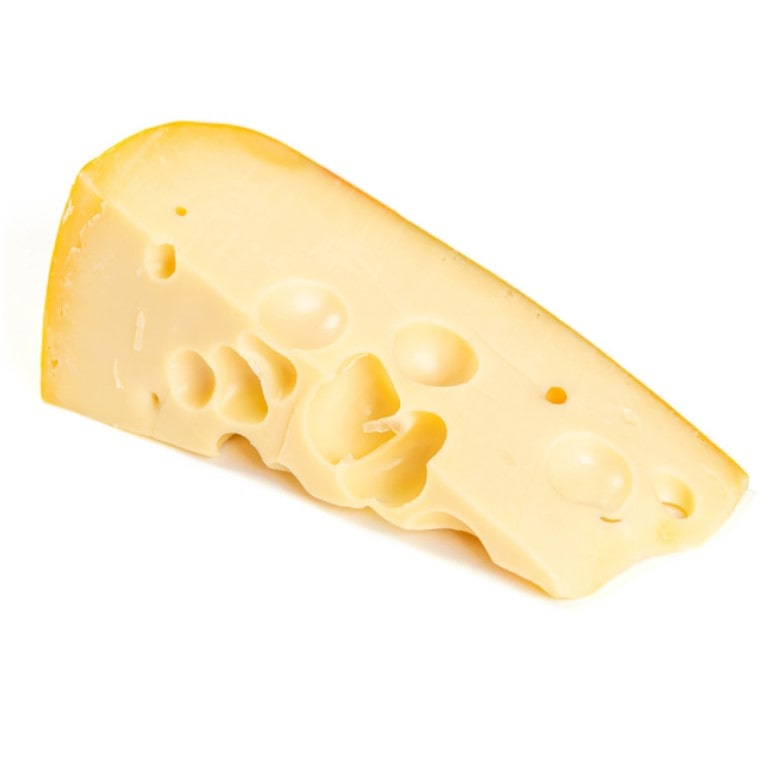 Maasdam is made from pasteurized cow's milk. It is a Swiss-style Dutch rennet cheese characterized by a faster maturation process than other Dutch cheeses. Maasdam usually matures for over at least 4 weeks. Maasdam can be used as a less expensive substitute for Emmental.
Technical aspects
Maasdam cheese contains more moisture than Emmental and is thus more tender. It has a soft, creamy texture and is especially known for its excellent melting properties. It is widely chosen by the manufacturers for its cost-effectiveness and easy use. The cheese is elastic, firm, and homogeneous with oval, regularly spaced eyes of various sizes, and yellow rind. The holes appear thanks to the development of propionic bacteria responsible for the characteristic flavor. Maasdam is sometimes waxed. It has a delicate nutty, sweet, and slightly spice taste.
Maasdam cheese supplied by Foodcom S.A. has 45% fat content in dry matter (45% FDM).
Alternative names: maasdam type cheese, maasdam 45%, maasdam 45 fdm.
Shelf life
The shelf life of Maasdam is about 6 months. The product should be stored in a dark place, at a temperature between 2 °C and 10 °C and relative humidity of about 65%.
Packaging
Foodcom supplies its Business Partners with Maasdam in 13 kg blocks.
Applications
Maasdam is suitable for direct consumption in sandwiches, paninis, and bagels as well as a table snack or on-the-go product. Maasdam is also suitable for grating, shredding, and slicing. In addition, it is used as an ingredient in bakery goods, pre-made dishes, sauces, dips, pizza toppings, and soups.
How to order?
Are you wondering how to order our products? Contact us by sending a message!

Our B2B trade specialists will contact you within one hour of sending your inquiry during office hours. We will provide you with information about the product, its origin, price and method of delivery. We will also help you make a decision as to the choice of a specific product by presenting its industrial applications. As wholesale specialists, we will be able to provide high-level service with transparent trade rules. All trading transactions run smoothly with us!
Why Foodcom?
Our great team of Sales Support will help our Traders conduct the contract and business deals in a smooth and efficient way to ensure the best quality service to all our Business Partners. Our logistics team will take care of transportation and the financial department will be responsible for all matters connected with the financial part of the deal.
Our certificates



Got a question?
Contact us!