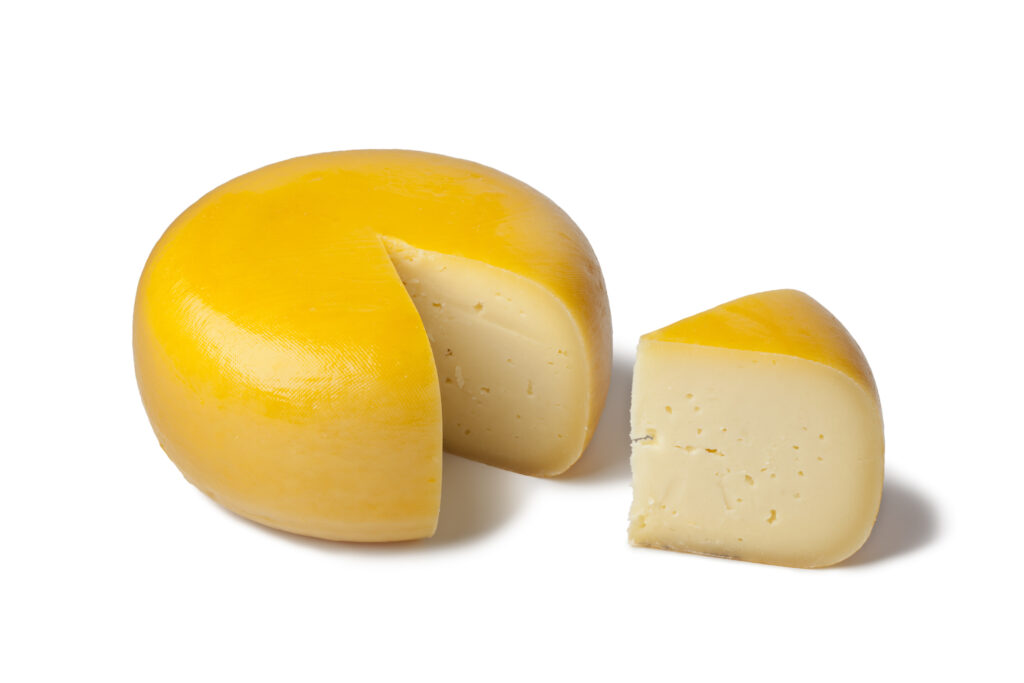 Gouda is one of the most popular products in the cheese market. It is named after the city of Gouda in the Netherlands. Gouda is made from cow's milk. It is a ripened (semi) hard type cheese. The process of manufacture involves coagulation with rennet, whey and lactose removal, cooking, brining, and molding. The ripening process takes between 4 weeks to over a year depending on the expected final product.
Technical aspects
The Gouda product is available as a block or cube wrapped in foil with yellow or red color. Gouda is characterized by a mild-taste that grows stronger with the length of the maturing process. The taste is mild, gentle, and aromatic with a delicate aftertaste of pasteurization that may be slightly sour or spicy. It has a firm, smooth texture and consistency.
We can also offer Gouda with low salt content which ensures a more savory taste.
Alternative names: gouda 45%, gouda 45 fdm, gouda 45 fat dry matter, gouda 48%, gouda 48 fdm, gouda 48 fat dry matter.
Shelf life
The shelf life of Gouda is about 3-12 months. The product should be stored at a temperature between 2°C and 10°C.
Packaging
Foodcom supplies its Business Partners with Gouda in 3 kg blocks or 15 kg euroblocks.
Applications
Gouda is mainly destined for direct consumption as snacks and as an ingredient of sandwiches, salads, toasts, burgers, and tortillas. Gouda cheese is also destined for shredding, grating, and slicing. Other applications include pizza toppings, cheese-based sauces and dips, soup premixes, flavored crackers, and chips. Gouda cheese also finds many applications in the confectionery and bakery segment.
How to order?
Are you wondering how to order our products? Contact us by sending a message!

Our B2B trade specialists will contact you within one hour of sending your inquiry during office hours. We will provide you with information about the product, its origin, price and method of delivery. We will also help you make a decision as to the choice of a specific product by presenting its industrial applications. As wholesale specialists, we will be able to provide high-level service with transparent trade rules. All trading transactions run smoothly with us!
Why Foodcom?
Our great team of Sales Support will help our Traders conduct the contract and business deals in a smooth and efficient way to ensure the best quality service to all our Business Partners. Our logistics team will take care of transportation and the financial department will be responsible for all matters connected with the financial part of the deal.
Our certificates



Want to start a cooperation?
Inquire for a customized quote