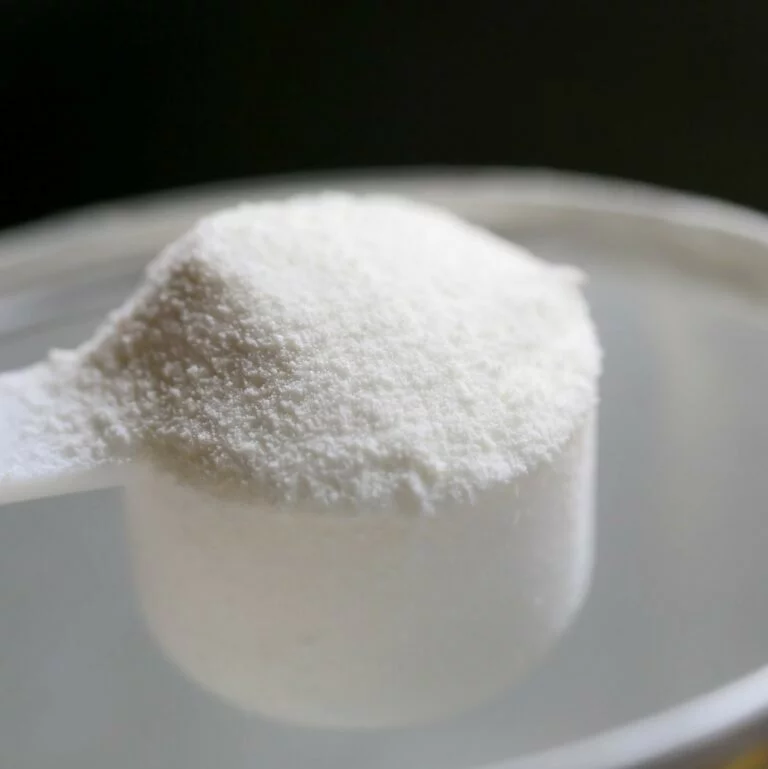 Collagen is the main structural protein of the extracellular matrix found in various connective tissues of the body. It consists of three polypeptide chains that together form a helix – a triple helix called collagen helix. Collagen is extracted from farm animals, such as cattle. It is also extracted from the skins, bones, tails and heads of fish and marine algae. It is also produced synthetically. A gelling substance of animal origin  – Gelatin – is obtained from Collagen.
Technical aspects
Collagen has a color ranging from light yellow to ocher. It has a high ability to bind and hold water and a high tensile strength. There are different types of Collagen, both in structure and function. There are up to 28 types of Collagen, but one of the most popular is Hydrolyzed Collagen, which is chemically or enzymatically processed. It is very soluble and well absorbed by the human body. The main structural unit of Collagen is tropocollagen. It consists of three polypeptide chains, each chain consisting of more than a thousand amino acids. Collagen has many useful properties: it maintains the proper structure of tissues and human organs, is involved in blood clotting and metabolic processes.
Alternative names: hydrolyzed collagen, bovine collagen, collagen hydrolysate.
Shelf life
The shelf life of Collagen is 24 months. Store the product in a dry and well-sealed place and protect it from sunlight.
Packaging
Foodcom S.A. offers Collagen in 25 kg bags.
Applications
Collagen strengthens the protective properties of the skin against moisture loss and harmful external influences. Therefore, it is often used in cosmetics such as face creams for mature skin. It is recommended for sunburn or vascular skin, as it accelerates the healing process of wounds and scars. Collagen is also included in dermocosmetics with anti-acne properties. It regulates sebaceous glands and smoothes acne scars. Collagen is also found in hair and nail care products. It acts externally on the hair to regenerate it, reduce the risk of hair breakage and increase hydration.
In esthetic medicine, Collagen is mainly used as a filler. When injected under the skin, it smooths wrinkles, increases skin tone and stimulates the production of this protein in the skin. It can also be used for localized fat reduction or to smooth cellulite. Sports medicine uses Collagen injections to restore muscle or tendon injuries.
In addition to cosmetics, it is also used in dentistry, orthopedics and surgery. In the food industry, Collagen is used to improve the elasticity, stability and consistency of products. It is also involved in the production of sausages – edible membranes or sausage casings are made from it.
How to order?
Are you wondering how to order our products? Contact us by sending a message!

Our B2B trade specialists will contact you within one hour of sending your inquiry during office hours. We will provide you with information about the product, its origin, price and method of delivery. We will also help you make a decision as to the choice of a specific product by presenting its industrial applications. As wholesale specialists, we will be able to provide high-level service with transparent trade rules. All trading transactions run smoothly with us!
Why Foodcom?
Our great team of Sales Support will help our Traders conduct the contract and business deals in a smooth and efficient way to ensure the best quality service to all our Business Partners. Our logistics team will take care of transportation and the financial department will be responsible for all matters connected with the financial part of the deal.
Our certificates



Want to start a cooperation?
Inquire for a customized quote