Summary
Table of contents
Do you know why soybean prices are breaking a record this week? Read how shrinking global supplies and booming demand from China fueled soybean prices in the U.S. to over $ 13 per bushel. Also, take a look at how prices are affecting the projections for soybean cultivation in the upcoming season.

Rise of soybean prices

The soybean prices keep breaking records since the beginning of 2021. Ending stocks are projected at 120 million bushels, down 405 million compared to the previous year. Shrinking supplies and abrupt demand from China boosted the prices to levels unseen since 2014. The WASDE report projects the US season-average price for soybean to be set at $11.15 per bushel but last week has seen numbers around as much as $14 per bushel. Moreover, in March the soybean prices did not go below $13.56 and since the beginning of the year, the numbers were locked over $13. Soybean meal prices are set at $400.00 per tonne. The U.S. prices in March soared over 53% compared to the same month last year.

Production of soybean

According to experts, higher prices will prompt the farmers to extend their acreage for soybean cultivation in the upcoming year. Within the U.S. a total planted area of soybeans is estimated at 83.1 million acres – an increase from 76.1 million in 2019/2020 but not as much as 89.2 million calculated for 2018/2019. Yield per harvested acre is also expected lower by 0.4 million compared to two years ago. Still, the prices are much higher with an increase from an average of $8.48 per bushel in 2018/2019 to a recent average price for soybean at $11.15.

The forecast for global soybean production in March is set at 361.82 million metric tonnes of which the U.S. is responsible for 112.55 million. Higher soybean production is estimated for Brazil – projections raised by 1 million tonnes to a total 134 million.
Learn about Soy Protein Isolate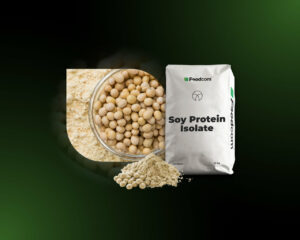 ---
Technical aspects
Soy Protein Isolate is a light colored powder with a neutral taste. It is made by extracting most of the fats, carbohydrates and non-protein components from the soybeans, leaving a product that is almost pure protein. The soybeans are dehulled, the protein is extracted using solvents or water, and the resulting material is dried to a fine powder.
Soy Protein Isolate is an excellent source of protein and is highly digestible. It is also known for its foaming, emulsifying and gelling properties. It plays a crucial role in enhancing the flavor of foods, increasing the elasticity of foods, and improving oil and water retention.
---
Application
Soy Protein Isolate is mainly used in the food industry. In the production of meat, it is used for its emulsifying, water-binding and gelling properties. Soy Protein Isolate is also used in the manufacture of vegetarian products as a substitute for zoonotic protein. Due to its high nutritional value, it is also used in the production of energy bars.
Soy Protein Isolate is also used in animal feed. It serves as an excellent source of high-quality protein that supports animal growth, muscle development and overall health.
Soy Protein Isolate also finds its uses in sports nutrition. Supplements based on Soy Protein Isolate are well absorbed and rich in complete protein, so they are suitable for those who need to recover from intense training and build muscle mass.