174th Edition of Foodcom DAIRY Newsletter
26 April 2023
Reading time: 5 minut

Publication date
26 April 2023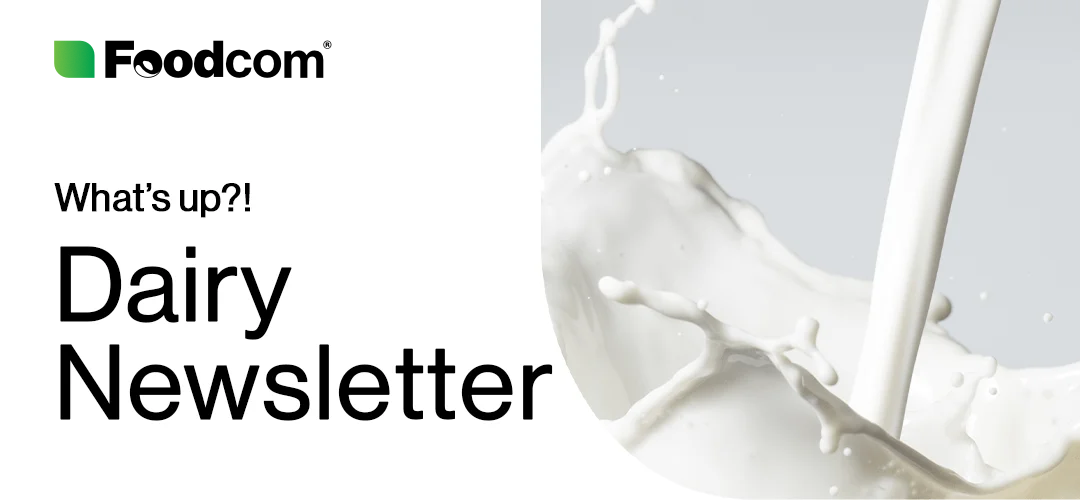 The last few days in the dairy sector have been determined, among other things, by rising milk production in all major markets. In many cases, it is higher than in the same period last year. This is not particularly surprising because such a situation has been predicted for several months. Another important factor is the availability of storage space, or in many cases the lack of it. It is not yet clear how this will affect the market situation, but currently many players are having sleepless nights because of it (okay, maybe it is not THAT dramatic).
It's worth noting that demand is already emerging for H2 2023. The recent decline in prices has obviously translated into increased demand. It was easy to see that the situation of a particular product depended on which category it belonged to (fats, liquids, powders, etc.), and these in turn were very different. As always, you will read the details below.
And what's coming up in the near future? In many countries, there are various holidays at the end of April and beginning of May… Also, the sun shines more strongly and more pleasantly (at least in some regions, people from all over the world read us, so maybe it's night in your country when it shines on us, who knows). So, it's clear that many are taking a shorter or longer break (or at least having a decent barbecue), which will probably translate into fewer transactions. We are also on our way out into the world, so "see you" in two weeks.
Continue reading to learn about this week's market insights.
With us, you'll never miss a thing!
Butter
Although the price of the raw material (Cream) has decreased in the last two weeks, producers have shown exactly the opposite trend by giving higher quotations for Cream products, i.e. Butter and AMF. In doing so, they have triggered a wave of phone calls. Everyone wanted to verify the information about higher Butter prices, which only fueled the upward spiral. Buyers, on the other hand, kept a sober mind and used poker-like "call," thus failing to confirm purchases at the prices suggested by producers, which had the effect of lowering sellers' party expectations. Obviously, the temporary increase in the Butter price was only an attempt by producers to reach a higher level, and no significant volumes were contracted at these higher prices.
Skimmed Milk Powder
Two steps forward, one step back. In the recent GDT results, half of the industry would lose their fortunes if they bet on it; in other words, the result was unexpected for the majority. In SMP, we are seeing something we have never seen before. NZ SMP is trading at a $480 premium to Arla SMP. ($2400 vs $2850). Most of the product was not bought by Asia, as some of us had hoped, but by the Middle East, where they were preparing for the end of Ramadan. In our view, the export market accepts higher prices when it comes to the European dairy industry. However, buyers are hesitating until they absolutely have to buy the product, last week's GDT was an example. In the next week, we will see if the next step upwards will be accomplished.
Gouda/Edam
Once again, history has repeated itself, a story familiar to anyone who has been in the industry for more than a day. With most manufacturers switching their production lines from making 3 kg loaves to 15 kg euro blocks, a large number of Cheese inquiries at this point have been about which format? Yes, you were right, 3 kg loaves. The increased interest in Cheese is boosted by the mild shifting and changing of the loading schedule of Germany's largest Cheese producers. Is this really due to shortages and production delays, or is it just to artificially stimulate interest in Cheese? We shall see. On the other hand, we confirm that Cheese enjoys unbroken interest from buyers and the price is quite stable, with a slight upward trend. Conclusion: Cheese = trend of the week.
Cream
As for liquids, demand was stronger than expected last week. As a result, the price of Cream rose slightly at the beginning of the week, only to fall again slightly at the end of the week. There were quite a number of interested parties who wanted to buy this raw material. Prices for Skimmed Milk Concentrate have fallen slightly recently.