Sodium Bicarbonate
Sodium Bicarbonate is an inorganic chemical compound, a hydrogen salt of carbonic acid and sodium. It is prepared by adding carbon dioxide to sodium carbonate. On an industrial scale, it is obtained by the Solvaying method. Sodium Bicarbonate is commonly known as baking soda. As a food additive, it has the symbol E500b. It has foaming properties and acts as a raising agent, so it is used in the food, pharmaceutical and cosmetic industries.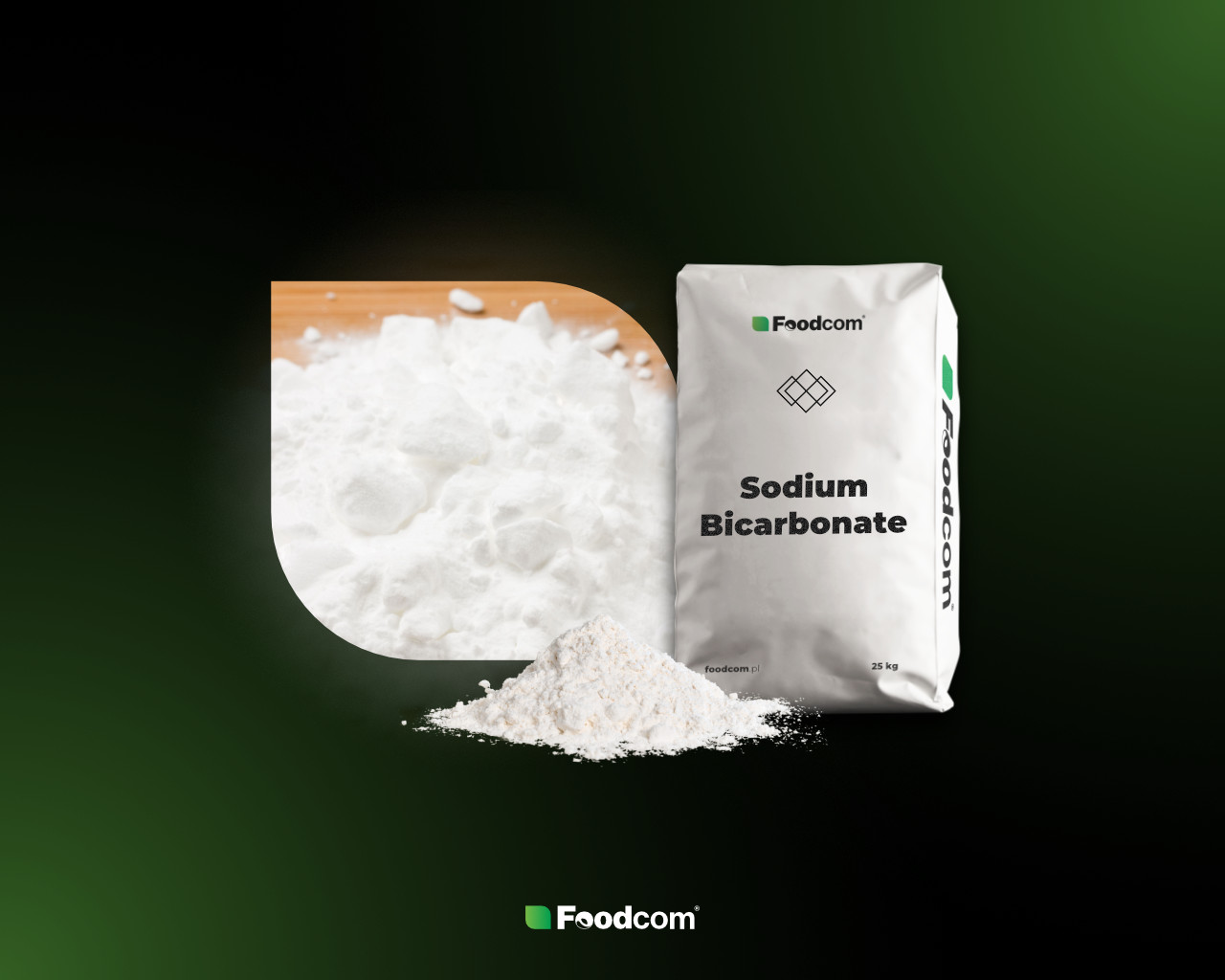 Price Quotations
Central Europe (EUR)
Month
3 months
1 year
3 years
Prices subject to final confirmation. Indications made for EXW Central Europe.*
Technical aspects
Sodium Bicarbonate is in the form of white crystalline powder or colorless crystals. It is odorless and has a slightly salty taste. It has an alkaline reaction, which is why it is often used in therapy to restore the body's pH balance. Sodium Bicarbonate absorbs odors and moisture and softens water. It also has fluffing, foaming and antifungal properties.
Storage period
The shelf life of Sodium Bicarbonate is 24 months. The product must be stored in a cool, dry place and at room temperature.
Packaging
Foodcom supplies its Business Partners with Sodium Bicarbonate in 25 kg, Big Bags, and bulk.
Application
Sodium Bicarbonate is mainly used in the food industry and is known as baking soda. It is a leavening agent in baking – the reaction between baking soda and acid leads to the release of carbon dioxide, which causes the batter to expand and develop its characteristic texture. In addition, Sodium Bicarbonate also acts as a raising agent in baking by thermally decomposing and producing carbon dioxide.
Sodium Bicarbonate finds its uses in the medical and pharmaceutical industries. The combination of water with Sodium Bicarbonate can serve as an effective antacid in medication production. It is also an ingredient in throat medication and allows the end product to reduce inflammation. Due to its foaming properties, Sodium Bicarbonate is used in the production of effervescent tablets.
Sodium Bicarbonate has application in mouthwashes as it has protective properties. It also has a soothing effect on the skin and whitens the epidermis and teeth. Therefore, it is used in the cosmetics industry in the production of various skin and hygiene products.
Since Sodium Bicarbonate absorbs odors, it is found in air fresheners. Sodium Bicarbonate is often used in detergents and cleaners as an active filler that raises the pH, making the end product more efficient and of better quality. It also serves as the main ingredient in dry fire extinguishing powders and portable multi-purpose fire extinguishers. It operates by emitting a carbon dioxide cloud that suffocates the fire, preventing it from accessing oxygen and disrupting the chemical process necessary for the fire to persist.
Alternative names
baking soda, sodium hydrogencarbonate, bicarbonate of soda, NaHCO3, E500b
How to start cooperation with us?
Buy now
We offer express purchase of the product at the price indicated on our website.
---
Payment
Payment is made after contacting our representative to arrange the details of the order.
Transport
We offer two options for delivery – personal collection of the product from our warehouse or commissioning transport.
Buy now
Book
We provide the possibility to reserve the product at the price indicated on the website.
---
Payment
After paying 10% of the order value, the product will be reserved for a period of 3 days. After that, the remaining amount must be paid.
Transport
You can pick up the purchased product in one of our warehouses or let us organize the transport.
Book
Product inquiry
The inquiry is forwarded to the appropriate trader. Our representative will then contact you to discuss the details of the order.
---
Payment
The payment terms will be determined during the business negotiations.
Transport
Convenient transport is organized in cooperation with our logistics department.
Send inquiry

Contact
Reach out to us!
Contact us by the contact form, and get a direct response to your question within four business hours!
Looking for a trusted partner in distribution?
Need a new supplier for your production?
Interested in a product not listed on the website?