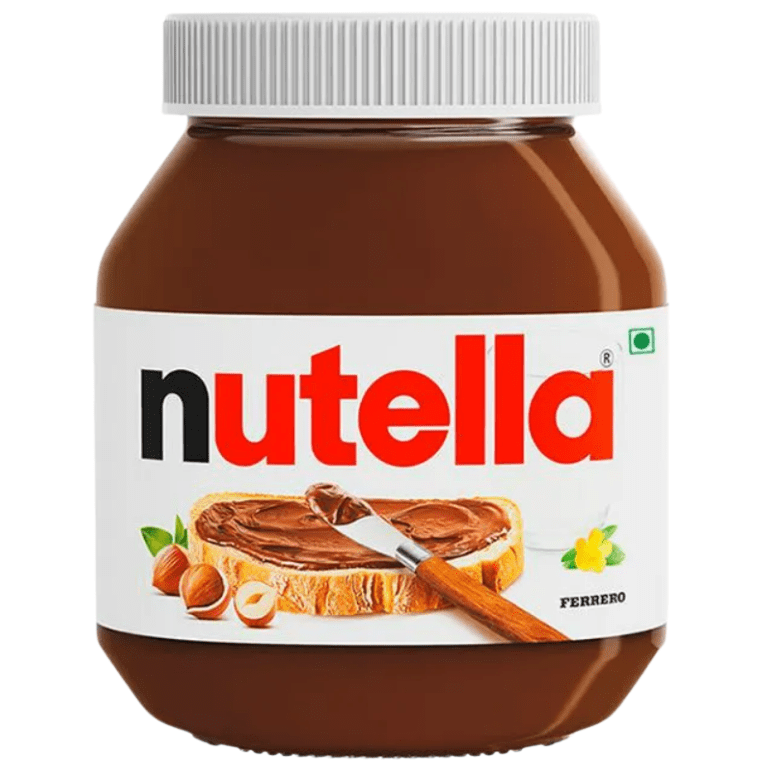 Nutella® is a sweetened hazelnut cocoa spread. It is used in sandwiches, cakes and many other sweet foods. The manufacturing process of Nutella® begins with the extraction of the cocoa, which is crushed, while the hazelnuts are cleaned and roasted. Then the nuts and a mixture of pure cocoa powder are mixed with skimmed milk and sugar. Afterwards, the mixture is blended to form a smooth paste.
Technical aspects
Nutella® is a smooth paste of brown color. It has a sweet, nutty flavor. Nutella® is free from artificial colors, preservatives.
Ingredients: sugar, palm oil, hazelnuts, reduced-fat cocoa powder, skimmed milk powder, whey powder, emulsifier: lecithins (soy); vanillin. 
Alternative names: hazelnut cream, chocolate spread, hazelnut spread.
Shelf life
The shelf life of Nutella® is 12 months. It should be stored at room temperature.
Packaging
Foodcom supplies its Business Partners with Nutella® in 350g, 600g or 750 g jars in packs of 24.
Applications
Nutella® is used as a spread in the food industry. In the confectionery, it is included in the production of cakes or cookies. Foodcom S.A. distributes Nutella® to food wholesalers, distributors of branded products, importers, exporters, and retail chains.
How to order?
Are you wondering how to order our products? Contact us by sending a message!

Our B2B trade specialists will contact you within one hour of sending your inquiry during office hours. We will provide you with information about the product, its origin, price and method of delivery. We will also help you make a decision as to the choice of a specific product by presenting its industrial applications. As wholesale specialists, we will be able to provide high-level service with transparent trade rules. All trading transactions run smoothly with us!
Why Foodcom?
Our great team of Sales Support will help our Traders conduct the contract and business deals in a smooth and efficient way to ensure the best quality service to all our Business Partners. Our logistics team will take care of transportation and the financial department will be responsible for all matters connected with the financial part of the deal.
Our certificates



Want to start a cooperation?
Inquire for a customized quote