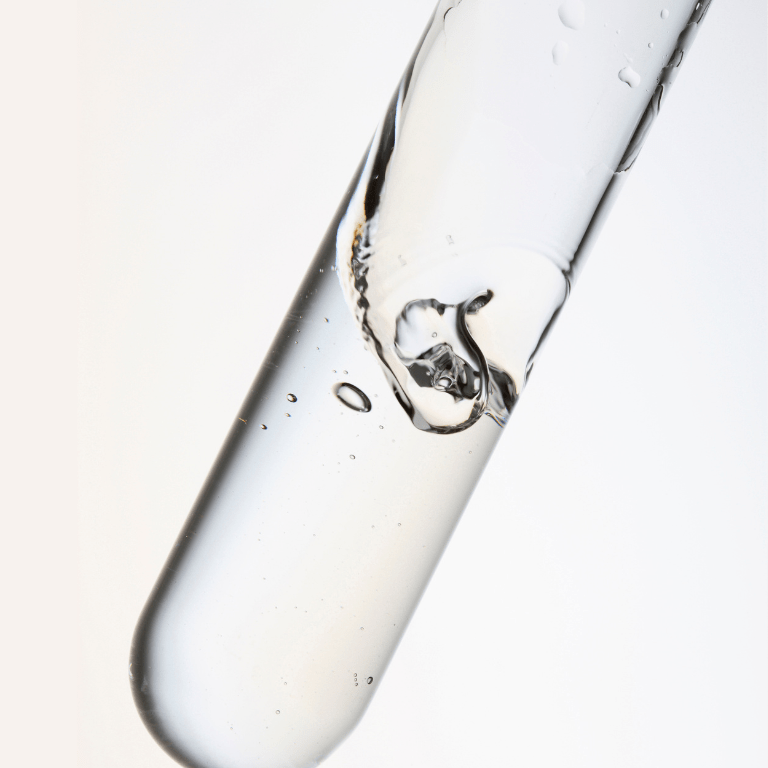 Hydrochloric Acid is a functional ingredient made from an aqueous solution of hydrogen chloride gas. Dilute Hydrochloric Acid occurs naturally in the gastric juices of humans and other mammals and is responsible for good digestion. It is also obtained synthetically. It is formed by the reaction of sulfuric acid and sodium chloride, the combustion of hydrogen into chlorine, and is also a by-product of the chlorination of various organic compounds. The latter method of extraction is most commonly used in industry. Hydrochloric Acid can be used in many industries as a pH and acidity regulator or as a surfactant with cleaning properties. As a food additive, it has the symbol E507.
Technical aspects
Hydrochloric Acid is a clear, colorless or slightly colored liquid. On contact with water, the solution forms vapors. Hydrochloric Acid is highly corrosive and is a stable acid that retains its properties for a long time. Hydrochloric Acid can be found in different concentrations, as it depends on the application. Foodcom offers Hydrochloric Acid with a concentration of 32-33%, and on the market the concentration is usually not above 38%. When used in the food industry, it has a low concentration.
Alternative names: muriatic acid, hydrogen chloride solution, HCl, E507.
Shelf life
The shelf life of Hydrochloric Acid is two years.
Packaging
Foodcom supplies its Business Partners with Hydrochloric Acid in IBC tanks or cisterns.
Applications
Hydrochloric Acid is an important raw material for various industries. Most of its applications are in the chemical industry. It is used to clean metal surfaces and, together with nitric acid, forms "aqua regia" – a mixture that dissolves metals. Hydrochloric Acid is also used in laboratories as a pH regulator and is also involved in the production of chemical reagents. In addition, it is a component of adhesives and is often used in the manufacture of plastics. Hydrochloric Acid also has an important function in water treatment. This raw material also has many other uses and is used in many industrial production processes.
Hydrochloric Acid is also used in the confectionery industry – in the production of food coloring, invert sugar and gelatin. As acidity regulator E507, it can be found in the composition of products such as cottage cheese and homogenized cheese, spice mixtures, syrup and baby food.
In the pharmaceutical industry, Hydrochloric Acid regulates the pH in eye moisturizing drops and is responsible for the chemical synthesis of active ingredients in drugs. In the cosmetics industry, on the other hand, it is used in the production of hair dyes and bleaching agents.
How to order?
Are you wondering how to order our products? Contact us by sending a message!

Our B2B trade specialists will contact you within one hour of sending your inquiry during office hours. We will provide you with information about the product, its origin, price and method of delivery. We will also help you make a decision as to the choice of a specific product by presenting its industrial applications. As wholesale specialists, we will be able to provide high-level service with transparent trade rules. All trading transactions run smoothly with us!
Why Foodcom?
Our great team of Sales Support will help our Traders conduct the contract and business deals in a smooth and efficient way to ensure the best quality service to all our Business Partners. Our logistics team will take care of transportation and the financial department will be responsible for all matters connected with the financial part of the deal.
Our certificates



Want to start a cooperation?
Inquire for a customized quote