151st Edition of Foodcom DAIRY Newsletter

Publication date
26 October 2022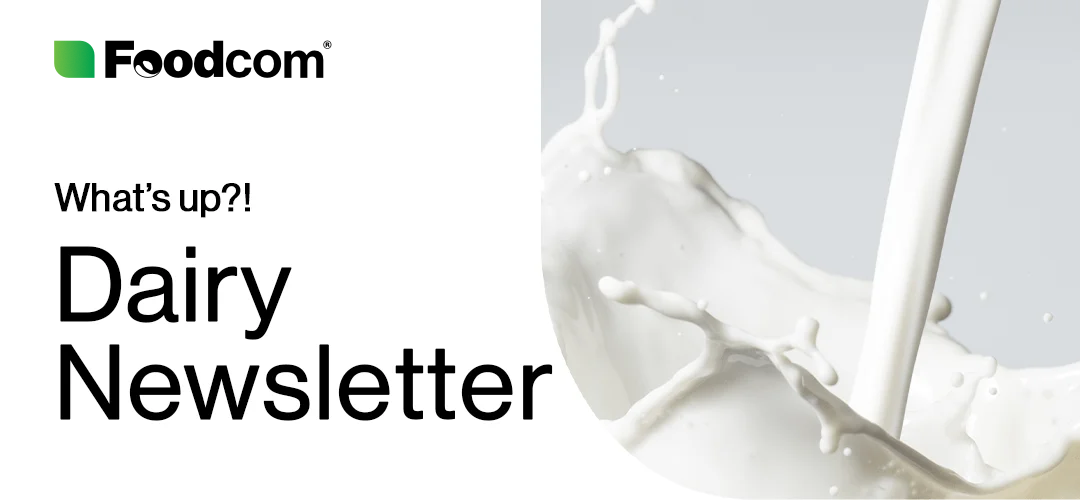 There is a lot going on in the dairy market. This is nothing new. The tension of waiting for a change in the market situation is palpable. Many market participants are waiting for Chinese demand to rebound, as traders there seem to be currently not interested in buying European products. Noticeable drops in the prices of individual products make it a good time to buy commodities and even build up "winter stocks," despite all the economic difficulties that practically everyone is facing.
Times remain though. Rising production costs, prices and reduced availability of commodities are hurting producers, traders, processors and consumers. Further regulations introduced by governments around the world are likely to make life much more difficult for farmers. At least, recently released data shows that North American cows are happier than ever, suggesting that agricultural development is heading in the right direction…
Although we have been talking about extreme weather for many months now, there is no sign that it is behind us, quite the opposite – as evidenced by the floods currently afflicting Australia. One would like to say that "the easy times are behind us," if it were not for the fact that in any serious business, things are never easy. There's nothing left to do but hang tough and do your thing.
Continue reading to learn about this week's market insights.
With us, you'll never miss a thing!
SMP
In the past week, negotiations and traders' price expectations were very low at SIAL 2022 in Paris for further volumes of SMP over Q4-Q1. As a result, the liquidity of trading in this commodity was disrupted. This, in turn, has led some dairies to release the product from warehouses to increase their own cash flow and free up storage space. At present, it is difficult to predict how long such a trend will last, so we expect many buyers to return to the market in the near future.
FCMP
Full Cream Milk Powder can be considered a rarity among dairy products because, despite the ever-lower price of the raw material and its relatively good availability, FCMP is not as readily available as other products of dairy origin. As a result, the price of the commodity remains stable at a fairly high level.
WPC 80%
In recent months, we have seen a skirmish between manufacturers and traders. Manufacturers have operated with prices that have been unacceptable to the buying side. As with powders, customers have not accepted the manufacturers' offers. It seems that traders came unscathed from this situation as manufacturers, determined to increase liquidity and free up space in warehouses, began to agree to their proposals. In addition, Lecithin, which is an important ingredient in the production of Whey Protein Concentrate, is more commonly available on the market. In addition, there are rumors about producers that they are ready to stop production if there is not enough interest from buyers. Is it possible? In business, anything is possible.
Gouda/Edam
At this point, we cannot predict whether Cheese prices will follow the downward trend, as is the case with Powders and Butter prices. Keep in mind that Cheese is a product with a shorter shelf life than Powders. Cheese is still a high-margin product for dairies, which encourages them to locate raw material precisely in Cheese.
Butter
Butter is currently the biggest unknown in the dairy market. Producers and traders are divided. One half says that Butter must be revised below 6 euros, the other is convinced that the product will continue to be offered at a price of about 7 euros. The current cost of Butter production in Poland varies between 6.60 and 6.65 euros per kilogram, although there is a possibility to achieve prices around 6.50 euros with quick pickup.
Cream and SMC
In many regions of Europe, temperatures in October are noticeably higher than in previous years. This trend is expected to continue through early November. Higher temperatures favor a higher milk collection than in the same period last year. Spot milk prices remain under pressure, which is reflected in lower liquids prices. Last week saw declines in both Cream and SMC. This continues a trend that has been ongoing for several weeks.