Zusammenfassung
Inhaltsübersicht
Read our report on the global trade of vegetable oils in 2021. Take a look at higher production and plummeting prices for palm oil, increased soybean oil output, and record yields of sunflower seeds in Russia. Learn also about duty cuts for vegetable oils imports to India that are changing the global market dynamics.

PALM OIL

Global production of palm oil is projected to reach over 76.53 million metric tonnes in the 2021/2022 season – up from 72.66 million metric tonnes recorded in the previous year. India – the largest global producer of palm oil – is expected to reach an output of 44.5 million metric tonnes, up by 1 million from last season. Malaysia ranks second with a projected production of 19.7 million metric tonnes – an increase of over 10% compared to the previous season. Total imports are forecast to reach 50.59 million metric tonnes, up from 47.53 million in the previous season.

In India, the government has introduced a duty cut in palm oil trade in an effort to lower domestic prices and inflation. Import duty on crude palm oil was reduced to 2.5% in September from the initial 15%. It is expected that the domestic cost of oil could be lowered by 15 rupees to 20 rupees per kilogram due to the duty cuts. India is expected to remain the largest importer of palm oil, with estimated purchases of 8.6 million metric tonnes in the 2021/22 season. Increased deliveries of palm oil to India were already seen in August and September, especially from Indonesia, Malaysia, and Thailand. China ranks as the second-largest buyer of palm oil, with an estimated 7.2 million metric tonnes ordered in the 2021/2022 season – up from 6.81 million last year. Imports of palm oil to the European Union are reduced to 6.2 million metric tonnes in the 2021/22 season due to weaker deliveries from Southeast Asia.

For the 2021/2022 season, total exports of palm oil in the world are expected at 52.18 million metric tonnes, up from 47.95 million in the previous year. Exports from Indonesia – the largest global supplier of palm oil – are expected at 29.5 million metric tonnes while shipments from Malaysia are projected at 17.22 million metric tonnes.

Global palm oil prices have skyrocketed in October. Prices in Indonesia grew by $135 per tonne from September to $1,316 per tonne in October, propelled by higher export demand from India and China. In Malaysia, prices for palm oil increased by $125 per tonne in September to $1,338 per tonne in October, due to limited production caused by unfavorable weather conditions and labor shortages. However, at the end of November, the concerns over the new Omicron coronavirus variant propelled abrupt selling off in the edible oils market resulting in plummeting prices for palm oil in Malaysia at $1,112 per tonne.

SOYBEAN OIL

Recent forecasts for global soybean production in 2021/2022 expect the output to reach 384 million metric tonnes, up from 366.23 million in the previous season. Global ending stocks are revised down to 102.78 million metric tonnes. Lower yields are expected in Argentina and the U.S. while higher output is projected in India. In Argentina, the yield is at 3.02 metric tonnes per hectare, but many farmers decreased their acreage of soybean in favor of corn. Lower domestic soybean supply in Argentina, the exports projections are decreased by 1 million metric tonnes to 5.35 million metric tonnes. Reduced shipments from Argentina and the U.S. set down the projections for imports to China by 1 million tonnes to 100 million tonnes. Brazil is expected to note a record in soybean exports at 94 million tonnes shipped in the 2021/2022 season.

Global production of soybean oil is projected to reach 61.74 million metric tonnes, up from 59.32 million in the previous year. China – the largest global soybean oil producer – is expected to note an output of 17.56 million metric tonnes in the 2021/2022 season, up from 16.66 million last year. The United States and Brazil are also forecasted to increase production to 11.58 million metric tonnes and 9.18 million respectively. Total imports are forecasted to slightly drop from last year's number to 11.89 million metric tonnes while exports are projected to amount to 12,58 million metric tonnes up from 12.24 million in 2020/2021.

In the U.S., the worsening weather conditions are slowing down the soybean harvest. At the beginning of November, 87% of soybean crops have been harvested. The most recent forecast for soybean production in the U.S. for the 2021/22 season is at 4.42 million bushels. Total domestic supply is revised down to 4.7 million bushels. Soybean exports stood at 79.6 million bushels in September – a significantly lower number than a 5-year average of 167 million bushels. Shipments are still poor, despite a slight increase after disruptions brought by Hurricane Ida in the Gulf dissipated. The U.S. soybean exports for the 2021/22 season are revised to 2.05 million bushels. Ending stocks are forecast to be 340 million bushels. September U.S. prices for soybeans were lower by $1.50 per bushel, bringing down the seasonal average price to $12.10 per bushel. The U.S. soybean oil supply is estimated at 27.2 billion pounds, while the demand is at 25 billion pounds. The season-average price is $0.57 per pound. After the prices have skyrocketed in the first half of the season, they began to decrease in the second half of the year. Soybean oil production grew to over 25 billion pounds. In the upcoming season, the use of soybean oil for biofuel is expected to increase to 43% of the market share. Higher U.S. prices and domestic use resulted in decreased soybean oil exports reaching 1.72 billion pounds – down by 40% from the 2019/20 season.

Higher soybean yields in India prompted the increase in 2021/22 crop production forecasts by 0.9 million metric tonnes to 11.9 million metric tonnes. Improved weather conditions led to a year-on-year increase equal to 1.45 million metric tonnes, thus driving the expansion of domestic output. Projections for soybean crush are revised up by 0.4 million to 10 million metric tonnes. Indian soybean meal and oil prices have been breaking the record throughout 2021. Imports are expected to reach 3.725 million metric tonnes from 3.65 million in the previous season. Indian exports of soybean meal are projected for 2.1 million tonnes in 2021/2021 – a slight decrease from the previous year. Domestic consumption of soybean has grown by 11% from last year. In 2021, the government has reduced import duties on vegetable oils to relieve the price spikes. Effective import duties were lowered by 33% for crude soybean oil to 5.5%.

RAPESEED OIL

In 2021/2022, global rapeseed oil production is expected to reach 27.42 million metric tonnes, down from 29.19 million in the previous season. The European Union is expected to rank as the largest global rapeseed oil producer with an expected output of 8.77 million metric tonnes despite a 6% decrease since last season's numbers. China ranks second with 6.16 million metric tonnes, followed by Canada with 3.7 million metric tonnes, both countries noting lower output than in the previous season. However, India ranks fourth with an increase in rapeseed oil production – from 2.85 million metric tonnes last season to over 2.96 million in 2021/2022.

World imports are projected at 5.46 million metric tonnes – almost 760,000 metric tonnes less than in 2020/2021 while exports are forecasted at 5.52 million metric tonnes down from 6.38 million in the previous season. The largest global buyer of rapeseed oil is China, with total imports expected to reach 1.6 million metric tonnes, despite a 30% decline from last year. The top global exporter of rapeseed oil is Canada, expected to sell 2.85 million metric tonnes, down from 3.43 million metric tonnes in 2020/2021. Exports of rapeseed oil from Canada are lowered on limited domestic supply and reducing the expected imports to Japan to 2 million metric tonnes.

SUNFLOWER OIL

Global sunflower seed production in the 2021/2022 season is expected at 56.5 million metric tonnes – an increase of 6.5 million metric tonnes from the previous season. Higher numbers are propelled by increases from record production in Ukraine and Russia, as well as EU and Argentina. World production of sunflower oil is projected to reach over 21.79 million metric tonnes. The largest producer is expected to be Ukraine with a forecasted output of 7.11 million metric tonnes, up from 5.91 million last season, while Russia follows with estimates for 5.74 million metric tonnes. Both countries also expect boosted exports. At the beginning of November, the price for sunflower oil in Ukraine was $1,370 per metric tonne – a raise of around 30% from last year.

Global imports are projected to reach a total of 11.951 million metric tonnes, up by over 22% from last season. Imports of sunflower oil to the European Union are expected at 2 million metric tonnes, up from 1.6 million in the previous season but below the numbers from 2019/2020. Domestic consumption of sunflower oil in the EU is expected to increase by over 5% to 5.06 million while global consumption is projected to grow by almost 10% to 20.52 million metric tonnes for the 2021/2022 marketing year.

The overall increase of vegetable oil imports to India will be largely driven by higher purchases of sunflower oil – up from 1.88 million metric tonnes to an estimated total of 2.4 million metric tonnes in the marketing season 2021/2022. The boost of sunflower oil imports to India is propelled by higher global production and reduced duties – for crude sunflower oil, the tax was cut down to 5%. At the end of October, the import price for sunflower oil was $1,460 per metric tonne. Between October and December, deliveries of sunflower oil to India are expected to total 180,000 metric tonnes. On the domestic retail market, sunflower oil is much more expensive than palm oil.
Erfahren Sie mehr über Rapsöl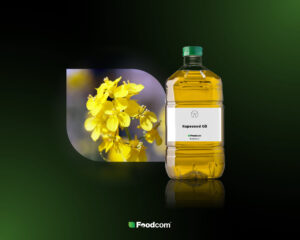 ---
Technische Aspekte
Rapsöl ist eine gelbe Flüssigkeit mit neutralem Geschmack und Geruch. Beim Raffinieren kann es auf 204 °C erhitzt werden, wobei es durch die hohe Temperatur zu brennen beginnt. Die in Rapsöl enthaltenen ungesättigten Fettsäuren sind für eine gute Körperfunktion unerlässlich. Außerdem ist das raffinierte Öl reich an den Vitaminen A, D, E und K.
---
Anwendungen
Das Hauptanwendungsgebiet von Rapsöl ist die Lebensmittelindustrie, wo es aufgrund seines neutralen Geschmacks die Feuchtigkeit von Kuchenprodukten erhöht, ohne deren Geschmack zu verändern. Außerdem enthält es lebenswichtige Fettsäuren und behält seine Fließfähigkeit auch bei niedrigeren Temperaturen bei. Rapsöl wird zum Braten, Kochen oder Backen, als Dressing in Salaten, Marinaden, Soßen oder Cocktails verwendet.
Rapsöl wird häufig als Dieselkraftstoff und Biodiesel verwendet. Aufgrund seiner guten Kälteeigenschaften, seiner angemessenen Stabilität bei hohen Temperaturen und seiner Fähigkeit, Schaumbildung zu verhindern, wird es auch bei der Herstellung von biologisch abbaubaren Ölen und Schmiermitteln, als Grundlage für Farben und Lacke oder für Weichmacher, Tenside und Pestizide verwendet.
In der Kosmetikindustrie ist Rapsöl ein Weichmacher. In Haut- und Haarpflegepräparaten bildet es einen Film auf der Oberfläche von Haut und Haar, der eine übermäßige Verdunstung von Wasser von der Oberfläche verhindert und sich positiv auf den Zustand von Haut und Haar auswirkt. Er kann auch als Bestandteil von hypoallergenen Produkten verwendet werden, da er ein sanfter Inhaltsstoff ist, der in kosmetischen Produkten für empfindliche Haut verwendet werden kann.
In der pharmazeutischen Industrie ist Rapsöl ein Bestandteil von dermatologischen Salben gegen entzündliche Haut, da es aufgrund des angemessenen Verhältnisses von Omega-6- zu Omega-3-Fettsäuren zur Verringerung von Entzündungen beiträgt. Es ist auch ein Füllstoff in Weichgelatinekapseln.