What else? 33rd Edition of Foodcom PLANT-BASED Newsletter
13 April 2023
Reading time: 5 minut

Publication date
13 April 2023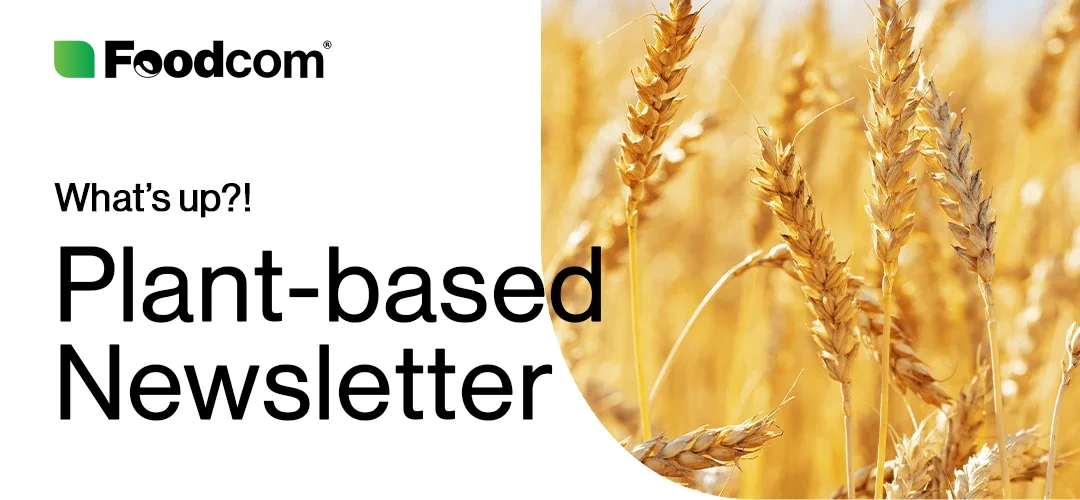 Europe
March, a record month for Ukrainian sunflower oil exports
In March 2023, Ukraine exported 524 000 tons of sunflower oil, which is not only an increase of 29% compared to February this year, but most importantly, it is the highest monthly value since February 2022. All current forecasts indicate that these results will be lower than the record March figure in subsequent months, mainly due to the decline in world prices.
Eastern European countries are asking the European Commission to intervene
The idea is to impose tariffs on Ukrainian grain imports. Farmers from Poland, the Czech Republic, Romania and Slovakia want to work out a joint position on grain from Ukraine. Representatives of the governments of these countries argue that a revision of tariffs is the only way to distribute Ukrainian grain evenly in Europe and, as a result, stabilize the grain market on the continent.
You know how lab-grown meat and feed ingredients have not yet been introduced on a large scale?
Well, Italy has already decided to ban them. The government has passed a bill banning lab-produced food and feed. The reason given is to protect the country's agricultural heritage. If the bill is approved by parliament, it will be impossible to produce food or feed from cells. It is expected that the possible fines will be up to 60 000 euros.
The Americas
More U.S. corn and soybeans on the market?
U.S. farmers want to plant more corn, soybeans and wheat. According to experts, this may not be easy to accomplish due to difficult weather conditions. The seeding situation is particularly difficult in some northern U.S. states. At the same time, many believe that an increase in U.S. production of soybeans, wheat and corn is necessary given the current situation related to the war in Ukraine. Higher harvests are needed to stabilize the situation and mitigate the effects of the crisis.
Latin America faces a wheat problem
Latin America is a region that has traditionally relied on large amounts of imports to meet its wheat needs. As a result, it has been hit hard by recent increases in food prices, pressure on supply chains, and changes in trade patterns. To make matters worse, Argentina, South America's top wheat producer and exporter, is expected to harvest a much smaller crop this season due to the worst drought in decades. As a result, Central America will have to rely more on locally grown wheat, which on average contains less protein than imported wheat.
The U.S. orange crop is expected to reach its lowest level in 86 years
Current forecasts predict this year's U.S. orange crop will be the lowest since 1937. Production peaked 25 years ago and has steadily declined since. However, there is no denying that the decline in the main producing state of Florida is particularly sharp this year. As a result, imports of oranges and orange juice have increased.
Asia & Oceania
Sugar in India will soon become more expensive
The latest data shows that sugar prices in the Indian domestic market have already been rising recently, and the upcoming ice cream and sweet beverage season is sure to push prices even higher. In addition, current forecasts indicate that sugar production will fall by 10% year-on-year, which will also impact commodity prices. Not very sweet news for consumers in India, that's for sure.
Malaysia and China sign oil partnership
Malaysia, one of the world's largest palm oil producers, and China, one of the world's largest buyers, have signed an agreement aimed at stabilizing the palm oil supply chain. The overall aim is to increase trade and cooperation in palm oil. As part of the cooperation, new technologies, such as artificial intelligence, will be developed and applied in palm oil plantations.
Bangladesh's farmers are in dire straits
The country's agricultural sector is under severe pressure as crop costs skyrocket due to the global economic situation and predicted torrential rains and floods, which usually occur in the summer and damage crops. Many farmers were already affected by high-interest loans and have now taken on even more debt as they try to deal with the economic crisis not seen in years. Experts indicate that the plight of farmers could have a particularly large impact on the rice harvest.