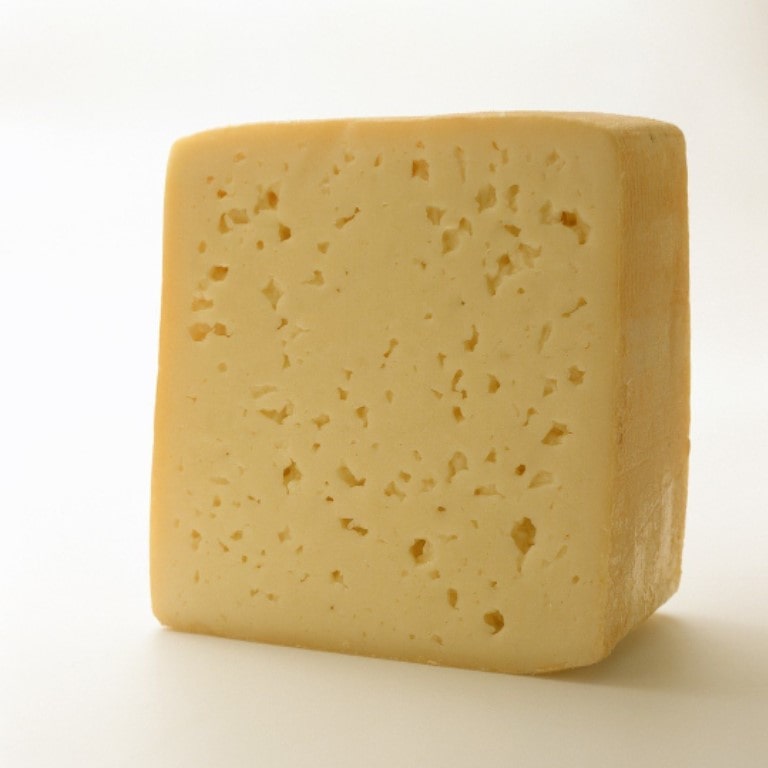 Tilsiter cheese is a semi-hard Swiss-Dutch rennet cheese made from fresh or pasteurized cow's milk. It contains at least 30% milk fat. The production process includes heating the milk, adding rennet and colorants, cutting the curd formed, draining the whey and finally shaping and salting the product.
Tilsit cheese needs at least two months to mature. Its name comes from the city of Tilsit, where it was originally produced. Tilsit cheese is sometimes referred to as Tilsiter or Tilsit. In Switzerland, there are 3 types of Tilsit cheese – "green", "red" and "yellow" – depending on the milk used and the ripening period.
Technical aspects
Tilsit cheese is characterized by a creamy, moist texture and a slightly salty-sour taste. The cheese has a light yellow color, a thin light brown rind and evenly distributed small irregularly shaped holes. It has excellent melting properties. Tilsit cheese is also characterized by a high content of calcium and easily digestible vitamins, such as those of the A, B and D groups. It also contains micronutrients such as phosphorus, sodium and potassium. It also contains tyrosine. Depending on the ripening method and the techniques used in processing, the cheese can be softer or harder.
Shelf life
The shelf life of Tilsit Cheese is 90 days from the date of production. The product should be stored at a temperature of 2°C to 10°C.
Packaging
Foodcom S.A. offers Tilsit Cheese in blocks of 3, 9 or 15 kg.
Applications
Tilsit Cheese is intended for direct consumption and is widely used in the food industry. Due to its strong taste, it is suitable as a sandwich topping and is ideal for slicing, melting, dicing or grating, so it is also used for dips, soups, ready-made salads, crackers, French fries and many other ready-made dishes. It is also added to toast, hamburgers or baked potatoes. The product is also used in baking.
How to order?
Are you wondering how to order our products? Contact us by sending a message!

Our B2B trade specialists will contact you within one hour of sending your inquiry during office hours. We will provide you with information about the product, its origin, price and method of delivery. We will also help you make a decision as to the choice of a specific product by presenting its industrial applications. As wholesale specialists, we will be able to provide high-level service with transparent trade rules. All trading transactions run smoothly with us!
Why Foodcom?
Our great team of Sales Support will help our Traders conduct the contract and business deals in a smooth and efficient way to ensure the best quality service to all our Business Partners. Our logistics team will take care of transportation and the financial department will be responsible for all matters connected with the financial part of the deal.
Our certificates



Got a question?
Contact us!