Résumé
Table des matières
The words for the week are energy and shortages. European countries are contemplating the need to ration energy. Some supermarket chains are rationing flour and sunflower oil.

Reports are in the news of a central European government stepping in to prop up energy providers, whose input prices are skyrocketing, to protect consumers from rising costs, as energy prices are the main concern for all market participants right now. Already in April the rise in diesel prices reflected into increases for farmers. These factors are adding to concerns about production in the food and feed sectors, especially in the case of concentrates and starches which both need to be dried – suppliers do not want to commit to 12-month contracts anymore, quarterly contracts will be the norm going forward. People are still waiting, and looking forward to seeing the quality and quantity of new crops. We need to remember that the biggest producers are focused on manufacturing starches rather than proteins.

Other ongoing issues regarding ranchers, as it is simply no longer profitable for many of them to buy feed at the high prices, where meat prices have failed to keep up with input costs. What adds onto this is the cost of raising livestock, which is also increasing. Breeders are reducing the numbers of animals on their ranches, including pigs and cows, which directly affects a large number of dairy cows which will become beef for the table. Furthermore, British farmers have begun to switch to other crops in face of rising fertilizer costs, they also found the alternative of wheat for feed, cheaper to produce than milling wheat. Many ranchers suffering from rising fertilizer costs are cutting back on investments and changing their planting plans, which means sowing less wheat for the bread industry, a recent survey proved. It is said a third of farmers have changed their planting strategy in the past four months, with 90% of them blaming fertilizer costs.

The current protests in the Netherlands, against nitrogen usage reduction, seem to perfectly reflect this issue. Dutch farmers have been protesting in the streets for days against the government's plan to reduce nitrogen emissions in the livestock industry. Some are protesting in front of the house of the Minister of Nitrogen and Nature Policy. According to the protesters, the plan could reduce livestock production by up to 30% and cause farms' bankruptcy.

The Green New Deal in Europe is entering its next round, and not everyone is happy with the changes that have been adopted. Some producers are already starting to implement new solutions. How will the new regulations affect the plant-based sector? Stay up-to-date with our newsletter.

With us, you'll never miss a thing!

Potato protein

Buyers have been moving to Corn Gluten Meal as a substitute for Potato Protein, as the maize commodity is almost half the price. But since people are finally starting to accept the higher level of prices, we have received many inquiries for this potato protein again.

Remember that Potato Protein producers will not know until about October what the complete size of the crop, quality of it, is as well as the protein content. Difficult to forecast cost of energy need to dry concentrates and starches going forward, everyone expects the worst.

Polish producers are forecasting 3000 EUR/MT for Potato Protein, or higher, from October. With the likelihood of only 60% of the potatoes necessary being available from the new crop.

Vital Wheat Gluten

We are starting to see strong demand for Vital Wheat Gluten from companies who produce regional foods and specialty items. We notice buyers being more likely to accept these prices that have been affected by inflation, as the difficulties caused by increased energy prices to produce and transport goods are being taken into consideration by the whole industry. What's more, is that a third of arable farmers plan to switch from growing milling wheat for bakeries, to growing feed wheat for animal feed, as this solution requires less fertilizer – the price of which has shot up dramatically in recent months. Similarly in the case of feed grade, the overall number of bids is increasing.

Manufacturers are loading 22MT per truck, instead of the normal 24MT, to try to stretch out available supplies. It all adds up when you load hundreds and hundreds of tons per day.
For Feed buyers, in the case of Vital Wheat Gluten used in aquafeed – the interest slightly shifting to Corn Gluten Meal to reduce costs. Corn Gluten Meal has a similar amino acid profile to fish meal and the same protein content ~60%.

Remember that all free-range animals are out in the fields grazing, in the months of July and August reducing the need for high protein supplements. Therefore, at this time of the year, ranchers do not buy as much expensive feed for these animals.

Hydrolyzed Wheat Gluten

Producers are delaying loading dates due to lack of supply.

Calf Milk Replacer production has been cut back 30% due to high ingredient prices. If you find it on the spot, be prepared for a very high price. Soy Flour is a possible alternative, in combination with Soy protein Isolate 90%.

A lot of buyers are shifting their focus to the product from Brazil or Argentina wheat instead of the Ukraine product, even though transport from South America to the European market is rather expensive.

Dextrose

Regarding this commodity, it could be difficult to find right now. Producers are sold out, some of them are even contracted for Dextrose months into 2023. And despite being able to find scarce goods on the market, these have not been produced yet, so the delays should be expected. Producers are delaying loading dates due to lack of supply.

Corn Gluten Meal

As mentioned earlier, it is a possible substitute for potato protein, but not a pure one, as it is not as easily digested by some animals, but everyone is in search of the cheapest alternatives. Corn Gluten Meal has a similar amino acid profile to fish meal and the same protein content ~60%. A good alternative due to lack of Fish Meal on the market.

Currently, the biggest producers are sold out until after the harvest, so companies in Europe are starting to allow non-EU brands, due to price differences and lack of EU products on the market (such as products from Ukraine). In the case of Corn and Wheat starches, we are also seeing strong demand from ethnic food makers.

Soy flour NON – GMO

Soy Flour and flax meal are among the most popular substitutes for HWG among manufacturers today. This seems like a convenient option for ranchers to feed dairy cows and to put it in the calf milk replacers.
En savoir plus sur Sorbitol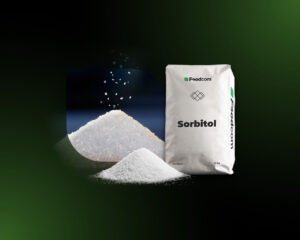 ---
Aspects techniques
Le Sorbitol est une poudre ou des granulés blancs au goût sucré. Il est facilement soluble dans l'eau.
---
Application
Le Sorbitol est habituellement utilisé comme édulcorant, mais il a également des applications médicales. Le Sorbitol est utilisé en cosmétique, comme épaississant, en pharmacie, dans la production de capsules de gélatine molle ou en boulangerie. Ici, le produit n'est pas certes utilisé comme édulcorant, et par ailleurs comme stabilisateur d'humidité.