What else? 31st Edition of Foodcom ADDITIVES Newsletter
20 April 2023
Reading time: 8 minut

Publication date
20 April 2023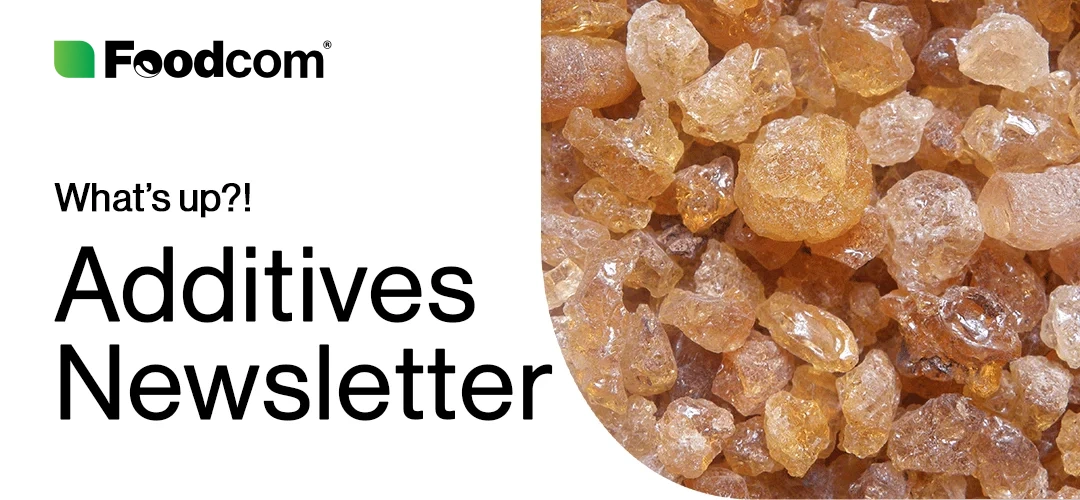 Europe
Russia's fertilizer export quotas are increasing
A law was recently signed that increases Russia's existing fertilizer export quotas by 300 000 tons. The quota for the export of ammonium nitrate was increased. Officially, the general idea is that mineral fertilizer producers will be able to sell surplus finished products abroad after the needs of the domestic market are fully met.
French company Ynsect is changing its strategy after receiving major funding
The company has received 160 million euros from investors, which will allow it to change its operating strategy. Under current plans, the insect additive manufacturer will use the money to finance the expansion of its flagship vertical insect farm, the world's largest, in Amiens, northern France, as well as new projects. We have asked this question many times before, but we'll ask it again: How come the bugs do not escape from their pens at insect farms?
Suedzucker has reason to be content
Europe's largest sugar producer recently announced that its full-year profit rose 112%. After four years of losses in the sugar sector, the company has returned to profitability, and the difference is undoubtedly clear to see. Company representatives argue that higher sugar and bioethanol prices in 2022/23 have offset higher energy and raw material costs. That kind of profit is really sweet news, no question about it.
The Americas
The United States will spend billions of dollars on direct air capture
Many scientists agree that past efforts to slow global warming and limit its effects are insufficient. While continuing current efforts is essential to bring about change, the latest technologies are likely to play a major role. The U.S. government plans to invest up to $3.5 billion in grants to build factories that will capture and permanently store carbon dioxide. This is the largest project of its kind in the world, although other countries are making similar investments. Undoubtedly, these are ideas worth pursuing.
Brazilian company Acelen will invest a lot of money in its renewable diesel business
Between 2026 and 2036, Acelen is expected to invest $2.44 billion to produce "green" diesel and jet fuel in Brazil. Construction of a new biorefinery is expected to begin in January 2024. The company anticipates that all renewable fuel production will be exported, as the Brazilian market does not yet have regulations allowing domestic sales. That's what you call a long-term plan!
The market in the United States has seen a decline in polycarbonate prices
Prices fell slightly in March due to relatively weak demand in the downstream industry. This is the sixth consecutive month of declining economic activity in the manufacturing sector. The decline in U.S. manufacturing activity was the slowest in five months. Compared to the months before the pandemic, price levels in the U.S. market are still relatively high. For this reason, significant volumes of imports are still arriving at the ports.
Asia & Oceania
China will import Brazilian animal protein meal
Brazil is one of the largest exporters of animal meal, while China is one of the largest consumers, so it seems that this type of cooperation was only a matter of time. The relevant agreements have already been signed, which also specify the requirements for the raw materials sold in China. These mainly concern the origin of animals raised in areas free of epidemics of certain animal diseases.
India's vegetable oil import structure is changing
The recent rise in palm oil prices has prompted Indian buyers to turn to soft oils such as sunflower and soybean oil, which have become more attractive to them. Lower palm oil imports by India, the world's largest buyer of vegetable oils, are likely to weigh on Malaysian palm oil prices. This will also support soybean and sunflower oil prices. Indian buyers have traditionally relied on palm oil because it is cheap and can be delivered quickly. Recent price fluctuations have changed their approach somewhat.
China plans to change the composition of its animal feed
In an effort to reduce the country's dependence on soybean imports, China plans to limit the use of soybeans in animal feed production. A recently developed three-year plan calls for soybean meal in animal feed to be reduced to less than 13% by 2025, down from 14.5% in 2022, and feed producers are expected to increasingly turn to canola, sunflower and synthetic protein to replace some of the soybean meal. The new target of less than 13% by 2025 is slightly lower than the previous target of 13.5%.