What else? 161st Edition of Foodcom DAIRY Newsletter

Publication date
16 January 2023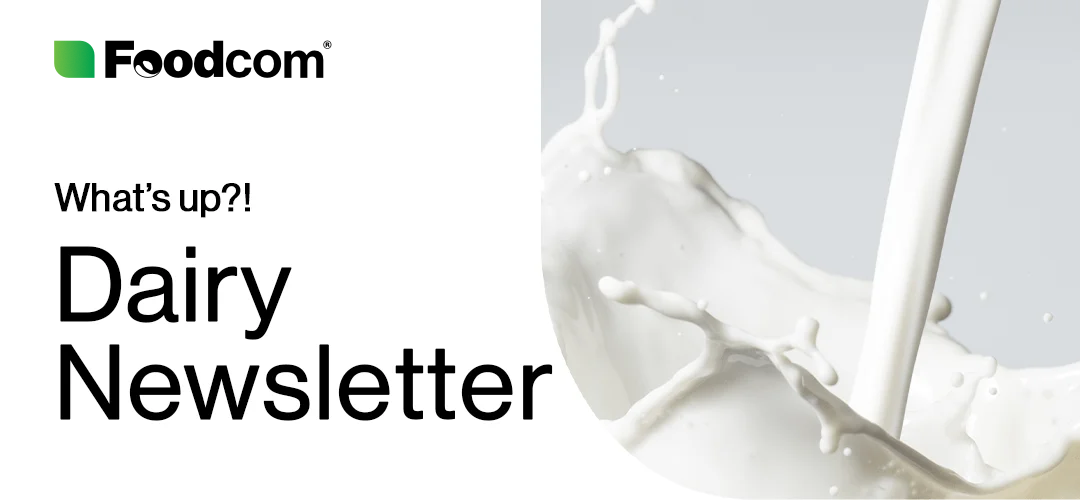 Europe
Agriculture in Cumbria (in fact, not only there) is undergoing a period of intense change
Challenges for farmers include navigating the post-Brexit reality, galloping inflation and also environmental pressures. In these heated times, farmer-led cooperative First Milk has opened a multi-million pound investment in its Lake District Creamery in Aspatria. The goal of the investment is to increase the capacity of the existing facility and produce more cheese. Certainly, not a cheesy plan!
Netherlands-based FrieslandCampina Ingredients has entered into a strategic partnership with California-based biotech company Triplebar Bio to develop and expand cell-based protein production through precision fermentation
This latest partnership follows the November 2021 launch of the company's first range of plant-based proteins, Plantaris, in collaboration with AGT Foods. The resulting product is expected to be bioactive proteins that support human health and nutrition in early life and adulthood. The future is now (still).
British livestock in danger
The British House of Commons will soon debate the Retained EU law (Revocation and Reform) Bill, which is intended to repeal regulations that have been transferred out of the European Union and, according to the bill's supporters, are to lose their validity as a result of Brexit. What worries the representatives of animal welfare organizations is the fact that about 80% of the regulations protecting animals in the United Kingdom originate from the European Union, so their repeal, without replacing them with new ones, could pose a major threat to animals, including livestock.
The Americas
The latest data show that the U.S. dairy industry finished 2022 with strong exports
Exports of dairy products from the U.S. hit a record in 2022 and will continue to increase in 2023. It's nice to learn that 2022 was not only a record year for inflation, extreme weather events and financial market volatility… 
Exports of Irish milk powder to North America have increased significantly recently
This is due to production difficulties experienced by infant formula manufacturers in the United States. Exports of specialized nutritional milk powders from Ireland had a value in 2022 that was more than three times higher than in 2021, but experts believe that this result will not be repeated in 2023, as the situation in the United States is expected to return to normal by spring. It looks like the US will "got milk?" for children as well.
The price of eggs has tripled in some states compared to the same period last year
Eggs are one of the most popular sources of protein in Americans' diets, largely because more and more people want to cut back on meat consumption. As a result, demand for eggs has been on the rise for years, while at the same time supply has plummeted lately due to the avian flu epidemic that many countries around the world, including the United States, are dealing with. Does this mean that dairy products are becoming more popular as an alternative source of animal-based protein? Time will tell.
Asia & Oceania
China's dairy industry is struggling with overproduction due to weak consumer demand
Low prices and difficulty selling fresh milk are taking a heavy toll on producers. Many dairy farmers have begun dumping their products and killing animals to avoid further financial losses. The cause of these problems is said to be the cessation of milk deliveries to schools due to the pandemic situation, which has led to overstocks of raw milk in the supply chain.
Amcor, an Australian-based manufacturer of innovative eco-friendly packaging, has announced the European launch of its new PrimeSeal and DairySeal Recycle-Ready thermoforming films
The innovative products are dedicated to meat and dairy products, offering superior packaging performance and improved circulation. The fresh packaging is expected to have up to an 80% lower carbon footprint than existing solutions, the manufacturer asserts.
The Yili Group, one of the best-known dairy brands in China, has come up with an unusual way to promote itself
Titled "Online Tour: Networking Yili's Global Value Chain," the new platform will give audiences around the world a closer look at the company's industrial chain. The official online tour platform will be available on Yili's global website. Soon, it will really be about experiencing everything while sitting on your own couch…