Summary
Table of contents
Take a look at how the United States government helps the farmers whose businesses were severely affected by the pandemic. The Coronavirus Food Assistance Program was recently fueled with an extra $ 6 billion directed to small-scale producers. Read also about other funds which include $ 20 million under the HEROES act for farmers and ranchers and $ 500 million dedicated to purchasing surplus milk.

Additional help for pandemic-hit producers

An additional $6 billion will reach American farmers whose businesses sustained pandemic-induced loss. USDA recently announced these extra funds to be fueled to the already existing Coronavirus Food Assistance Program but this time targeting also smaller-scale producers and disadvantaged companies. The program was launched in April 2020, but ongoing market instability calls for further measures to be implemented. The new initiative is deemed Pandemic Assistance for Producers under which the help will be directed at previously omitted producers. This includes $500 million in funds for accelerated support through already existing initiatives. Dairy farmers can apply for aid through the Dairy Donation Program which connects dairy goods with consumers in demand. Over 410,000 cattle producers can also be granted additional payments for which USDA anticipated around $1.1 billion.

Additional initiatives

In May 2020, USDA had already estimated the losses of dairy producers at $8.2 billion – a number that has only been growing ever since. The state acted quickly and introduced relief plans for American farmers such as the Families Food Box Program under which USDA initiated the purchase of dairy products for the estimated value of $317 million. The dairy foodstuffs reached food banks and non-profit organizations. Under the Health and Economic Recovery Omnibus Emergency Solutions Act or HEROES Act, $20 million will be provided to strengthen the support for farmers and ranchers while $500 million will be used to purchase the milk and direct the products to non-profit entities.
Learn about Thymol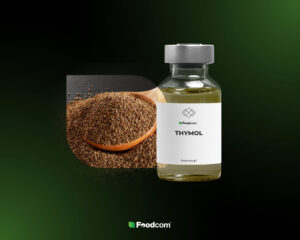 ---
Technical aspects
Thymol has very strong antibacterial, antifungal and antibacterial properties. It occurs as a white, crystalline substance.
---
Application
Thymol is a very valuable ingredient in many traditional and herb-based medicines. Due to its effective properties, such as effective expectorant, antitussive and antiseptic action, Thymol can be used against a wide range of diseases and ailments.
It is commonly used to disinfect the skin for ailments such as acne and for infections in the mouth (such as the treatment of aphthous and herpes). Thymol is also used in any mouthwash or toothpaste.
Interestingly, Thymol is also used in beekeeping to fight varroa, a disease that affects bees. Its use is recommended during the summer, especially after honey harvesting.