The use of Sunflower Oil in the food and cosmetics industry
27 April 2023
Reading time: 5 minut

Publication date
27 April 2023

Essence
Sunflower Oil is a vegetable oil extracted from sunflower seeds.
It has moisturizing and anti-inflammatory properties, which are often used in the production of cosmetic products.
Sunflower Oil is a versatile product used in many fields, such as food, cosmetic, pharmaceutical and horticultural industries.
What is Sunflower Oil?
Sunflower Oil is a vegetable oil obtained from sunflower seeds. To produce Sunflower Oil, the seeds are first cleaned and peeled, then ground, heated and pressed. It can be extracted with chemical solvents such as hexane or directly from the sunflower seeds by crushing. Finally, the oil is usually refined.
Sunflower Oil has many uses in industry, especially in the food and cosmetics industries. Would you like to know more about its uses? Below you will find all the information about the properties and uses of Sunflower Oil.
Sunflower Oil – properties
Sunflower Oil has the form of a liquid with a clear, amber color. It contains acids such as palmitic acid, stearic acid, oleic acid and linoleic acid. It also contains vitamin E, minerals and omega-6 fatty acids. Since Sunflower Oil contains mainly unstable polyunsaturated and monounsaturated fatty acids, it is particularly susceptible to degradation when exposed to heat, air and light, which accelerate the oxidation process. To minimize rancidity and loss of nutritional value, it should be stored at low temperatures and in dark glass or plastic bottles with UV protection added.
Refined Sunflower Oil is characterized by having a high smoke point (232 °C), making it suitable for baking, cooking and frying. It has a moisturizing and anti-inflammatory effect, which is often used in the manufacture of cosmetic products. Sunflower Oil also has health properties – as it contains antioxidants and proteins, it improves immunity and promotes tissue building and repair. In addition, the oil extracted from sunflower seeds is a source of oleic acid, which helps maintain proper cholesterol levels in the body.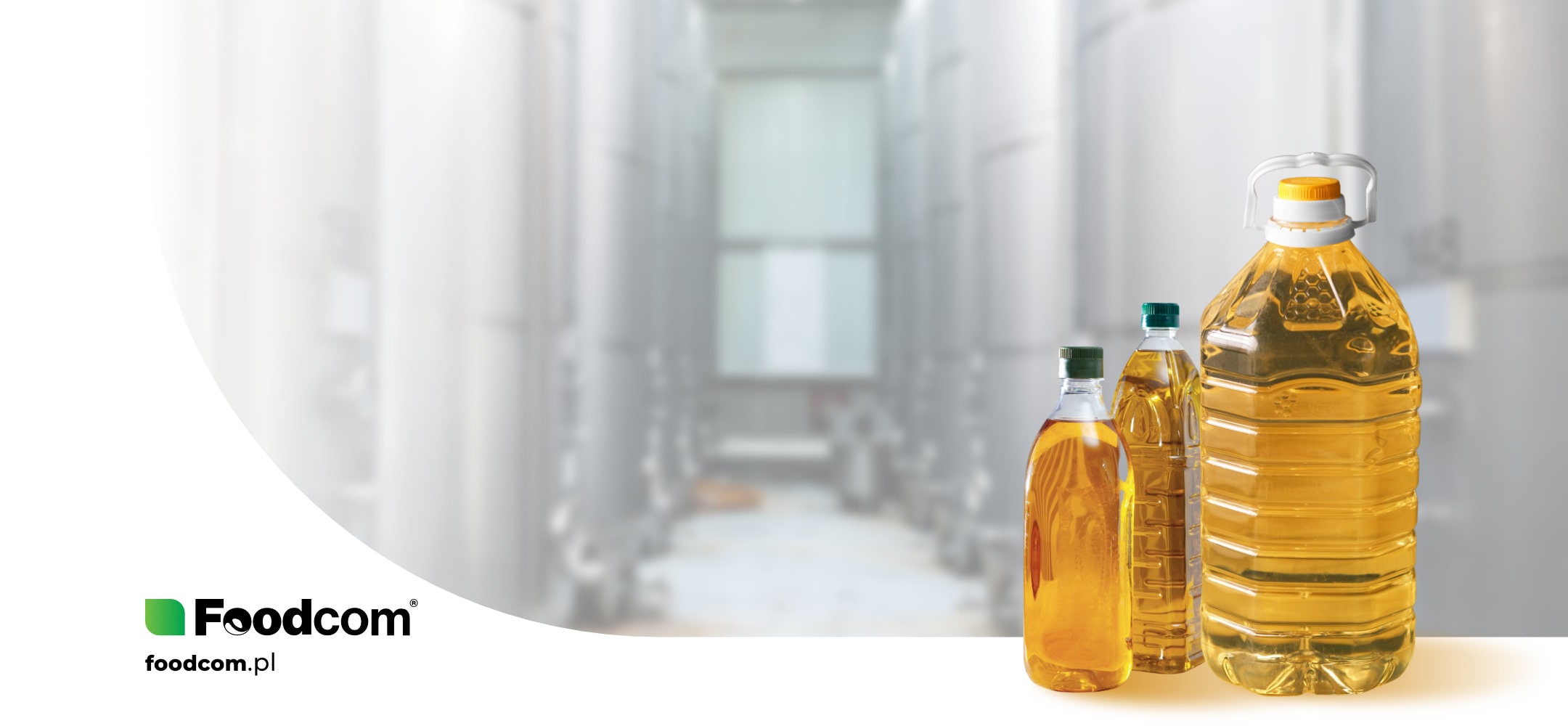 Sunflower Oil – applications
Sunflower Oil is mainly used in the food industry. Due to its properties, it is suitable for frying salty snacks, cooking, baking or as an additive to salads.
The second popular use of Sunflower Oil is in cosmetics. It is an emollient, has a moisturizing, anti-inflammatory effect and protects against UV damage. It is added to many products of the cosmetics industry.
It is also used in the pharmaceutical industry. Sunflower Oil is a carrier in food supplements, for example in vitamin D3 supplement products.
In addition, Sunflower Oil is used in the production of biofuels and in horticulture, more specifically as a fungicide in tomato cultivation.
Sunflower Oil in the food industry
Sunflower Oil is very popular in food production. It is quite a versatile fat, used hot and cold. It is used in the production of salad dressings and margarines. Because of its neutral taste, it is also used to make mayonnaise, which makes it light and creamy.
As mentioned above, Sunflower Oil can be used at high temperatures. Therefore, it is used for frying salty snacks such as potato French fries and popcorn.
It is also popular in the baking and confectionery industries due to its high smoke point and mild flavor. In addition, Sunflower Oil makes baked goods sufficiently moist.
Sunflower Oil can also be used as an ingredient in sunflower butter, a food paste often used as a substitute for peanut butter.
Sunflower Oil in cosmetics
The skin-care properties of sunflower oil are mainly due to its unsaturated fatty acid and vitamin E content. It is an ingredient of moisturizing lotions, creams, conditioners, bath additives or facial cleansers, i.e. scrubs. Another popular use of Sunflower Oil is oiling the hair. This oil provides them with regeneration, moisture and suppleness, forming a protective barrier on them. In this way, it keeps the moisture inside and protects the hair from negative external influences.
Due to its anti-inflammatory properties, it is in turn used in the production of cosmetics for problematic skin – acne or eczema.
Sunflower Oil added to cosmetics appears on their labels as Helianthus Annuus Seed Oil. Want to learn more about the ingredients used in cosmetics? Then be sure to read our article on this topic!
Why Foodcom?
Our great team of Sales Support will help our Traders conduct the contract and business deals in a smooth and efficient way to ensure the best quality service to all our Business Partners. Our logistics team will take care of transportation and the financial department will be responsible for all matters connected with the financial part of the deal. Do not hesitate! Contact us.