Summary
Table of contents
This is our summary of the week 38 on the European dairy market divided into 4 main categories.



Powders

SMP is offered in the area of ​​2.70-2.74 EUR/kg EXW FR/DE/PL. You can find single trucks with prompt collection for less than 2.70 EUR/kg EXW EU. FCMP is offered around EUR 3.30/kg EXW EU. SWP with prompt collection is offered in the area of 980 EUR/MT EXW EU. WPC80 Instant is stable with some signs of strengthening. Producers offer around EUR 8700-8800/MT EXW EU.

Cheese

After a few weeks of increases, the price of Gouda / Edam cheeses has slowed down, but is still high around 3.55 EUR/kg EXW DE/NL. However, the interest does not diminish, and we still see a lot of inquiries. Mozzarella is offered at 3.10 – 3.15 EUR/kg EXW FR/NL. The interest is slightly decreasing for Mozzarella and Cagliata, but there are still buyers who haven't covered their stocks yet. The export of cheeses outside the European Union is also gradually growing compared to previous years.

Fats

Large amounts of frozen butter are offered in the region of 4.15 – 4.18 EUR/kg EXW NL/DE/PL. Fresh butter is offered above 4.35 EUR/kg EXW PL, some producers say that sales of the butter in cubes are at a very satisfactory level. AMF is offered above 5.60 – 5.65 EUR/kg EXW NL/DE/PL.

Liquids

It was another week in which there was less raw material than expected, which resulted in very high spot prices for whole and skim milk. Cream is getting stronger, which translates into high production cost of fresh butter. SMC's price is at around 2.55 – 2.65 EUR/kg all over Europe and the availability is scarce.
Learn about Cream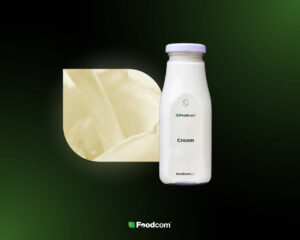 ---
Technical aspects
The end product is an emulsion of water and fat, containing also proteins, minerals, calcium, and vitamins. The fat content in pasteurized cream is between 38% and 43%. Cream is a uniform, typically white liquid without foreign bodies, butter lumps, oil, or foam. It has a pure smell and flavor.
---
Application
In the dairy industry, Cream is popular in the production of butter, cheeses, ice cream, sauces, and other dairy products such as chocolate manufacture or baked sweets. Cream is a popular flavor enhancer and is sometimes used for its whitening properties.