Summary
Table of contents
This is our summary of the week 37 on the European dairy market divided into 4 main categories.



Powders

SMP still stable and high. Some producers do not want to offer the product below 2.70 EUR/kg EXW PL. FCMP is offered above 3.25 – 3.30 EUR/kg EXW IE/DE/FR. It's hard to find lactose below 0.98 EUR/kg EXW, whey permeate is offered in the area of ​​0.72-0.74 EUR/kg EXW. The demand is significant, as many buyers hold their horses hoping for the price to drop.

Cheese

Gouda and Edam are being offered even above 3.45 EUR/kg EXW DE/NL. Mozzarella around 3.08-3.12 EUR/kg EXW NL/DE. Cheese off-cuts for melting are being traded above 3 EUR/kg. Cheddar prices above 3.55 EUR/kg EXW UK/IE.

Butter

In Poland, fresh butter is offered in the range of 4.46 – 4.50 EUR/kg EXW PL. At the same time, frozen butter can still be obtained in the area of ​​4.20 – 4.22 EUR/kg EXW PL with prompt collection. However, many end customers do not have secured deliveries for Q4-2021 yet, in which case the trend will rather continue.

Liquids

The prices of liquids (whole milk, skim milk, cream) on Thursday underwent a slight price correction in Poland. The cream was available below 5.50 EUR/kg EXW PL.
Learn about Haribo® Jellies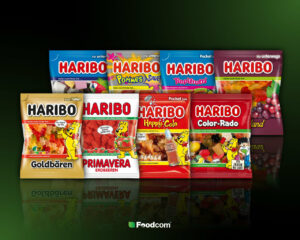 ---
Technical aspects
Haribo® Jellies come in a variety of shapes – from cola bottles to fruits and geometric shapes. They have fruity flavors, as well as cola and licorice flavors. The ingredients typically include sugar, glucose syrup, water, gelatin, flavorings and food coloring.
Foodcom S.A. offers the following Haribo® Jellies:
Haribo® Primavera Erdbeeren,
Haribo® Goldbaren,
Haribo® Weinland-Weingummi,
Haribo® Happy Cola,
Haribo® Saure Pommes,
Haribo® Tropifrutti,
Haribo® Color-Rado,
Haribo® Konfekt.
---
Application
Haribo® Jellies are not only suitable as a snack. They are also used in baking – they can be used as toppings for cupcakes, cakes and ice cream or added to cookies. Foodcom S.A. distributes Haribo® Jellies to wholesalers, distributors of branded products, importers, exporters and retail chains.