Creatine Monohydrate
Creatine Monohydrate is a high-quality product that has gained great popularity in the sports nutrition industry. Expand your offer with this ingredient trusted by athletes around the world for its proven benefits!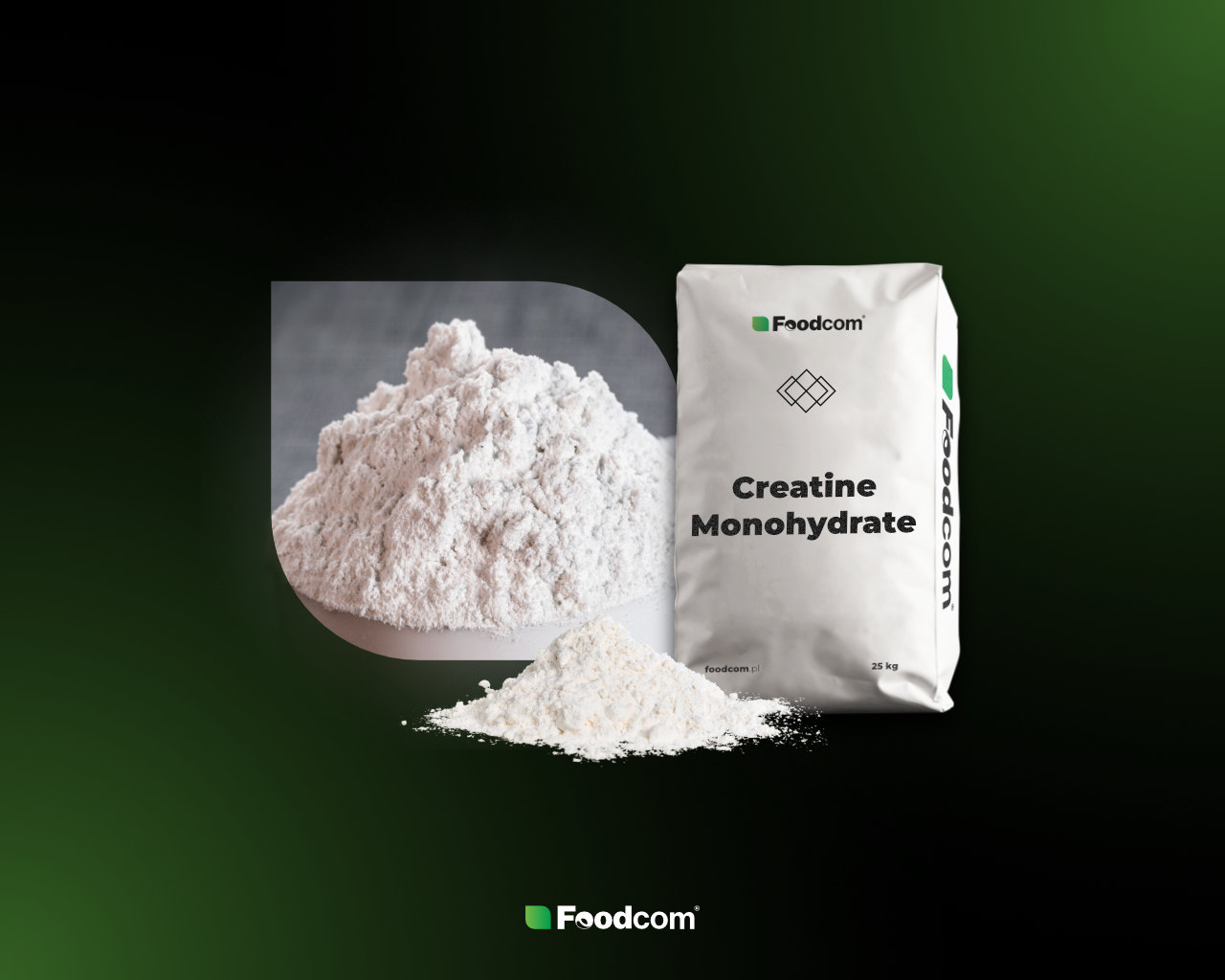 Price Quotations
Central Europe (EUR)
Month
3 months
1 year
3 years
Prices subject to final confirmation. Indications made for EXW Central Europe.*
Technical aspects
Creatine Monohydrate is in the form of a white, crystalline, water-soluble powder. Creatine occurs naturally in human muscles and tissues, but can also be synthesized from cyanamide and sarcosine.
Creatine Monohydrate is composed of amino acids and plays a role in replenishing the energy supply of muscle cells – it affects the renewal of ATP (adenosine triphosphate), the main energy carrier in the human body. The great advantage of Creatine Monohydrate is that it has a high content of Creatine and, moreover, is almost completely absorbed in the digestive tract.
Storage period
The storage period of Creatine Monohydrate is 2 years. It should be stored in a cool, dry and ventilated warehouse, away from moisture.
Packaging
Foodcom S.A. supplies its Business Partners with Creatine Monohydrate in 25 kg cartons.
Application
Because of its nutritional properties, Creatine Monohydrate is used in the manufacture of sports and energy drinks to provide an energy boost. It may also be included in protein bars and other nutritional products for active people.
Creatine Monohydrate is most commonly used in dietary supplements for athletes. It helps the body produce the primary energy source in muscle cells and enhances athletic performance by increasing muscle mass, strength, and endurance. Creatine supplementation also helps with faster recovery after exercise. Supplements based on Creatine Monohydrate are very highly digestible.
Alternative names
creatine, creatine monohydrate powder, beta-methylguanidinoacetic acid, C4H9N3O2H2O
How to start cooperation with us?
Buy now
We offer express purchase of the product at the price indicated on our website.
---
Payment
Payment is made after contacting our representative to arrange the details of the order.
Transport
We offer two options for delivery – personal collection of the product from our warehouse or commissioning transport.
Buy now
Book
We provide the possibility to reserve the product at the price indicated on the website.
---
Payment
After paying 10% of the order value, the product will be reserved for a period of 3 days. After that, the remaining amount must be paid.
Transport
You can pick up the purchased product in one of our warehouses or let us organize the transport.
Book
Product inquiry
The inquiry is forwarded to the appropriate trader. Our representative will then contact you to discuss the details of the order.
---
Payment
The payment terms will be determined during the business negotiations.
Transport
Convenient transport is organized in cooperation with our logistics department.
Send inquiry

Contact
Reach out to us!
Contact us by the contact form, and get a direct response to your question within four business hours!
Looking for a trusted partner in distribution?
Need a new supplier for your production?
Interested in a product not listed on the website?