Copper Sulphate Pentahydrate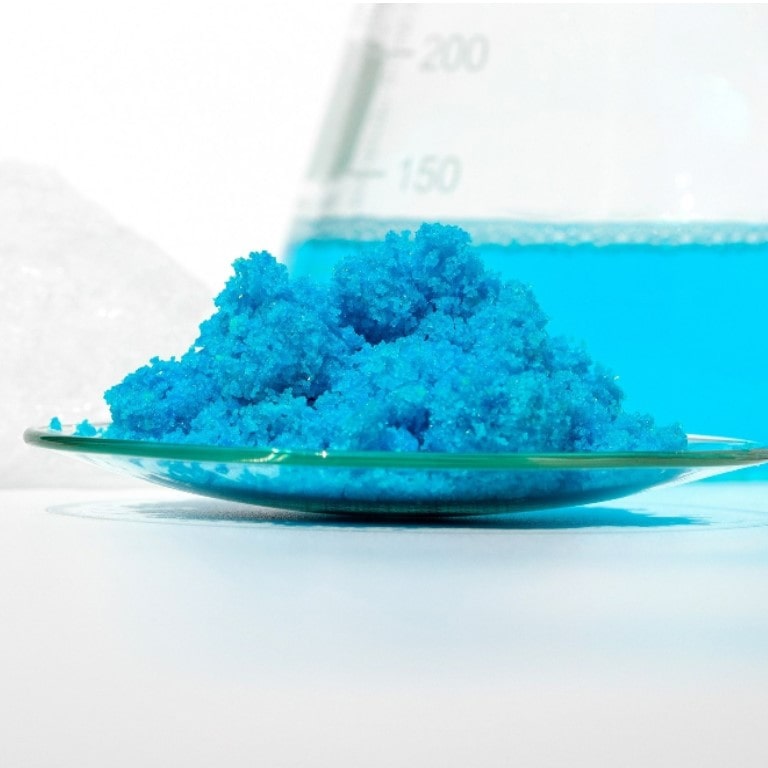 Copper Sulphate Pentahydrate
Copper sulfate exists as an inorganic compound in the form of salts of sulfuric acid and copper.
Technical aspects
Copper sulfate pentahydrate occurs as blue, medium-sized crystals. In nature, however, it occurs as a mineral: chalcanthite.
Shelf life
The shelf life of Copper Sulfate Pentahydrate is up to 3 years. The product should be stored in a dry place at a temperature below 30°C.
Packaging
Foodcom supplies its Business Partners with Copper Sulfate Pentahydrate in 25 kg bags and in Big bags.
Applications
It is commonly used as a fungicide. In veterinary medicine it is used as an agent to combat mycoses in equidae species, and in agriculture to free wheat grains from fungal contamination. In the food industry, it is used as a feed additive for farm animals.
Copper sulfate, as a feed additive, actively participates in blood formation, and also has a positive effect on weight gain in pigs and wool in sheep. Participates in the construction of the bone skeleton. Particular indications for supplementing the diet with copper sulfate in animals refer to the winter and early spring.
How to order?
Are you wondering how to order our products? Contact us by sending a message!

Our B2B trade specialists will contact you within one hour of sending your inquiry during office hours. We will provide you with information about the product, its origin, price and method of delivery. We will also help you make a decision as to the choice of a specific product by presenting its industrial applications. As wholesale specialists, we will be able to provide high-level service with transparent trade rules. All trading transactions run smoothly with us!
Why Foodcom?
Nasz zespół Wsparcia Sprzedaży pomaga naszym Partnerom Handlowym w sprawnym i efektywnym przeprowadzeniu transakcji handlowych, aby zapewnić najwyższą jakość usług dla wszystkich naszych Partnerów Handlowych. Nasz zespół logistyczny zadba o transport, a dział finansowy będzie odpowiedzialny za wszystkie sprawy związane z finansową częścią transakcji.
Our certificates



Got a question?
Contact us!