Copper Sulfate Pentahydrate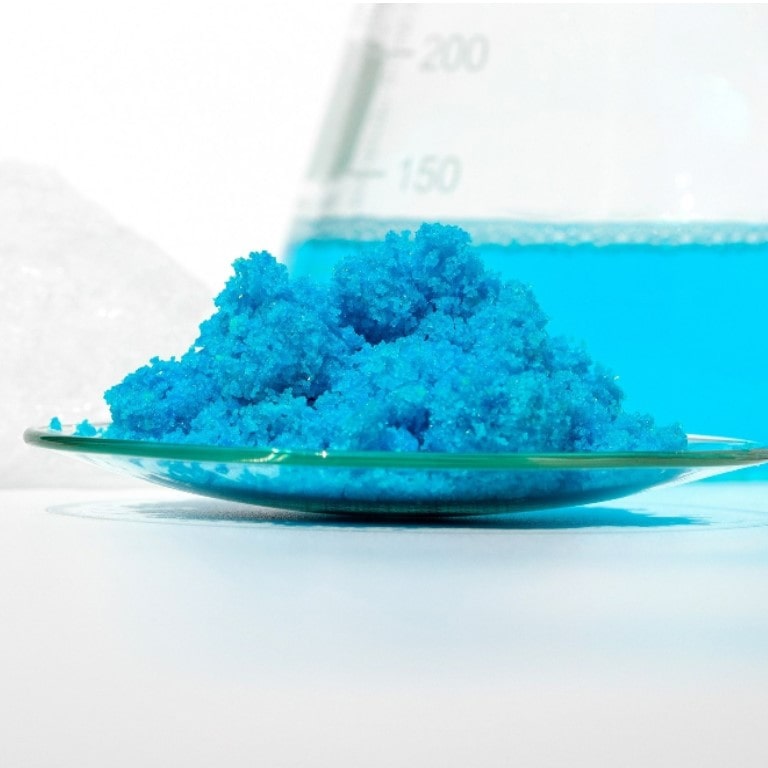 Copper Sulfate Pentahydrate
Copper Sulfate Pentahydrate is an inorganic compound in the form of a salt of sulfuric acid and copper. It occurs in nature as the mineral chalcantite. It is also obtained synthetically by treating copper metal with hot concentrated sulfuric acid or copper oxides with dilute sulfuric acid. Anhydrous Copper Sulfate is a white substance, but when hydrated it has a characteristic blue color. Copper sulfate pentahydrate is known for its strongly hygroscopic properties.
Technical aspects
Copper Sulfate Pentahydrate occurs as blue, medium sized crystals with no odor and a metallic taste. It is highly soluble in water and slightly soluble in alcohols. It has hygroscopic and bactericidal properties. In dilute solutions it has an astringent effect.
Alternative names: copper sulphate pentahydrate, blue vitriol, copper(II) sulfate pentahydrate, cupric sulfate pentahydrate, copper(II) sulphate pentahydrate, CuSO4.5H2O.
Shelf life
The shelf life of Copper Sulfate Pentahydrate is up to three years. The product should be stored in a dry place at a temperature below 30°С.
Packaging
Foodcom S.A. offers Copper Sulfate Pentahydrate in 25 kg and Big Bags.
Applications
Copper Sulfate Pentahydrate is used as a fungicide. It is also used in veterinary medicine in fungicides for horses and in agriculture to free wheat grains from fungal attack. It is used in combination with calcium hydroxide to control fungi on fruit.
Copper Sulfate Pentahydrate is also used as a feed additive because it is actively involved in blood formation and has a positive effect on weight gain in pigs and wool in sheep. It participates in the formation of the bone skeleton. Supplementation of the feed with copper sulfate is indicated in animals especially in winter and early spring.
Copper Sulfate Pentahydrate is also used in chemistry as a reagent in solutions for testing reducing sugars or proteins. It is also used in the printing industry to make bookbinding pastes and adhesives, and in the construction industry as an additive for concrete. It can also be used as a dye in fireworks.
How to order?
Are you wondering how to order our products? Contact us by sending a message!

Our B2B trade specialists will contact you within one hour of sending your inquiry during office hours. We will provide you with information about the product, its origin, price and method of delivery. We will also help you make a decision as to the choice of a specific product by presenting its industrial applications. As wholesale specialists, we will be able to provide high-level service with transparent trade rules. All trading transactions run smoothly with us!
Why Foodcom?
Our great team of Sales Support will help our Traders conduct the contract and business deals in a smooth and efficient way to ensure the best quality service to all our Business Partners. Our logistics team will take care of transportation and the financial department will be responsible for all matters connected with the financial part of the deal.
Our certificates



Got a question?
Contact us!