Summary
Table of contents
The trend of increasing prices for amino acids and vitamins persists in the local market.

Lysine

Feed manufacturers are searching for offers as supplies are shortening. Downstream processors project that the prices will remain stable. In September 2021, total exports of 98.5% l-lysine HCL grew by 21% from August and also increased by the same percentage compared to the same month in 2020. Between January and September, the shipments of the products noted a 1% decrease on a year-to-year basis, suggesting that the domestic oversupply has improved. Exports of 98.5% l-lysine HCL for the rest of the year are projected to remain steady as production is advancing and securing the supply. In September 2021, China exported slightly less 70% l-lysine sulfate than in September last year, but deliveries grew by 9% from October. Total exports of the products in the first nine months of the year were down by 7% compared to the same period in 2020. The prices for 70% l-lysine sulfate have been growing due to the high demand for poultry feed. However, they are expected to stabilize at the current level as production is almost in full.

Threonine

L-threonine exports in September 2021 were on comparable levels as a year before, though they have declined by 2.2% from the previous month. Total exports between January and September 2021 were down by 4.8% compared to the first nine months of 2020. Currently, the supply and demand relation on the market is balanced, but there is still a risk of an occasional drop in stock supply due to the pandemic situation.

Methionine

Between January and September 2021, exports of methionine have skyrocketed and grew by over 97% compared to the same period in 2020. NHU, the Chinese leading methionine manufacturer, increased the capacity of its production line, elevating the total number of exports. September export numbers were 5% higher than in the previous year but dropped by 23% from October. September imports of methionine declined by 5% from the same month in 2020 and dropped by 82% from the previous month. In the first nine months of the year, total purchases of methionine in China were comparable to the levels from the same period in 2020. Data on the export and import of methionine shows that the Chinese market is facing a domestic oversupply of the product.
Learn about Whey Permeate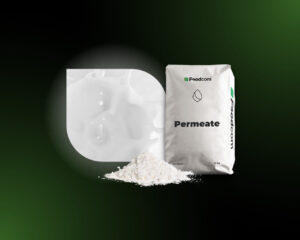 ---
Technical aspects
Permeate is commonly used as a bulking agent, it gives great flavor support, and reduces hygroscopicity. Whey permeate is also characterized by very good fluidity. It enables the formation of stable emulsions, moisture retention, and fat content reduction.
Permeate occurs in a form of a free-flowing, homogenous, powder of white creamy to yellow color, without foreign odors and tastes.
---
Application
Thanks to the fact that whey permeate is rich in lactose but low in protein, it can be used in the manufacturing of sweets, baking goods, chocolate, dry mixes, and fats. It is also added to the production of ice cream, processed cheese, drinks, meats, and cosmetics.
Permeate can be used as a substitute for sucrose and corn syrups. It is also used as a filler and a replacer for lactose, SWP, or demineralized whey powder. Permeate is also a cost-efficient solution to replace expensive dairy solids.