Summary
Table of contents
Read our report on the Chinese dairy market. Take a look at milk production projections, increased casein imports, and slowed WMP production. Discover China's key dairy suppliers within the EU and around the globe. Learn about factors propelling increased cheese deliveries and SMP production.



Powders

Chinese milk production is expected at 34.6 million metric tonnes in 2021. Output increases are propelled by investments in modern equipment, vertically integrated production, and quality genetics. Small-scale manufacturers are being forced out by larger producers who are setting up in the provinces of Ningxia and Inner Mongolia. The production of WMP is slowing down as the fluid milk consumption is on the path to resume its pre-pandemic levels and the producers are no longer forced to turn the milk surplus into WMP. The Chinese demand for WMP was high at the beginning of the year, but decreased over the summer months. In the first months of 2021, China increased its imports of whey and whey products by almost 60%.

Recent slower demand is caused by African Swine Fever concerns and transportation issues. Between January and June 2021, China imported 396,387 metric tonnes of whey powder – a growth of almost 45% from last year. Around 38% of the product came from the EU, while 10% was delivered from Belarus.

China's main dairy suppliers

China's main dairy supplier in the first half of 2021 was New Zealand. The partner delivered the most dairy goods in terms of quantity each month except in May when EU-28 supplied 160.219 tonnes of products against 146.812 tonnes delivered by New Zealand. In June this year, China bought 119.477 tonnes of dairy products from New Zealand – over 37% more than in June 2020.

Within the EU, the key dairy suppliers to China in 2021 were Germany, Netherlands, France, Poland, and Ireland. All those partners except Ireland noted growth in dairy deliveries to China over the first half of 2020. The highest increase among them came from Poland – a total of 122.477 tonnes of dairy products were delivered between January and June this year, constituting a 65.6% growth compared to the same period in 2020. Other significant dairy suppliers to China are the United States, Australia, and Belarus. The latter delivered a total of 54,040 tonnes of dairy products in the first half of 2021 representing a growth of almost 105% compared to the same period last year.

Outlook for Chinese dairy market

China is expected to increase its cheese imports by 24% to 160,000 metric tonnes in 2021 due to consumer demand on a diversified product portfolio. Even though Chinese processed cheese production is accelerating and thus propelling SMP output, the domestic supply cannot meet the demand. In 2021, cheese consumption in China is expected to increase by over 20% due to higher interest in restaurant meals and e-commerce purchases. The key suppliers of processed cheese to China are New Zealand and Australia, that deliver the products under the Free Trade Agreements. However, in 2020 Denmark was positioned as the third-largest processed cheese supplier to China and surpassed the United States. Between January and April 2021, Denmark delivered 5,544 tonnes of cheese to China, marking a growth of 244% compared to the same period last year.
Learn about "Soybean Oil"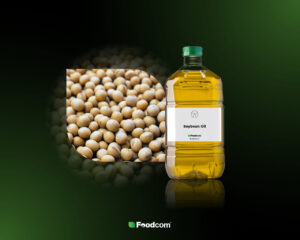 ---
Technical aspects
The product is a pale yellow liquid. It is a rich source of unsaturated fatty acids and vitamin E. It also contains Omega-3 and Omega-6 acids, which are responsible for lowering the level of cholesterol in the blood. Soybean Oil has a high smoke point, so it can be used in food processed in increased heat.
---
Application
Soybean Oil is used in the food industry because it is a source of polyunsaturated fatty acids and also increases adhesion and viscosity in products. It is a component of sauces, marinades or dressings. It is also involved in the production of margarine as it has a neutral taste and gives the margarine a smooth consistency.
Soybean Oil is also widely used in the production of cosmetics. This oil is light and is characterized by good absorption and beneficial effect in restoring the natural protective barrier of the skin. That is why it has common application as an ingredient of creams and lotions. What is more, it soothes inflammation and regulates sebum secretion, which is useful in the production of anti-acne cosmetics. Massage oils and hair oil products are also based on Soybean Oil.