Summary
Table of contents
Here is some news from the additives market! This week we will talk about some noticeable patterns that have been appearing when it comes to the issue of additives prices. Complications with gas supplies from Russia are likely to impact European chemical and feed ingredient production, resulting in high prices of products. In China, the amino acid and vitamin market is still being affected by COVID-19 consequences. We are currently observing inflated prices of chemicals for cosmetics purposes due to smaller quantities available. Is it too early for future market forecasts?

Methionine

Prices are lower compared to last month's. It can be said that there are no important activities on the market right now, as the buyers abstain to be more certain about ongoing trends. We see a visible decline in requests for Q3. Note that transportation from China might be more difficult and the risk of delivery delays is growing.

Choline chloride

There are increases in the costs of raw materials, due to complications in deliveries of supplies in factories. Currently, high choline chloride prices on the market are causing some feed manufacturers to switch to cheaper betaine.

Threonine

Currently, interest in this commodity is at low levels, mainly because of the blockade of the supply chain bottlenecks, resulting in a temporary saturation in trade flow In North America there is no significant change in a market, only currency adjustments. The price increase is forecasted for mid to late summer, perhaps earlier if the market remains as stable as it is now.

Lysine

It is said that the latest price trends are stable, but the situation is incredibly dependent on economic factors. Price increases for end consumers seem to be on the horizon, including possible delays because of the limited amount of containers and space in them.

Citric Acid

Citric acid prices have decreased slightlyIt is recommended to close planned purchases now because these prices will rise again, after new shipments from China are scheduled. The rates will increase not only being affected by this, but also the inflated gas and commodity prices.

Xanthan Gum

Still no available xanthan gum on the market, which is also strongly connected to transportation issues from China. As we mentioned in a previous newsletter, new ECA regulations changed xanthan gum import laws, as it's rather a miracle if the supplies pass compositional testing. High demand forces buyers to search for alternatives.

Glycerol 99,5%

For more than half a year, we can see a steady increase in the price of glycerin. This is no surprise, considering that it is a widely used additive, it also has a broad use in the food, medical and pharmaceutical industries. The global glycerin market size was already estimated at USD 2.4 billion in 2020 and from 2021 to 2027 is expected to evolve even more.
Learn about Cagliata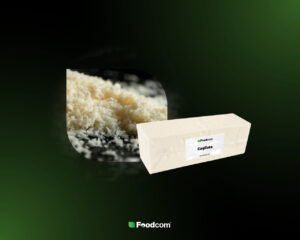 ---
Technical aspects
Cagliata cheese supplied by Foodcom S.A. has soft flesh and elastic and uniform texture. It has a pale yellow to white color and a mild, slightly acid taste. The available Cagliata has 45 or 48% fat in dry matter.
---
Application
Cagliata cheese has excellent melting properties and melts evenly after heat treatment. Therefore, it is often used for the production of baked goods and snacks such as pizza, casseroles or lasagna. It is also used as an intermediate in the production of pasta filata cheese or plasticized cheeses, which include Mozzarella, Scamorza cheese and Provolone cheese.