Summary
Table of contents
We present you with the most important news from the global dairy sector. Read stories regarding shipments to China, cost of milk  in Spain, dairy situation in Australia, USDA's estimates and dairy plants in New Zealand.





Growth of Polish milk shipments to China

Polish milk producers have increased shipments to China between January and April this year, with €53 million worth of milk delivered constituting 6% of the entire export portfolio. At the same time, the overall value of milk and dairy export from Poland equaled €852 million, representing an 8% growth compared to the same period in 2020. While in the first four months of 2021 the EU-27 remained the key importer of Polish dairy goods with 62% of the market share, China was the key individual buyer of packaged milk with orders for 58.989 tonnes of products – an increase of over 90% from the previous year.

Milk in Spain sold below production cost

The study conducted by Agri-food Cooperatives Spain and recently presented by the Ministry of Agriculture announces that over 50% of the commercialized Spanish milk is sold below the production cost. In the case of livestock, the average price of milk was around 0.332 euros per liter, while the cost of its production was almost 20 cents higher. According to the study, the amount of milk sold below its cost destroys its value, which is prohibited by the recently modified law. The research is based on data from 2018-2020, but the effects are said to be a structural problem lasting for over a decade.

Strong position of the Australian dairy industry in 2021

The dairy industry in Australia saw favorable conditions at the beginning of 2021 and is expected to further strengthen in the second half of the year with strong milk prices, higher production, and increasing demand from Asian partners. According to a recent report released by the Australian Rural Bank, farm gate milk prices are projected to increase by 4-5% compared to 2020/2021. This is supported by increased orders from partners such as China, Singapore, Sri Lanka, and Vietnam. Increasingly interested in milk powders. The growing supply of milk is expected to result in a higher surplus of exports and a 5-8% increase in export value for the 2021/2022 marketing season.

Lower U.S. milk production estimates for 2021 and higher for 2022

The recent USDA report announces that the milk production for 2021 is estimated at 228.2 billion pounds – lowered by 0.3 billion from the last update due to slower-than-expected yields. The 2022 projection is raised by 0.5 billion to 231.6 billion pounds on increased cow numbers. For 2021, ending stocks are relatively high while the demand projections are lowered resulting in decreased price estimated for cheese, butter, nonfat dry milk, and whey. All milk price estimates for 2021 are lowered from the previous $18.85 per cwt to $18.30 while projections for 2022 expect $18.50 per cwt.

Will newly opened NZ dairy plants wipe out older facilities?

Singapore-based Olam International is progressing in plans to set up a new dairy processing unit in Tokoroa in South Waikato, New Zealand in an answer to growing demand from global customers. The company intends to meet with local farmers in order to secure their needs and develop strategic partnerships. Other dairy facilities are being set up in New Zealand as well, build by Happy Milk Valley, Synlait, and NZ's second-largest processor Open Country Dairy. According to Fonterra's chairman, the productional overcapacity may cause lower returns and inefficiency for the processors, thus negatively affecting rural farmers and causing long-term stagnation of the industry. Open Country Dairy's chief executive admits that overcapacity on milk processing may lead to decreased performance or even closure of older milk plants.
Learn about "Taurine"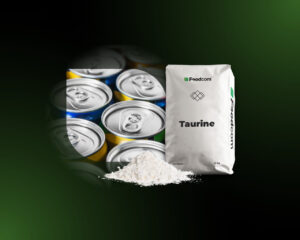 ---
Technical aspects
Taurine is a chemical compound that belongs to the group of biogenic amino acids and occurs in the free state in tissues and in the bloodstream.
Taurine is obtained either organically or synthetically. In natural form, it is found mainly in fish and meat, but also in whey, peas and lentils. In synthetic form, Taurine is found primarily in energy drinks and dietary supplements for athletes.
Taurine occurs in the form of a colorless or white solid.
---
Application
Taurine is mainly an ingredient in energy drinks and dietary supplements. It is also found in stimulant effervescent tablets, but you will also find Taurine in hair shampoos and sunscreen lotions for elderly skin.