Summary
Table of contents
Rising production costs could put the dairy sector in Western Europe in serious trouble. The Farmers' Association in Germany claims that the price of milk per kilogram has reached 44 cents and ''this is not enough'', considering that the total cost of production is much higher and will increase even more in the coming months. The same is true for Portugal, Italy, and the Netherlands – all of these have recorded escalations in feed prices, and in many cases producers had to send their dairy cows to slaughter. The European Milk Board's warnings have their origins in rising costs, but this is above all in the damaging agricultural structures in Europe. One of the world's largest producers expects feed production to decline in the second half of 2022, forecasting a 10 to 15% drop in comparison to 2021 demographics. Read more to get the latest updates and insights on the global dairy market.

SMP

SMP prices have fallen at both ends of the price range in Europe, prompting people to return to the market and buy at lower prices. Producers are focused on meeting contractual obligations as production has remained relatively stable. On-farm milk availability has increased slightly, but not to the extent that processors can add to their SMP inventories. Negotiations for upcoming quarters are underway. All the more, producers are willing to lower the contract financial fares,but others are holding on to current prices. Buyers may have become more cautious for fear of domestic uncertainty, as they are still looking for coverage, but still bidding in no hurry.

FCMP

Despite the fact that market forecasts are fraught with uncertainty, we now see a more stable situation for this product. There is no clear reason for this, but FCMP is the only powder without a visible price drop and is considered in a safe situation, also in terms of fat prices.

WPC

There is a visible interest in WPC in the market, but it is possible that, the low availability of the product will remain until the end of the year. This may be due to the lack of lecithin and the impossibility to procure sunflower lecithin (even for Q4). Increased interest in inquiries from exporting countries in India and the Middle East, compared to the China market, where there is no noticeable notion in that matter due to logistical issues. We hope that the latest GDT will show us new possible avenues for production in Europe, especially compared to other markets. Experts wonder if there is still a demand for European products for such a price cap.

Butter

Prices have fallen slightly due to exchange rate changes, but also due to resistance from some buyers to higher prices. It has become more difficult to export butter to third countries because the price is exorbitant compared to the competition. Price expectations are significantly different from producer prices , and it is expected that some contacts will have to be negotiated. Recently, butter availability has increased as production schedules are actively maintained and backlogs are made up. This also resulted in the demand for butter in blocks to go up.

Gouda

Cheese is a perfect example of how the consumption of raw materials in the markets recently has decreased. Short expiration dates certainly have made the situation worse, with some sources reporting that consumers are having to resort to products made 5 or even 6 weeks after the production date. No change in the price of cagliata is reported, a slight decrease in the price of mozzarella cheese on the other hand. In addition, experts see an increase in requests for export from outside the EU.

Cream

Most Western producers have passed the peak of milk delivery, partially due to humidity issues. Weekly milk deliveries in Germany are estimated to be 2.5 percent lower than last year, while similarly in France, week -to-week milk deliveries have decreased by 2. Experts point out that rising production costs must be covered by prices. In Eastern Europe, milk production continues to rise seasonally and year-on-year, with Poland and the Baltic States in particular recording some of the largest recent percentage increases. In New Zealand, milk production fell by 1.5% in March.
Learn about Glycerin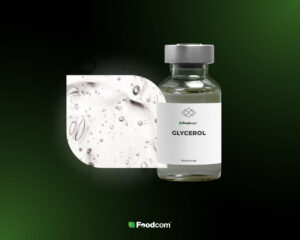 ---
Technical aspects
Glycerin is an odorless, colorless and viscous liquid with a sweet taste. It is fully miscible with water due to the presence of three hydroxyl groups. When exposed to humid air, Glycerol is highly hygroscopic, absorbing water as well as some gases. Glycerin in low concentrations has moisturizing and degreasing properties, while in high concentrations it has disinfecting and drying properties.
---
Application
In the food industry, Glycerin can be used as a solvent for flavors and food colors. In food, it is a humectant, an emulsifier and maintains the desired moisture of products, for example, it protects baked goods from drying out. As E422, it is a preservative because it binds water, thus limiting the growth of pathogenic microorganisms.
Glycerin is used in the cosmetics industry in the production of gels and in body care articles, including cosmetics and hair care products. It helps bring moisture to the surface of the skin – it absorbs water from the environment and retains it inside the skin. It is also an ingredient in glycerin soap, which is designed for delicate skin. Glycerin also has antibacterial and antiviral properties, so it is used to treat wounds and burns.
In the pharmaceutical industry, Glycerin is an ingredient in the heart drug nitroglycerin, which dilates blood vessels and is used for patients with coronary artery disease.
In addition, the use of Glycerin is widespread in the production of many modern protective coatings, such as car paints and exterior house paints. When used in tanning, it dries the skin due to its hygroscopic properties.