Read our report on the global fishmeal market. Learn about the production process and the application of fishmeal. Take a look at market characteristics, global trade, and projections for the future.

Fishmeal overview

Fishmeal is a highly nutritious product obtained from fish-origin material. The key source of fish meal is fish cultivated specifically for fishmeal production including oily and bony small fish species such as mackerel, anchovy, herring, capelin, and pollack. Fishmeal is also produced from by-catches from other fisheries. The third major source include trimmings, by-products, and leftovers from fish processing for human consumption. Regarding fishmeal production per species, the largest share belongs to crustacean farming at 25%. Freshwater species take around 22%, marine fish farming ranks third with almost 16%, while salmonids sector owes 15%, and tilapia industry around 9%. The production process includes cooking the raw material and then pressing, drying, and grounding into powder.

Fishmeal is primarily used as a highly nutritious component of animal feed especially for aquaculture but also for pigs, poultry, and pets. The product is an excellent source of highly digestible protein and essential fatty acids. It also contains vitamins, minerals, and phospholipids which are responsible for increasing the growth rate and improving production yields. Fishmeal is also widely used as a fertilizer additive. It helps improve soil fertility by providing crucial nutrients such as potassium and phosphorus. These elements positively influence crop growth and improve immunity to diseases and pest issues.

One of the sources of fishmeal is raw material, therefore its accessibility is subject to several factors including seasonality, weather conditions, and even tides. These occurrences are unpredictable, and therefore the fishmeal market is characterized by volatility and abrupt price changes.

Global trade and prices

Fishmeal market was valued at $7.2 billion in 2021. Peru is the top global producer and exporter of fishmeal. Other major producing countries include Chile, Canada, Norway, the United States, Japan, and Scotland. The highest demand for fishmeal comes primarily from fast-developing Asian countries such as China, India, Vietnam, Thailand, and Japan. The increasing interest in fishmeal is driven by accelerating high-scale swine and poultry cultivation and growing demand for seafood.

In 2020, total exports of fishmeal were valued at $3.80 billion – a decrease of 18.5% compared to the previous year. The top global exporter of fishmeal was Peru with total shipments worth $1.09 billion throughout the year constituting 28.68% of the market share. The country has been the largest seller of fishmeal for years; however, it decreased its deliveries of fish meal by 29.3% compared to 2019. The second-largest exported in 2020 was Chile, owing 9.42% of the market share and having delivered products for the value of $358.22 million. Chile seems to be a rising star on the fishmeal market – in 2020 the country increased its shipments of the product by 17.57% compared to the previous year but also managed to maintain growth in exports in the recent years, unlike several other key players on the market.

The United States and Vietnam owed 4.94% and 4.27% export market share in 2020. The latter, however, noted an almost 30% decrease in deliveries between 2017 and 2020. Russia is also marking its place on the market with significant increases in shipments. In 2020, the country has delivered $125.53 million worth of fishmeal – an increase of 34.66% from the previous year. Between 2017 and 2020, Russia also managed to up its exports by almost 60%. In 2020, Denmark was the largest European supplier of fishmeal with shipments worth $319.5 million and 8.4% market share. Germany and Norway are also significant European sellers of the product. While Germany noted a 7.49% decrease in exports compared to last year, it also had a growth of 12.76% in between 2017 and 2020. In the same 3-year period, Norway managed to record a growth of 74.31% in fishmeal exports.

Total imports of fishmeal in 2020 amounted to $3.96 billion and dropped by 18.79% compared to 2019. The largest global buyer of the product was China.

Throughout 2020, the prices of fishmeal varied from $1,364 per metric tonne in February to $1,496 in December. This year, the fishmeal prices were relatively stable and noted less volatility than in the previous year. The lowest numbers were seen in March at around $1,476 per metric tonne while the highest prices were noted in May at $1,514.  According to the report by IFFO – the Marine Ingredients Organisation – the global production of fishmeal was 30% higher in March this year than in the same month in 2020.

Fishmeal market outlook

While fish cultivation raises some concerns about its environmental impact, the demand for fishmeal will undeniably persist. The market is expected to grow by 5.1% throughout 2021. Experts predict that the demand for animal feed from Asia will only accelerate due to the growing poultry sector and the pig farming industry recovering after ASF. Experts predict that by 2030 the prices for fishmeal may increase by as much as 90% compared to the levels from 2010. It may have a negative impact on the aquaculture sector as the profitability of the producers relies highly on fishmeal of which the costs account for around 50-70% of all expenditure.
Per saperne di più Farina di Pesce 72%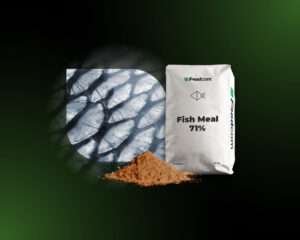 ---
Aspetti tecnici
La farina di pesce offerta da Foodcom è prodotta da pesci come l'aringa e lo spratto coltivati nel Mar Baltico. Il prodotto finale si presenta sotto forma di farina sfusa e marrone. Ha un contenuto proteico del 71,5%, il 13,3% di grassi e circa il 5,83% di lisina. Forniamo anche farina di pesce al 60% e al 65%.
---
Applicazione
La farina di pesce è ampiamente utilizzata come componente altamente nutriente dei mangimi per animali, soprattutto per l'acquacoltura, ma anche per suini, pollame e animali domestici.