Summary
Table of contents
This is our summary of the week 47 on the European dairy market divided into 4 main categories.

Powders

SMP is offered around 3.20 – 3.35 EUR/kg EXW depending on the date of delivery. Manufacturers complain about the lack of raw material. Very poor availability of BMP.

Large interest in FCMP, which is offered above 4 – 4.05 EUR/kg EXW.

WPC35 follows the increases of SMP prices and is already offered around 3 – 3.05 EUR/kg EXW. WPC80 without changes, great interest from outside EU.

Cheese

Prices for cheese have strengthened lately. The interest for Q4 is not diminishing. Inquiries and transactions for Q1 are at similar levels.  Prices for Gouda/Edam are near 4.10 EUR/kg EXW DE/NL.

Cagliata is stable, so is Cheddar.

Fats

The butter is offered 5.00 – 5.25 EUR/kg EXW DE/NL/EN. Even though if it would be produced straight from the cream – the production price would be over 5.50 EUR/kg EXW.

We see that the movement is diminishing before Christmas. Retailers are slowly accepting higher prices for butter cubes. Poor amounts of AMF are available at the end of the year due to smaller availability from natural regions such as UK/Ireland.

Liquids

Raw milk collection is smaller than in previous years. In some European countries is even 3% lower. There is no indication for this trend to change.

Prices of SMC and cream are still high, even though they slid down a bit.

In the second part of the week, there was a commotion in liquids with prices of raw milk being extremely high.
Learn about Caffeine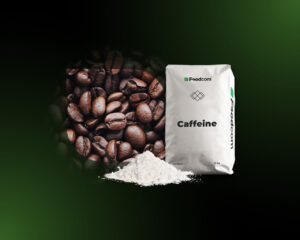 ---
Technical aspects
Caffeine is an organic chemical compound that belongs to the purine alkaloids and occurs naturally in coffee beans and many other plants. It can be obtained not only by extraction from plant seeds, but also synthetically – by chemical synthesis of urea, which is then combined with either methyl chloride or ethyl acetate. Synthetically produced caffeine has a much higher concentration and is absorbed more quickly by the body.
---
Application
Caffeine is found primarily in beverages such as coffee, tea, yerba mate, and cocoa. It is also an ingredient in energy drinks. As an ingredient in food products, Caffeine has a stimulating effect, reduces the feeling of fatigue and improves concentration and attention.
In the pharmaceutical industry, Caffeine is used in the production of painkillers, diuretics, supplements for athletes or drugs recommended for the treatment of bronchial asthma.
Since Caffeine improves blood circulation and lymphatic drainage, energizes the skin and keeps it firm, it is used in the cosmetics industry. It is found in anti-cellulite gels, as it is often used as an ingredient in their manufacture. It is also used in the production of shampoos for hair growth or eye creams.